Becoming Tomorrow's Doctor: Essays on the Practice and Future of Medicine (Paperback)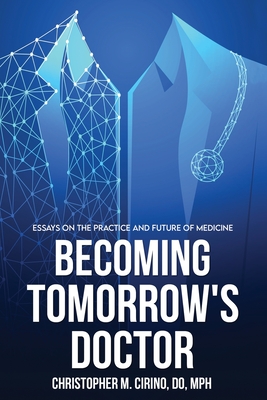 $12.99

Available from our distributor; usually Ships in 1-5 Days
Description
---
In March 2020, the WHO declared the novel coronavirus outbreak a pandemic. In the interest of ceasing the spread of the virus, daily life changed overnight. Hospitals closed elective procedures and limited care to only the sickest patients. To reduce the risk of COVID-19 infection, in-person clinical rotations and shadowing opportunities were halted for many medical and premedical students.
The events became an impetus for Becoming Tomorrow's Doctor, an autobiographical and instructional book. Dr. Cirino writes about his experience as a physician and explains essential elements that define a physician's job for prospective medical students and the general audience.
Dr. Cirino begins by describing how training and technology brought doctors closer to understanding the source of patient concerns. However, the health paradigm will shift to one with a more holistic picture of health as we increase our knowledge in neuroscience and epigenetics and develop tools to measure complex systems.
The topics provide tools to prepare a student entering the field of medicine, including cognitive bias, medical errors, generalist and specialist, challenges in medicine, collaboration, empathy, and burnout. Case studies illustrate the concepts throughout the book.
Dr. Cirino writes that empathy improves patient care by clarifying communication and closing the gap between cognitive bias and reality. Moreover, it increases rapport and satisfaction of both doctor and patient.
Burnout leads to compassion fatigue and depersonalization as doctors strive to maintain an increasingly busier schedule of more complex patients. Dr. Cirino discusses proactive ways for future doctors to prepare for the rigors of medical school and training, prevent burnout, and raise awareness of it.
Tomorrow's doctors will view health from a vastly different perspective than today and use tools that enable a more accurate disease diagnosis and treatment. However, they must continue to uphold the foundation of the healing arts - the doctor-patient relationship.