The Uses of Art (Paperback)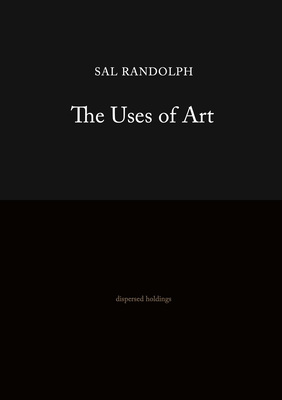 $24.00

Available from our distributor; usually Ships in 1-5 Days
Description
---
Artist Sal Randolph's THE USES OF ART is a memoir of transformative encounters with works of art, inviting readers into new methods of looking that are both liberating and emboldening.
Foreword by Paul Soulellis; afterword conversation with Adam Moss.
THE USES OF ART is a memoir of transformative encounters with art, asking what it would mean to make use of art in the way we make free and personal use of music and literature. Artist and writer Sal Randolph answers with stories of sitting eye-to-eye with Marina Abramovi?, making the pilgrimage to Walter de Maria's The Lightning Field, and returning again and again to a Tiepolo painting at the Met. The Uses of Art invites readers into new methods of looking, engaging with both the classic museum visit and with contemporary art, including the work of Lygia Clark, Ann Hamilton, Eva Hesse, Roni Horn, David Horvitz, Juliana Huxtable, Donald Judd, Ragnar Kjartansson, Agnes Martin, Bernadette Mayer, Aki Sasamoto, and Tino Sehgal. Liberating and emboldening, this book will change the way you experience art.
Sal Randolph's The Uses of Art is a dazzlingly original, ferociously intelligent and--I'll say it--profound examination of the relationships between human beings and art, with the understanding that there's often no clear boundary between the two. It's rigorous, wide-ranging, and full of the emotion and humor often missing from books about art. It altered and expanded my own awareness, which is not something I say often, or lightly, about any book of any kind.--Michael Cunningham
A precious book of textured passions and reverential restlessness. Sal Randolph's hungry, generous, roiling intelligence both entwines and unfolds the works of art on which her attention falls. And she uses them to do the good work--the work of words and hands, of self and other, of pain and politics; the beautiful work of living--from the soul to the skin, out through the eyes and ears and lungs (and back). Michel Foucault, famously, distinguished 'experience books' from 'demonstration books': the latter think they know what they should, and think you should know it too; 'experience books' are achievements of self-experimentation that body forth the contingency, openness, twisting labor, and infinite potential of true emancipation. They are invitations. This is an experience book par excellence.--D. Graham Burnett
A joyful, dazzling treasure-box of a book that provides what the best art experiences do: the kiss that wakes you up. My secret name for this book is How to See. Sal Randolph has built here a portal into the magic of performance art and more traditional art. For those who love and who hate museums and galleries, who often feel disappointed but sometimes unbelievably thrilled and even transformed by an experience of art, this is a mind-expanding companion and guide. And it is, in itself, a giddy pleasure to read.--Bonnie Friedman
Waking up, over and over again, to see, to recognize, to not recognize--how many ways can we expand and become intimate with the art before us, in us, around us? Here's a guide, to waking up, over and over again. And, in reading Sal Randolph's text, allowing ourselves to be delighted by word and idea, as well.--Roshi Pat Enkyo O'Hara
On her sublime tour of familiar and exotic artistic realms, Sal Randolph is both companion and docent--you'll learn a ton and fall in love with her in the process. But The Uses of Art is also genuinely useful. In its gentle way the book is deeply, subversively, empowering. It may change the way you experience art. It will certainly change the way you think about it.--Adam Moss
Literary Nonfiction. Hybrid. Essays. Art.