A Cat At the End of the World (Paperback)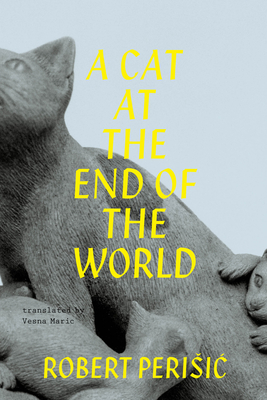 Description
---
Delivered like a fable, A Cat At the End of the World shifts perspectives between a runaway slave and the Scatterwind, a bodiless spirit that moves effortlessly through time and space, from the days of ancient Syracuse to our contemporary era. At the center of their stories is Miu, an Egyptian cat— one of the earliest to be domesticated— through whom Robert Periš ic channels a deeply profound and beautiful understanding of animal and human behaviors as seen through the results of language, warfare, colonization, trade, and the building of a society.
About the Author
---
Vesna Maric was born in Mostar, Bosnia-Herzegovina, in 1976 and left at sixteen as part of a convoy of refugees. She went on to work for the BBC World Service and now writes Lonely Planet travel guides, translates literary fiction and non-fiction from Croatian into English, and writes a variety of journalism for publications including The Guardian. Maric's memoir, Bluebird, was published by Granta in 2009, and was longlisted for The Orwell Prize; her first novel, The President Shop, was published by Sandorf Passage in 2021.

Robert Perisic was born in Split, Croatia, in 1969. His most widely translated works are the novels Nas covjek na terenu, (Our Man in Iraq) and Podrucje bez signala (No-Signal Area), both of which have received international critical acclaim in numerous prestige media outlets, including The New Yorker, The New York Times, NPR's All Things Considered, and The Guardian.
Praise For…
---
"Perišić's story takes on the shape of a philosophical fairy tale . . . this dreamlike novel tries to depict attachments that are freer than any proposed by the laws of civilization." —Sam Sacks, Wall Street Journal

"Robert Perišic is a light bright with intelligence and twinkling with irony, flashing us the news that postwar Croatia not only endures but matters."—Jonathan Franzen
 

"No-Signal Area is a mind-blowing read—a story of crime and heroism in the real-life aftermath of an all-white race war, told with wisdom, sophistication, and passion." —Nell Zink

 

"Absurdity permeates Horror and Huge Expenses, an excellent collection of tragicomic short stories . . . Throughout the collection, characters grapple with the collapse of the Soviet Union, the disintegration of Yugoslavia, the violent madness of ethnic nationalism and war, and the chaos of creating new countries and new economies." —Kent Kosak, Asymptote

"Perišić draws on mythology and history in this immersive if arcane tale . . . Classicists will find lots to love." —Publishers Weekly

"Perišić takes his time in pulling the threads of the story together . . . A graceful meditation on history and nature by an author well worth knowing." —Kirkus Reviews

 "Bizarre fable-esque . . . and in the middle of the narration there's an Egyptian cat that oversees things almost as a deity . . . and it is amazing, it's such a great book." —Brad Johnson, East Bay Booksellers