Julius Caesar: The Graphic Novel (Campfire Graphic Novels) (Paperback)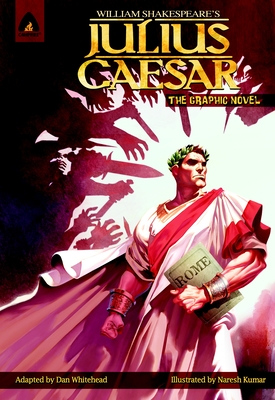 $15.99
Out of Stock - Not Available
Description
---
Rome, 44BC, the great general Julius Caesar arrives home from war as the sole ruler of Rome. The citizens cheer the conquering hero, but not all are pleased to see him return. Many fear that with nobody to oppose him, this military genius will become a cruel dictator. A conspiracy takes shape that ensnares the proud Brutus, one of Caesar's most trusted allies, in an assassination plot that will change the course of history.

What is most important, Shakespeare asks, loyalty to your leaders or to your country? Can good ever come of evil actions, and are those who speak of freedom always trustworthy?

Now imagined as a thrilling graphic adventure, William Shakespeare's classic retelling of actual historical events is revealed as a timeless political thriller - a bloody saga of friendships betrayed, alliances destroyed, and a nation torn apart by civil war.
About the Author
---
Known as 'The Bard of Avon', William Shakespeare was born in Stratford-upon-Avon, around April of 1564. His father, John Shakespeare, was a successful local businessman and his mother, Mary Arden, was the daughter of a wealthy landowner. In 1582, eighteen-year-old William married an older woman named Anne Hathaway. Soon they had their first daughter, Susanna, who was followed by twins Hamnet and Judith. Sadly, Hamnet died at the age of eleven.
Translated into innumerable languages across the globe, Shakespeare's plays and sonnets are undoubtedly the most studied works of literature in the English language. He was just as adept at writing comedies as he was tragedies, histories, and poetry. On top of this, he was also an actor.

Shakespeare died in 1616.
Praise For…
---
"I highly recommend Campfire's comics. They do what they are intended to do and do it in a way that excites kids about classic literature." -- Chris Wilson, The Graphic Classroom (a resource for teachers and librarians)