Less Boring (Paperback)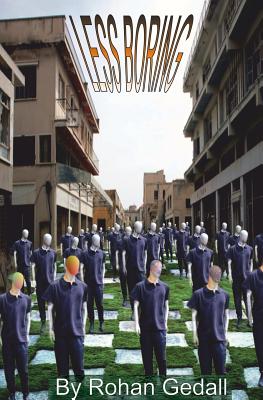 $7.50

Available from our distributor; usually Ships in 1-5 Days
Description
---
"You'll see, it'll be ... better." The piercing, green eyes of the witch, crinkled in an all too infrequent smile. The little hunched person looked up from serving breakfast.
"Yes, of course, you're totally right." Clearly not having the slightest idea of what she was referring to.
"Those humans have become so boring." Carefully sliding her long, black nails between the handle and the teacup. "Since they all declared peace and became reasonable. They do nothing but go to work, do their sport and sleep. Oh God, give me a break "
To make the world less boring; she chooses random people, from all walks of life, from different countries, and gives them a 'power'.
Patricia; a Parisian, data-entry clerk, that dreams of wealth, finds that she can turn things into gold.
Miss Thatcher; a self-important, teacher from Manchester, England, wishes that people would do as they are told, now they do.
Hans; works in a watch factory in Zurich, Switzerland, who doesn't have enough time to do all that he might wish to do. Well, now he does.
Danny Trump; an American, who works as a fast-food children's clown, lives a daily lie. How would it be if people were forced to tell the truth? He's about to find out.
Caleb Walker; a tour guide in Valdez, Alaska, is bored with all the white that surrounds his world, if only he had the power to change the colour of things, that would be so cool.
The Bureau Of Regional & Internationally Negotiated Governmental policy, (B.O.R.I.N.G.) located in Strasbourg is concerned, people are popping up having strange powers.
And worst of all:
'THE BIG BOSS IS NOT HAPPY'...