Devolution: A Firsthand Account of the Rainier Sasquatch Massacre (Hardcover)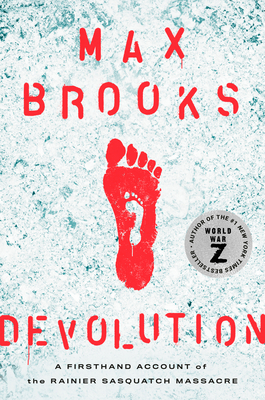 $28.00
Out of Stock - Not Available
Staff Reviews
---
"I was really excited when I first saw Max Brooks would be getting back in the Sci-Fi/Horror ring. Devolution doesn't disappoint. Brooks brings that wonderful real-world first-hand account style that made World War Z such an amazing read."
— From
Will
May 2020 Indie Next List
---
"This was a blast to read. Kate and Dan Holland have an opportunity to move into an eco-friendly community called Greenloops in the shadow of Mt. Rainier. Kate's therapist asks her to keep a journal, and this is how their story is preserved. Because after Mt. Rainier erupts, horrible things happen at Greenloops. Really horrible things…"
— Ann Nye, Excelsior Bay Books, Excelsior, MN
Description
---
NEW YORK TIMES BESTSELLER • The #1 New York Times bestselling author of World War Z is back with "the Bigfoot thriller you didn't know you needed in your life, and one of the greatest horror novels I've ever read" (Blake Crouch, author of Dark Matter and Recursion).
 
FINALIST FOR THE LOCUS AWARD

As the ash and chaos from Mount Rainier's eruption swirled and finally settled, the story of the Greenloop massacre has passed unnoticed, unexamined . . . until now. The journals of resident Kate Holland, recovered from the town's bloody wreckage, capture a tale too harrowing—and too earth-shattering in its implications—to be forgotten. In these pages, Max Brooks brings Kate's extraordinary account to light for the first time, faithfully reproducing her words alongside his own extensive investigations into the massacre and the legendary beasts behind it. Kate's is a tale of unexpected strength and resilience, of humanity's defiance in the face of a terrible predator's gaze, and, inevitably, of savagery and death.

Yet it is also far more than that.

Because if what Kate Holland saw in those days is real, then we must accept the impossible. We must accept that the creature known as Bigfoot walks among us—and that it is a beast of terrible strength and ferocity.

Part survival narrative, part bloody horror tale, part scientific journey into the boundaries between truth and fiction, this is a Bigfoot story as only Max Brooks could chronicle it—and like none you've ever read before.

Praise for Devolution

"Delightful . . . [A] tale of supernatural mayhem that fans of King and Crichton alike will enjoy."—Kirkus Reviews (starred review)

"The story is told in such a compelling manner that horror fans will want to believe and, perhaps, take the warning to heart."—Booklist (starred review)
About the Author
---
Max Brooks is a senior nonresident fellow at the Modern War Institute at West Point and the Atlantic Council's Brent Scowcroft Center for Strategy and Security. His bestselling books include Minecraft: The Island, The Zombie Survival Guide, and World War Z, which was adapted into a 2013 movie starring Brad Pitt. His graphic novels include the #1 New York Times bestseller The Harlem Hellfighters.
Praise For…
---
"There's a bowstring undercurrent running through the whole of Max Brooks's newest that's liable to snap a reader in half. Characters so real you could name them from your own life, even as you call for them to run for cover. Max Brooks has written the next great epistolary novel. Devolution is phenomenal."—Josh Malerman, New York Times bestselling author of Bird Box and Malorie 

"A masterful blend of laugh-out-loud social satire and stuff-your-fist-in-your-mouth horror. One elevates the other, making the book, and its message, all the more relevant."—David Sedaris, #1 New York Times bestselling author of Calypso

"Another triumph from Max Brooks!  First zombies. Now Bigfoot. I can't wait until he turns every monster from childhood into an intelligent, entertaining page-turner."—Stephen Chbosky, #1 New York Times bestselling author of Imaginary Friend and The Perks of Being a Wallflower

"Devolution is spellbinding. It is a horror story about how anyone, especially those who think they are above it, can slowly devolve into primal, instinctual behavior. I was gripped from the first page to the last!"—Les Stroud, creator of Survivorman, filmmaker, and author

"I wish we could elevate the national dialogue on public safety to a level of tone and focus that Max Brooks has demonstrated for all of us."—Tom Ridge, former governor of Pennsylvania and first secretary of the U.S. Department of Homeland Security

"Both a bloody good read and a bloody, good read. You'll never look at a bamboo stake the same way again."—Andrew Hunter Murray, Sunday Times bestselling author of The Last Day
 
"Unputdownable . . . will have you gripped to the last thrilling page."—John Marrs, bestselling author of The One

­"It's terrifying. Brooks is not only dealing with the end of humanity; he's also showing us our further course toward a new, ineluctable, absolute brutality."—BookPage (starred review)
 
"With stellar worldbuilding, a claustrophobic atmosphere, an inclusive and fascinating cast of characters, and plenty of bloody action, this inventive story will keep readers' heart rates high."—Library Journal (starred review)

"Brooks creates vivid landscapes and has a gift for shifting focus in an instant, turning lovely nature scenes suddenly menacing. Brooks packs his plot with action, information, and atmosphere, and captures both the foibles and the heroism of his characters."—Publishers Weekly
Coverage from NPR