American Cider: A Modern Guide to a Historic Beverage (Paperback)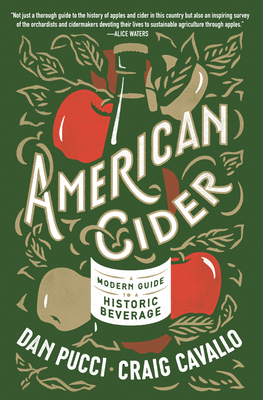 $18.00

Available from our distributor; usually Ships in 1-5 Days
Description
---
"Not just a thorough guide to the history of apples and cider in this country but also an inspiring survey of the orchardists and cidermakers devoting their lives to sustainable agriculture through apples."—Alice Waters
 
"Pucci and Cavallo are thorough and enthusiastic chroniclers, who celebrate cider's pomologists and pioneers with infectious curiosity and passion."—Bianca Bosker, New York Times bestselling author of Cork Dork

Cider today runs the gamut from sweet to dry, smooth to funky, made from apples and sometimes joined by other fruits—and even hopped like beer. In American Cider, aficionados Dan Pucci and Craig Cavallo give a new wave of consumers the tools to taste, talk about, and choose their ciders, along with stories of the many local heroes saving apple culture and producing new varieties. Like wine made from well-known grapes, ciders differ based on the apples they're made from and where and how those apples were grown. Combining the tasting tools of wine and beer, the authors illuminate the possibilities of this light, flavorful, naturally gluten-free beverage.

And cider is more than just its taste—it's also historic, as the nation's first popular alcoholic beverage, made from apples brought across the Atlantic from England. Pucci and Cavallo use a region-by-region approach to illustrate how cider and the apples that make it came to be, from the well-known tale of Johnny Appleseed—which isn't quite what we thought—to the more surprising effects of industrial development and government policies that benefited white men. American Cider is a guide to enjoying cider, but even more so, it is a guide to being part of a community of consumers, farmers, and fermenters making the nation's oldest beverage its newest must-try drink.
About the Author
---
Dan Pucci is one of the nation's leading cider experts. He was the founding beverage director at Wassail, New York City's first cider bar and restaurant, and has since traveled the country in a continued pursuit of cider education, awareness, and research. He is a partner in Wallabout Hospitality, a New York City-based consulting and hospitality company.

Craig Cavallo lived in New York City for thirteen years, working in restaurants, blogging about food trends, and writing for Saveur. His work has been published in Condé Nast Traveler, GQ, New York magazine's Grub Street, Thrillist, and Vice Munchies. He left New York City for the Hudson Valley, and when he's not at Golden Russet Cafe & Grocery, the café that he owns and operates with his wife, Jenny, he can be found picking fenceline apples and dabbling in his own cellar cider experiments.
Praise For…
---
"Dan Pucci and Craig Cavallo take contemporary cider writing to a whole new level. . . . This ambitious book takes an approach to their subject that is unlike any that has come before it. . . . This is an important book, the first to look deeply into what cider in America was, is, and can become even as it just scratches the surface. It points the way to a future where the many factors that make each part of this country distinct are celebrated in the ciders produced there."—Cidercraft Magazine
 
"As the book lays out with authority and specificity, cider is not just a lost craft addressing a sense of nostalgia, but a road map for a way forward that respects the environment, invigorates rural economies, and can provide pleasure for future generations of growers, drinkers, and makers who are sure to value this important book."—Alex Raij, chef, restaurant owner, and author of The Basque Book

"Until now, we've had only glimpses of this story, but American Cider puts it all together, weaving history, botany, anthropology, and insight into the first comprehensive account of what American cider is and how it got that way. By tracing the human and natural forces at work over four centuries, Pucci and Cavallo provide a new context for understanding how America has shaped cider—and, in so doing, a new way for understanding America."—Rowan Jacobsen, author of Apples of Uncommon Character and A Geography of Oysters

"Pucci and Cavallo survey the American cider landscape with a compass both diplomatic and passionate. It's a far-reaching scene, dotted with tidbits and profound with consequence, but our guides are skilled artisans; the painting is both intimate with detail and bucolic in its sum."—Andy Brennan, cidermaker, apple grower, and author of Uncultivated

"Whenever I've had questions about cider, Dan Pucci has long been my first stop for expertise. Now he can be everyone's go-to expert, thanks to this thorough, comprehensive guide on ciders and the apples used to make them."—Kara Newman, author of Cocktails with a Twist and spirits editor, Wine Enthusiast magazine

"Cider evangelists Pucci and Cavallo take readers on a centuries-spanning journey from colonial America's historic orchards to today's visionary makers who are spearheading the juiced-up cider revival. After reading American Cider, you'll never eye an apple the same way again."—Joshua M. Bernstein, author of The Complete Beer Course and Drink Better Beer

"In the past few decades the number of cideries, the apple equivalent of wineries, has risen tenfold in America. . . . Cider expert Pucci and food writer Cavallo have meticulously searched out cider makers old and new all across the land. . . . This is a good, comprehensive guide to this once-again popular, refreshing quaff."—Booklist