Briefly, A Delicious Life: A Novel (Hardcover)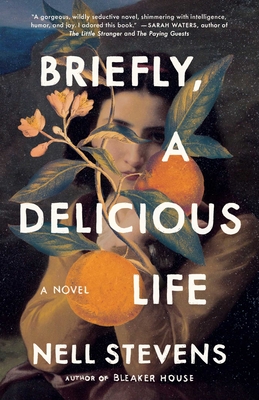 Staff Reviews
---
What a spectacularly creative novel. Nell Stevens's historical fiction centers on a tumultuous year in the lives of two pretty famous people: George Sand and Frédéric Chopin. In the early 1800s, the lovers absconded to Mallorca seeking "curative sea air" for the ever-sickly composer and Sand's son. What makes the book delightful and unique is that our narrator is the ghost of a fourteen-year-old girl who died four hundred years prior to the ragtag crew taking up temporary residence in the monastery where she died.
Beyond being an inventive work, Stevens has a real deftness with words. I wrote down several excerpts, floored by the poetic, playful perceptiveness. The book is rich with descriptive language detailing both the setting and the characters' inner lives. Reading it was such an unexpected pleasure.
— From
Holly
Description
---
*A Cosmopolitan Best Book of Summer * One of BuzzFeed's Most Anticipated LGBTQ+ Books*

An "exquisite…too lovely to bear" (The New York Times Book Review) debut novel from an award-winning writer: a playful and daring tale about a teenage ghost who falls in love with the writer George Sands.

In 1473, fourteen-year-old Blanca dies in a hilltop monastery in Mallorca. Nearly four hundred years later, when George Sand, her two children, and her lover Frederic Chopin arrive in the village, Blanca is still there: a spirited, funny, righteous ghost, she's been hanging around the monastery since her accidental death, spying on the monks and the townspeople and keeping track of her descendants.

Blanca is enchanted the moment she sees George, and the magical novel unfolds as a story of deeply felt, unrequited longing—a teenage ghost pining for a woman who can't see her and doesn't know she exists. As George and Chopin, who wear their unconventionality, in George's case, literally on their sleeves, find themselves in deepening trouble with the provincial, 19th-century villagers, Blanca watches helplessly and reflects on the circumstances of her own death (which involved an ill-advised love affair with a monk-in-training).

Charming, original, and emotionally moving, this "deeply wild debut follows the unconventional love triangle" (Cosmopolitan) between George, Chopin, and Blanca—a gorgeous and surprising exploration of artistry, desire, and life after death.
About the Author
---
Nell Stevens is the author of Bleaker House and The Victorian & the Romantic, which won the 2019 Somerset Maugham Award. She was shortlisted for the 2018 BBC National Short Story Award and her writing has been published in The New York Times, Vogue, The Paris Review, The New York Review of Books, The Guardian, Granta, and elsewhere. Nell is an assistant professor of creative writing at the University of Warwick.
Praise For…
---
A Financial Times Best Book of the Year
One of Buzzfeed's Highly Anticipated LGBTQ+ Books

"An exquisite debut novel ... imbued with reverence for small moments; Blanca describes her love for George as finding a detail as insignificant as a hangnail "entirely overwhelming, too lovely to bear" … Blanca's story is much the same — overwhelming, too lovely to bear… I confess: I cried."
—The New York Times Book Review

"Set in 19th-century Mallorca, this deeply wild debut follows the unconventional love triangle that unfolds between real-life French novelist George Sand, her lover Frédéric Chopin, and the teenage ghost who died over 400 years earlier and pines after George from afar."
—Cosmopolitan, Best Books of the Summer

"Provocative, enticing, visceral, this debut novel is emotionally true."
—Toronto Star

"Stevens is brilliant at describing desire."
—Guardian

"Deeply enjoyable, guileful."
—Telegraph

"Truly original . . . brilliant."
—The Herald

"A teenage ghost falls in love with a writer who doesn't know she exists in this playful, otherworldly debut novel."
—Stylist

"A gorgeous, wildly seductive novel, shimmering with intelligence, humor and joy. I adored this book."
—Sarah Waters, author of The Little Stranger and The Paying Guests

"We know we are curious about the dead, but imagine a life lived so vibrantly as to make the dead curious about us. Nell Stevens brings a reader into the strange and brilliant artistic exile of George Sand, writing this tender story with tremendous heart and daring. Here, reader, are the low-lying truths of love, art and time."
—Samantha Hunt, author of The Unwritten Book and The Dark Dark

"A haunting, dazzling tale of all the good stuff: love, sex, music, literature, death, and what happens after. Nell Stevens is a beautiful writer."
—Melissa Broder, author of Milk Fed

"A luscious, multi-sensory bewitchment of a book — Stevens' writing rings with wit and surprise."
—Kiran Millwood Hargrave, author of The Mercies

"This electrifyingly beautiful, exhilaratingly clever book is Nell Stevens' best to date, and categorically the most gorgeous first novel I've read in years. It's rare that I come across historical fiction so sensual, so original, so intelligent, and so brimming with love."
—Imogen Hermes Gowar, author of The Mermaid and Mrs. Hancock

"I found myself floored by Nell Stevens' mastery with language, by her deep understanding of the human spirit, by the astonishing freshness of this historical novel. Briefly, A Delicious Life is a shining work of art and Nell Stevens is an original, whose touch is as deft as it is masterful."
—Elizabeth Macneal, author of The Doll Factory

"A novel of tremulous beauty, sly wit and deep understanding, Briefly, A Delicious Life is an addictive, sunlit delight."
—Stuart Evers, author of The Blind Light

"A luminous, beguiling exploration of creativity and love."
—Alice Albinia, author of Cwen