When You Are Mine: A Novel (Hardcover)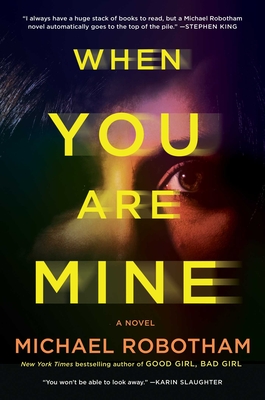 $24.99

In stock at Brooklyn or Jersey City -- click for more details
Description
---
In this "heart-clutching psychological thriller" (People) from an author who Stephen King calls "an absolute master," a young female police officer faces danger on all fronts—from a clever victim of abuse, skeptical colleagues on the force, and even her own father.

Philomena McCarthy is an ambitious police officer with the elite Metropolitan Police in London. The estranged daughter of a notorious and powerful mobster, she has defied the odds to follow her dream. On a routine patrol, Philomena responds to a domestic violence call and rescues a bloodied young woman, Tempe Brown, who is the mistress of a decorated and intimidating London detective, Darren Goodall. The incident is hushed up by the police to protect Goodall's reputation, but Philomena has now made a dangerous enemy who is afraid of no one.

Philomena and Tempe strike up a tentative friendship, determined to protect each other from Goodall, but something isn't quite right about the stories Tempe tells and the secrets she keeps. Yet the young officer is drawn into Tempe's world, unsure of what is real or invented. After a bungled break-in and an unsolved murder, Philomena finds herself trapped—with her career, her impending wedding, and her very survival in doubt.

Robotham's brilliant ability to render complex characters, both good and bad, keeps readers sympathetic, yet unsure of whom to trust, "maintain[ing] an air of excruciating suspense" (The Washington Post)—until the very last page.
About the Author
---
Michael Robotham is a former investigative journalist whose bestselling psychological thrillers have been translated into twenty-five languages. He has twice won a Ned Kelly Award for Australia's best crime novel, for Lost in 2005 and Shatter in 2008. His recent novels include When She Was Good, winner of the UK's Ian Fleming Steel Dagger Award for best thriller; The Secrets She Keeps; Good Girl, Bad Girl; When You Are Mine; and Lying Beside You. After living and writing all over the world, Robotham settled his family in Sydney, Australia.
Praise For…
---
"A heart-clutching psychological thriller." —People

"Robotham maintains an air of excruciating suspense in this plot-driven tale." —Katherine A. Powers, The Washington Post

"Excellent and totally entertaining. . . . No one does suspense better." —Stephen King

"[An] expertly paced first-person narrative. . . . Sidestepping all the clichés—the tough-girl humor is perfectly pitched and never overdone—the novel is as psychologically nuanced and emotionally engaging as it is suspenseful. . . . A flawless and compassionate psychological thriller." —Kirkus (starred review)

"An engaging first-person narrative with a surprise twist at the end." —Booklist