Come As You Are: Revised and Updated: The Surprising New Science That Will Transform Your Sex Life (Paperback)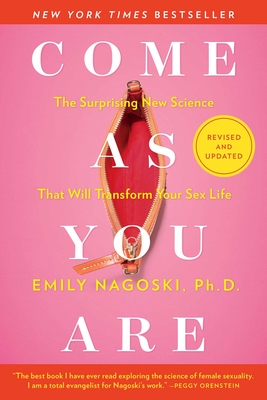 Staff Reviews
---
I learned more from the intro than any sex-ed class has even attempted to communicate. In my utopia, everybody reads it, the phrase "genital nonconcordance" enters the Zeitgeist, TikTok overflows with conversations about spontaneous vs responsive desire, cis-men quiz each other about female anatomy, doctors believe women, and everyone orgasms every single day. Be the change you want to see in the world. Read the book.
— From
Aly
Description
---
A revised and updated edition of Emily Nagoski's game-changing New York Times bestseller Come As You Are, featuring new information and research on mindfulness, desire, and pleasure that will radically transform your sex life.

For much of the 20th and 21st centuries, women's sexuality was an uncharted territory in science, studied far less frequently—and far less seriously—than its male counterpart.

That is, until Emily Nagoski's Come As You Are, which used groundbreaking science and research to prove that the most important factor in creating and sustaining a sex life filled with confidence and joy is not what the parts are or how they're organized but how you feel about them. In the years since the book's initial publication, countless women have learned through Nagoski's accessible and informative guide that things like stress, mood, trust, and body image are not peripheral factors in a woman's sexual wellbeing; they are central to it—and that even if you don't always feel like it, you are already sexually whole by just being yourself. This revised and updated edition continues that mission with new information and advanced research, demystifying and decoding the science of sex so that everyone can create a better sex life and discover more pleasure than you ever thought possible.
About the Author
---
Emily Nagoski is the award-winning author of the New York Times bestseller Come as You Are: The Surprising New Science That Will Transform Your Sex Life, and the coauthor of Burnout: The Secret to Unlocking the Stress Cycle. She has an MS in counseling and a PhD in health behavior, both from Indiana University.
Praise For…
---
"This is the best book I have ever read about sexual desire and why some couples just stop having sex, and what they can do about it. Come As You Are is an absolutely necessary guide for all couples who want to understand the ups and downs in their own sex life. It is a must read!"
—John Gottman, Ph.D., author of The Seven Principles for Making Marriage Work

"Emily Nagoski has written one of the most important books about sex any woman (or anybody else) could ever pick up, full of insights that are both fascinating and deeply useful. Synthesizing new research and theory about sexuality with old-school sex-positive information of the sort you didn't learn in sex ed (unless, perhaps, you are a Unitarian, or Scandinavian, or lucky enough to be in Dr. Nagoski's class), I guarantee Come As You Are will open minds and change lives."
— Carol Queen, Ph.D., Founding director, Center for Sex & Culture

"Emily Nagoski is worth her weight in TED Talks, and Come as You Are is a master-class in the science of sex."
— Ian Kerner, sex therapist and bestselling author of She Comes First

"It's the science of sex, decoded and demystified. Want to be educated on the latest findings about female genitalia? Of course you do. Empowering and sex-positive at best, this informative read makes for an enticing bedfellow."
—Refinery29

"Lots of books — and articles and experts — claim to have the keys to transform your sex life. This one actually has it. It isn't as fast as taking a pill, but it will last a whole lot longer. You will find no hot new bedroom moves — it's that deeper-level soul stuff. You know, the stuff that actually works."
—Salon.com

"Wonderful new language to help us articulate to women (and their lovers) what is going on."
—Huffington Post

"Like a punch to the gut. When I read the passage that made me realize—after all these years—that I was not actually broken, I began to cry. . . . I wished [Nagoski] was someone who was actively in my life, someone I could reach out to for grounding every time I momentarily forgot the lessons in her book."
—Book Riot

"Nagoski's book deserves plaudits for the rare achievement of merging pop science and the sexual self-help genre in prose that's not insufferably twee. . . . [Come As You Are] offers up hard facts on the science of arousal and desire in a friendly and accessible way."
—The Guardian (UK)