Waking the Witch: Reflections on Women, Magic, and Power (Paperback)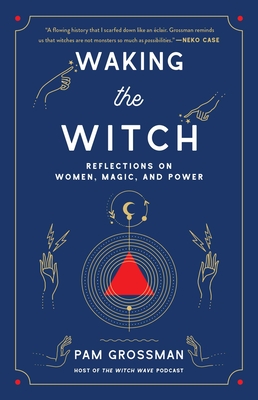 $14.00

Available from our distributor; usually Ships in 1-5 Days
Description
---
From the podcast host of The Witch Wave and practicing witch Pam Grossman—who Vulture has dubbed the "Terry Gross of witches"—comes an exploration of the world's fascination with witches, why they have intrigued us for centuries and why they're more relevant now than ever.

When you think of a witch, what do you picture? Pointy black hat, maybe a broomstick. But witches in various guises have been with us for millennia. In Waking the Witch, Pam Grossman explores the impact of the world's most magical icon. From the idea of the femme fatale in league with the devil to the bewitching pop culture archetypes in Sabrina the Teenage Witch and Harry Potter; from the spooky ladies in fairy tales to the rise of contemporary witchcraft, witches reflect the power and potential of women.

Part cultural analysis, part memoir, Waking the Witch traces the author's own journey on the path to witchcraft, and how this has helped her find self-empowerment and purpose. It celebrates witches past, present, and future, and reveals the critical role they have played—and will continue to play—in the world as we know it.

"Deftly illuminating the past while beckoning us towards the future, Waking the Witch has all the makings of a feminist classic. Wise, relatable, and real, Pam Grossman is the witch we need for our times" (Ami McKay, author of The Witches of New York).
About the Author
---
Pam Grossman is the creator and host of The Witch Wave podcast and the author of What is a Witch. Her writing has appeared in such outlets as The New York Times, The Atlantic, Time, Ms., and her occulture blog, Phantasmaphile. She is cofounder of the Occult Humanities Conference at NYU, and her art exhibitions and magical projects have been featured in such publications as Artforum, Art in America, and The New Yorker. She lives in Brooklyn with her husband and their feline familiar. You can find her at PamGrossman.com and @Phantasmaphile.