Desegregating Comics: Debating Blackness in the Golden Age of American Comics (Paperback)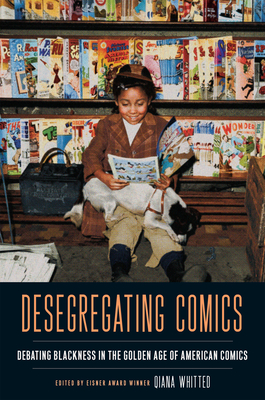 $37.95

Available from our distributor; usually Ships in 1-5 Days
Description
---
Some comics fans view the industry's Golden Age (1930s-1950s) as a challenging time when it comes to representations of race, an era when the few Black characters appeared as brutal savages, devious witch doctors, or unintelligible minstrels. Yet the true portrait is more complex and reveals that even as caricatures predominated, some Golden Age comics creators offered more progressive and nuanced depictions of Black people. 
 
Desegregating Comics assembles a team of leading scholars to explore how debates about the representation of Blackness shaped both the production and reception of Golden Age comics. Some essays showcase rare titles like Negro Romance and consider the formal innovations introduced by Black comics creators like Matt Baker and Alvin Hollingsworth, while others examine the treatment of race in the work of such canonical cartoonists as George Herriman and Will Eisner. The collection also investigates how Black fans read and loved comics, but implored publishers to stop including hurtful stereotypes. As this book shows, Golden Age comics artists, writers, editors, distributors, and readers engaged in heated negotiations over how Blackness should be portrayed, and the outcomes of those debates continue to shape popular culture today.
About the Author
---
QIANA WHITTED is a professor of English and African American studies at the University of South Carolina. Her books include A God of Justice?: The Problem of Evil in Twentieth-Century Black Literature and the Eisner Award–winning EC Comics: Race, Shock, and Social Protest. She has also served as chair of the International Comic Arts Forum and is the editor of Inks: The Journal of the Comics Studies Society.
Praise For…
---
"Only someone living in a cave wouldn't see how thoroughly comics permeate American culture. But even those knowledgeable about graphic arts may not be aware of how comics mirror this nation's often tortured racial history. And even fewer people know about the pioneering Black artists who worked to challenge and change racist stereotypes. What that means is that the groundbreaking essays in Desegregating Comics are essential contributions to an exciting, relatively new field of long-overdue scholarship."
— Charles Johnson

"Desegregating Comics is essential reading for those seeking a more complex and revisionist history of the Black image in comics in the first half of the twentieth century. It includes leading voices in media, literature, gender, and Black studies who unearth the collaborative efforts in the industry to reshape visual and narrative renderings of spectacular blackness and speculations of blackness."
— Deborah Elizabeth Whaley