The Pussy Detective (Paperback)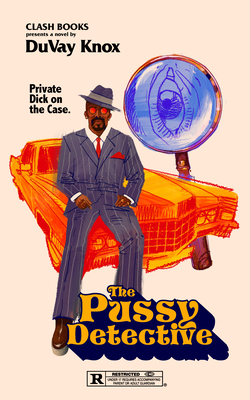 $15.95

Available from our distributor; usually Ships in 1-5 Days
Description
---
A surreal Blacksploitation joint for the 21st Century.
An Occult, Erotic Mystery bout Reverend Daddy Hoodoo helping his Wommin find their Lost-R-Missing Pussies with the help of the extraordinary Madam X. Featuring heartless gangsters, Vodoo sex Magick, and a young Wommin in distress by the name of Abysinnia who is in desperate need of the services of Daddy Hoodoo. This tale leads from Between the Sheets to the Streets to the Boardroom Suites-and Beyond.
PRAISE FOR THE PUSSY DETECTIVE
"The Pussy Detective is the best novel I have read in the past five years It feels like James Joyce wrote Blaxploitation and left his pretense at home. It's fun, surreal, and kept my attention from cover to cover. This book is THE underground novel of the year."
- Daniel W. Wright, author of Love Letters from the Underground
"I found myself re-reading lines for the intelligent and witty poetry, as often for the hilarious analogies. Knox's use of phonetics is ingenious. This book takes chances in more than one way, and it all pays off through a unique narrative. It's surface-level content is fantastic, but like all of us, the greatest part of The Pussy Detective is its heart, and there's a hell of a lot of it Give me more Hoodoo cases, Knox "
-Patrick R. McDonough, Host of Dead Headspace podcast
"A new kind of original writing that grabs your attention with its perfect balance of black erotica, occult mystery & spiritual enlightenment."
-Andrea McCay
"I haven't laughed so much in ages DuVay Knox has invented a new genre of Blaxploitation Bizarro that's absurdly poignant and utterly refreshing. Naughty, edgy, and utterly hilarious I read this one to the end in one sitting."
-Jerry Drake, gov man, paranormal investigator, scholar & author of Hazel Drew Was A Good Girl: Sleuthing the Murder that Inspired Twin Peaks (forthcoming from CLASH Books)
ABOUT DUVAY KNOX
I cum outta The South, by way of Louisiana and Tennessee. Life has Turned Me into A Savage Writer of Black Pulp Fiction, Black Exploitation, Black Folklore and Black Occult Erotica. Gritty Shit that makes You wanna Laff/Cry/Scream or Fuck.RUMOR has it I was born from The last Nut in My Daddys Sack. And came into this world when HE came. Needless to say/My Birth was Traumatic. Thus, I arrived here with an Attitude. The Doctor Slapped Me and I Slapped Him Back. And So my Journey began. To Find Myself.Contact me at: duvayknox@yahoo.com
About the Author
---
"I cum outta The South, by way of Louisiana and Tennessee. Life has Turned Me into A Savage Writer of Black Pulp Fiction, Black Exploitation, Black Folklore and Black Occult Erotica. Gritty Shit that makes You wanna Laff/Cry/Scream or Fuck. RUMOR has it I was born from The last Nut in My Daddys Sack. And came into this world when HE came. Needless to say/My Birth was Traumatic. Thus, I arrived here with an Attitude. The Doctor Slapped Me and I Slapped Him Back. And So my Journey began. To Find Myself." - DuVay Knox