Those Devils in Baggy Pants (Paperback)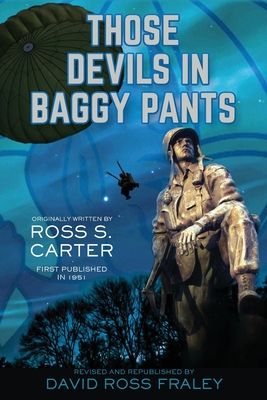 $22.95

Available from our distributor; usually Ships in 1-5 Days
Description
---
Those Devils in Baggy Pants was originally published in 1951 by Ross S. Carter, a member of the 82nd Airborne Division during WWII. Carter, one of the three surviving members of his original platoon and Silver Star and Purple Heart awardee, sadly, was never able to see his book in print. Instead, the final chapters were pieced together by his brother, shortly after Carter's passing, with the help of Carter's meticulous notes.
After its original publication in 1951, Those Devils in Baggy Pants sold one million copies, was a Reader's Digest condensed book, and was translated into multiple languages. Now, years after being out of print, the hit bestseller is being republished by a member of Carter's own family-David Ross Fraley.
In republishing his relative's incredible tale it is Fraley's hope to honor both story and storyteller.
Those Devils in Baggy Pants invites readers to join the C Company of the 504th Parachute Infantry Regiment 82nd Airborne Division. Within Carter's WWII memoir is a love story unlike any other- one that depicts the unparalleled affection between comrades.
With the novel's republish come additions to Carter's tale, including the history of his book and a journey through Carter's writing process. Those Devils in Baggy Pants, and Carter himself, will leave a lasting impression on any reader.