Standalone: A Dickie Cornish Mystery (Paperback)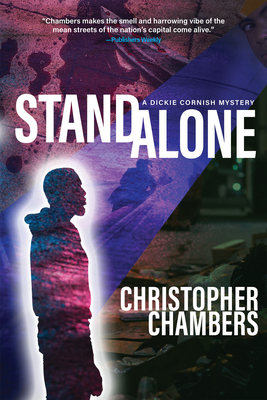 $16.00

Available from our distributor; usually Ships in 1-5 Days
Description
---
"Top 25 Mystery Novels of 2022" --The Strand Magazine
"Chambers makes the smell and harrowing vibe of the mean streets of the nation's capital come alive." --Publishers Weekly
Dickie Cornish, Washington, DC street denizen turned unlicensed private investigator, is forced at gunpoint to track down the daughter of an ex-con, setting up a chain of events that unleashes a war within the corrupt police force, exposes shocking conduct in child services, and unearths a secret that threatens to tear the nation's capital apart. The second book in the Dickie Cornish mystery series, STANDALONE is a must-read for fans of S. A. Cosby, George Pelecanos, and Joe Ide.

It's been over year since that bleak Christmas when a rich man peeled homeless, drug-addled Dickie Cornish from a steam grate, cleaned him up, and convinced him to use his street connections to track down his missing property. Now, as the summer sun bakes those same mean streets, the air is thick with crime, contagion, corruption. Dickie struggles with sobriety, anti-psychotic meds, and counseling at the VA, but manages to make a meager living as a private investigator with his sidekick, "Stripe"--until an ex-con named Al-Mayadeen Thomas sticks a gun to Dickie's forehead and kidnaps him to a grim flophouse--a motel filled with squatters more desperate than the poor souls in the shelters.
Thomas demands that Dickie find his daughter, missing for years from the motel in a notorious cold case. The other squatters plead for him to find their vanished children as well. Thomas takes his own life to seal Dickie's help, Police Chief Linda Figgis hauls Dickie in, gives him a Faustian choice: she directs him to help her close the Thomas cold case, but only if he forgets about the other vanished and abused children. To his horror, Dickie finds himself in the middle of a war within the police, with either side closing in for the kill to keep the truth hidden.
About the Author
---
Christopher Chambers is a crime novelist, professor of media studies, lawyer, and International Fellow at International Conflict Resolution Center. His works include the first two installment in the Dickie Cornish mystery series, Scavenger and Standalone (Three Rooms Press); two Penguin Random House releases: A Prayer for Deliverance and Sympathy for the Devil (NAACP Image Award nominee); the graphic anthology (with Gary Phillips) The Darker Mask (Tor Books); the PEN/Malamud-nominated story "Leviathan" and "The Psalm of Bo"; and more. Chambers is a regular commentator and contributor on media and culture issues on SiriusXM Radio, ABC News, and HuffPost. He resides in his hometown of Washington, D.C. with his family and German Shepherd, Max.