Felix Silver, Teaspoons & Witches (Paperback)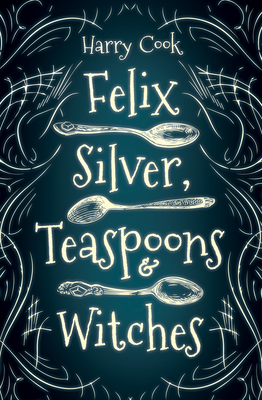 $17.99

Available from our distributor; usually Ships in 1-5 Days
Description
---
After his parents announce that his bizarre, emerging abilities are getting in the way of their divorce, Felix Silver relocates to Dorset Harbor and becomes the charge of his Grandma Aggie.

As Felix adjusts to life in a new school, Aggie decides that it's time he learn The Silver Way, and teaches him all she knows about sorcery and magical arts. When Felix and his new friends decide to solve the mystery of local teenagers who have gone missing, Felix learns that his crush, Aero, has a big secret.

Is dark magic creeping into the town, and can Felix learn enough from Aggie and the witches of Dorset Harbor to combat it?

From actor and author Harry Cook, Felix Silver is a charming and funny Golden Girls–meets–Harry Potter YA fantasy adventure in the tradition of Rainbow Rowell's Carry On.
About the Author
---
Harry Cook is an award-winning film, television, and theater actor, writer, and LGBTQI+ activist. His writing credits includes Pink Ink (a memoir, 2018, Finch/Harper Collins), Fin & Rye & Fireflies (2020, Ink Road), and contributions to The Huffington Post, The Big Smoke, and The Guardian. With theatre credits including Macbeth, the Australian premiere of Mark Ravenhill's groundbreaking play Citizenship, and Sydney's run of the Broadway smash hit RENT, he has worked alongside such talents as Academy Award winner Geena Davis, Sam Neill, Peter Phelps, and Ben Oxenbould.
Praise For…
---
"Harry Cook's Felix Silver, Teaspoons and Witches is a delightful brew of a book, and a beautiful reminder that there's magic to be found in friendship, family, love, and mystery." —Abdi Nazemian, author of Stonewall Honor Book Like a Love Story and The Chandler Legacie

"A needed elixir of queer empowerment and courage at a moment when it feels like dark forces are gathering in our world too, written with Cook's signature optimism and hope." —Steven Rowley, author of Lily and the Octopus,The Editor, and The Guncle

  

  

Praise for Fin & Rye & Fireflies
"Fin & Rye & Fireflies is a big-hearted queer romance that balances a beautiful optimism with a frank look at the challenges still facing queer youth. I was swept up in the love story and adventures of Fin and Rye, and I know they will be bringing smiles and fireflies to many a reader."—Abdi Nazemian, author of Stonewall Honour Book Like a Love Story

"Cook's heart to give young people a book that doesn't shy away from the issues that affect them clearly comes through in this unique and heartfelt book." —Chris Csabs, cofounder of SOGICE Survivors

"Charming. Sweet. Engaging. Important. Characters you will fall in love with and an author you will as well." —Greg Howard, author

Praise for Pink Ink
"This book will make you laugh, cry, and make you a little angry. But most importantly, it'll remind you that it's okay to be exactly who you are."—Sarah Colonna, Comedian, Chelsea Lately, NYTimes best-selling author

 "A great read!"—Perez Hilton