Lesser Known Monsters of the 21st Century (Paperback)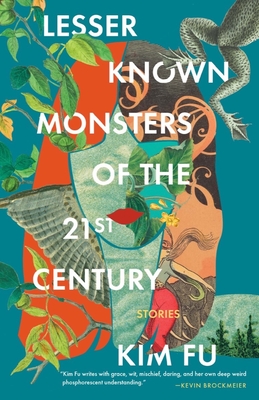 $16.95

In stock at Brooklyn or Jersey City -- click for more details
Staff Reviews
---
While I enjoyed this book for its unsettling speculations and vivid, specific horrors, what resonated most were its desperate descriptions of beauty. Fu writes like she's already grieving things that haven't yet vanished. Sometimes the absences are plot points -- the loss of taste, of innocence -- but however literally the future she imagines gobbles up the things she loves, her eulogies always ring true. Refusing to take the world for granted, she destroys it, eliciting the same longing in us.
— From
Aly
Description
---
"The strange and wonderful define Kim Fu's story collection, where the line between fantasy and reality fades in and out, elusive and beckoning." —The New York Times Book Review

A LitHub, ALTA, and PureWow Best Book of the Month

A BuzzFeed and WIRED Pick for a Book You Need to Read This Winter
In the twelve unforgettable tales of Lesser Known Monsters of the 21st Century, the strange is made familiar and the familiar strange, such that a girl growing wings on her legs feels like an ordinary rite of passage, while a bug-infested house becomes an impossible, Kafkaesque nightmare. Each story builds a new world all its own: a group of children steal a haunted doll; a runaway bride encounters a sea monster; a vendor sells toy boxes that seemingly control the passage of time; an insomniac is seduced by the Sandman. These visions of modern life wrestle with themes of death and technological consequence, guilt and sexuality, and unmask the contradictions that exist within all of us.  
Mesmerizing, electric, and wholly original, Kim Fu's Lesser Known Monsters of the 21st Century blurs the boundaries of the real and fantastic, offering intricate and surprising insights into human nature.
About the Author
---
Kim Fu is the author of For Today I Am a Boy which won the Edmund White Award for Debut Fiction and was a finalist for the PEN/Hemingway Award, as well as a New York Times Book Review Editor's Choice. Her second novel, The Lost Girls of Camp Forevermore, was a finalist for the Washington State Book Award and the OLA Evergreen Award. Fu's writing has appeared in Granta, the Atlantic, the New York Times, Hazlitt, and the TLS. She lives in Seattle.
Praise For…
---
The strange and wonderful define Kim Fu's story collection, where the line between fantasy and reality fades in and out, elusive and beckoning.
— The New York Times Book Review

Inventive and mesmerizing. . . . Vivid and surreal, readers of Carmen Maria Machado will enjoy this collection.
— BuzzFeed

A lovely, new collection of eclectic tales.
— The Washington Post

Wildly imaginative. . . . Truly addictive reading. This collection cements Fu as one of the most exciting short story writers in contemporary literature.
— NPR Books

The success of Kim Fu's stories is the element of the unexpected. There are surprises lurking in these narratives, whether it is a quick final plot twist or unexpected peculiarity. . . . Fu is a master of imagery.
— Chicago Review of Books

Mesmerizing. . . . 12 stories about macabre, beautifully dark images (not unlike a Lana Del Rey song). . . . Think: sexuality, guilt, contradictions, drama!
— NYLON

Rich and metamorphic. . . . [Fu] clearly has a knack for the form.
— WIRED

A speculative short story collection ideal for streaming audiences accustomed to Black Mirror and The Haunting of Hill House.

— The Hollywood Reporter

What makes these dozen stories really pop are the people around whom they are centered. . . . ultimately it catalogues human nature.
— LitHub

Haunting.
— Bustle

Fu's fiction is mesmerizing, and her new book is a collection of fantastical tales featuring sea monsters and haunted dolls.
— R.O. Kwon - Electric Lit

Wonderful. . . . There's nothing to fault in this book; it's an endlessly entertaining bestiary from one of the country's most exciting practitioners of fiction.
— The Star Tribune

An incredible collection, one with sweeping variety that is unified by a singular vision of what it means to be human.
— The Rumpus

Stunning. . . . Her stories engage all the senses. . . . A  terrific collection of speculative fiction, with evocative, textured prose that left a lasting impression.
— Locus Magazine

This collection is akin to something out of The Twilight Zone: girls grow wings, sea monsters surface, children's toys have the power to control time. The oddities to be encountered here will delight and surprise.

— LitHub

A modern, mystical playground.
— Thrillist

Stunning. . . . A must read.
— International Examiner

Each story feels like a potential episode of Black Mirror, exploring futuristic technology and the dangerous hold it has on all of us.

— Ploughshares

Deeply vivid. . . . Fu's writing is incisive, lyrical, and inventive.
— F(r)iction

Strange and fantastic. . . . offers commentary on relationships, technology, and what we think we know about one another.
— ALTA

Deft and vivid. . . . Fu paints us pictures of the monsters that loom in the distance of our 21st century lives, at times both abstract and clear as day.
— Porter House Review

Fu boldly carries all that I loved of Bradbury's fiction—its variety, sensitivity, and immense creative power—into a new era with short stories that captivate and terrify, shock and inspire. Lesser Known Monsters is a uniquely mesmerizing collection.

— Necessary Fiction

Lesser Known Monsters of the 21st Century is one of those rare collections that never suffers from which-one-was-that-again? syndrome. Every story here lights a flame in the memory, shining brighter as time goes by rather than dimming. Kim Fu writes with grace, wit, mischief, daring, and her own deep weird phosphorescent understanding.

— Kevin Brockmeier, author of The Ghost Variations

How I loved the cool wit of these speculative stories! Filled with wonder and wondering, they're haunted too by loss and loneliness, their imaginative reach profoundly rooted in the human condition.
— Peter Ho Davies, author of A Lie Someone Told You About Yourself

Lesser Known Monsters of the 21st Century is for the adventurous reader—someone willing to walk into a story primed for cultural critique and suddenly come across a plot for murder, or to consider the dangers of sea monsters alongside those posed by 21st century ennui. Each story is spectacularly smart, hybrid in genre, and bold with intention. The monsters here are not only fantastical figures brought to life in hyper-reality but also the strangest parts of the human heart. This book is as moving as it is monumental.

— Lucy Tan, author of What We Were Promised

When a collection is evocative of authors as disparate as Ray Bradbury and Stephanie Vaughn, the only possible unifier can be originality: and that's what a reader finds in Kim Fu's Lesser Known Monsters of the 21st Century. The strangest of concepts are tempered by grounded, funny dialogue in these stories, which churn with big ideas and craftily controlled antic energy.

— Naben Ruthnum, author of Find You in the Dark

Kim Fu's Lesser Known Monsters of the 21st Century crushes the coal-dark zeitgeist between its teeth and spits out diamonds, beautiful but razor-sharp. This will be one of the best short story collections of the year.

— Indra Das, author of The Devourers

Precise, elegant, uncanny, and mesmerizing—each story in this collection is a crystalline gem. Kim Fu's talent is singularly inventive, her every sentence a surprise and an adventure.
— Danya Kukafka, author of Notes on an Execution

This is one my favorite reads of 2022 so far. It's an amazing collection with such emotion. . . . beautiful, innocent, and unnerving.
— Book Riot

Fascinating. . . . In the vein of Carmen Maria Machado and Mariana Enríquez, one of Fu's greatest strengths is her ability to turn horror on its head, focusing less on the terror the modern-day monsters incite, but what they reveal about ourselves.
— The Adroit Journal

A dazzling and surreal collection that grabs you by the throat. . . . Riveting.
— The Orange County Register

This collection of kaleidoscopic speculative short stories will have you questioning reality and loving every minute of it.
— Ms. Magazine

The best speculative fiction seeks to decenter, decolonize, and disrupt what many have taken for granted as the universe's natural order. Or at least, that's what I decided after reading Monsters, because in it, Fu leaps so nimbly from story to story, center to center, taking whatever perspective necessary to take nothing in the multiverse for granted. . . . Fu, who has published two novels and one book of poetry previously, excites me as an emerging speculative fiction author of unique voice and considerable talent.
— South Seattle Emerald

Smart and sharp. . . . a first-rate collection for any fan of speculative fiction. . . . a marvelous collection of work by a writer of tremendous gifts.
— The Maine Edge

Vibrantly imaginative.
— West Trade Review

Fu's mastery of clever, strange concepts is undeniable. . . . Tautly controlled language, often to the point of spareness, communicates the lyrical imagination that is the foundation for each piece.
— ZYZZYVA

If you want your fiction as weird as it can get while still being compassionate, resonant, and beautiful, look no further. . . . Super excited about this one.
— Patch

Fu's stories keep you locked in and riveted. She does the thing great short story writers do, which is to say, she pulls you into the story from the jump and keeps you there. . . . [It's] fabulous, you should read it.
— SFF YEAH!

Delightfully, darkly bizarre. . . . I sped through this collection because it was just too good to put down.
— In Cold Books

With exceptional sleight-of-hand and significant literary talent, Fu dazzles readers.
— Full Stop

The title promises something monstrous and it delivers.
— BookBrowse

This is storytelling at its finest.
— Lightspeed Magazine

Stellar. . . . Fu's stories crackle with quirky plots, and her characters' problems and hunger for new possibilities are palpable. This is a winner.
— Publishers Weekly, Starred Review

Powerful. . . . Fu addresses questions of technology and community with grace and subtlety.
— Kirkus, Starred Review

A breathtaking collection of speculative fiction stories about how new places and innovations affect timeless emotions.
— Foreword Reviews, Starred Review

Strange and fantastic. . . . sheds an uncanny light on the emotional dissonance of modern life.
— Shelf Awareness, Starred Review

A dozen sly, provocative, fabulous short stories sure to delight and shock. From doll parts to winged ankles to stockpiled gold bars, Fu flaunts an inimitable imagination. . . . Irrefutably fantastic fiction.
— Booklist, Starred Review