Justine (Hardcover)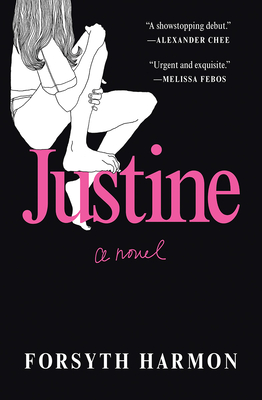 $19.95
Out of Stock - Not Available
Description
---
A Lit Hub and Largehearted Boy Best Book of the Year
An "LGBTQ Book That Will Change The Literary Landscape in 2021" —O, The Oprah Magazine
A Vulture Best Short Book

"Piercing. It shook me, and it made me see." —Victor LaValle
Summer 1999. Long Island, New York. Bored, restless, and lonely, Ali never expected her life would change as dramatically as it did the day she walked into the local Stop & Shop. But she's never met anyone like Justine, the store's cashier. Justine is so tall and thin she looks almost two-dimensional, and there's a dazzling mischief in her wide smile. "Her smile lit me up and exposed me all at once," Ali admits. "Justine was the light shining on me and the dark shadow it cast, and I wanted to stand there forever in the relief of that contrast."
Ali applies for a job on the spot, securing a place for herself in Justine's glittering vicinity. As Justine takes Ali under her wing, Ali learns how best to bag groceries, what foods to eat (and not to eat), how to shoplift, who to admire, and who she can become outside of her cold home, where her inattentive grandmother hardly notices the changes in her. Ali becomes more and more fixated on Justine, reshaping herself in her new idol's image, leading to a series of events that spiral from superficial to seismic.
Justine, Forsyth Harmon's illustrated debut, is an intimate and unflinching portrait of American girlhood at the edge of adulthood—one in which obsession hastens heartbreak.
About the Author
---
Forsyth Harmon is the illustrator of The Art of the Affair by Catherine Lacey, and has collaborated with writers Alexander Chee, Hermione Hoby, Sanaë Lemoine, and Leslie Jamison. She is also the illustrator of the essay collection, Girlhood, by Melissa Febos. Forsyth's work has been featured in The Believer, Tin House, Virginia Quarterly Review, and The Awl. She received an MFA from Columbia University and currently lives in New York.
Praise For…
---
This terrifyingly relatable illustrated novel is a portrait of teenage infatuation between girls in 1990s Long Island, when heroin chic ruled. This is captured with unsparing prose and evocative black and white illustrations by the author. . . . Expect a lot of the kind of unacceptable violence teen girls learn to accept, and a lot of Mariah Carey, Tamagotchi, and Smirnoff.
— Glamour

Justine demands your attention. The slim novel is populated with line drawings that require you to look. The image and the text vibrate together and apart, requiring the reader to find the connections, to excavate hard-earned truths.

— The Believer

Crackling with the swift and satisfying fizz of Pop Rocks and Diet Coke, Harmon's first novel. . . . acutely captures that time in one's life when imitation feels like the sincerest form of freedom.
— O, The Oprah Magazine

This is a beautifully illustrated and unique text—both supplied by Harmon—that explores the tender, excruciating and exhilarating experiences of girlhood, love, obsession and coming of age.
— Ms. Magazine

A compact but powerful illustrated novel. . . . a bittersweet, nostalgic coming-of-age story.
— BuzzFeed

A book that has the breezy intimacy of a '90s zine, with narration that is alternately withholding and searing—and altogether haunting.
— Guernica

A short, unflinching book. I read it one morning over coffee and felt consistently shocked by it.
— Bitch Magazine

A quiet thrill ride of a novel you won't want to miss.
— Bustle

A painfully and painstakingly accurate representation of growing up . . . caught between the wealth of neighborhoods you don't live in and friends you don't really have.
— Full Stop

Powerful. . . . Harmon's minimalist drawings [open] up more paths to understanding than the text alone can provide.
— Electric Literature

A sharp, richly textured novel.
— The Rumpus

Harmon's evocative prose and drawings put the reader right back into the tension of that age, flush with all those tricky feelings. Justine is an immersive experience that reminds the reader what it's like to be a teenager—for better or for worse.

— Chicago Review of Books

A nostalgic trip through the magazines, music, and end-of-the millennium pop culture provides the backdrop for a narrative focused on obsessions, latent desire, and growing up.
— Shondaland

Justine takes the reader through the heightened emotions of adolescence and the messy intensity of female friendships during a decidedly fragile time of life.

— Isa, Politics & Prose (via BuzzFeed)

An uncommon and incomparable coming-of-age story punctuated with enchanting and evocative line drawings, Justine is a highly recommended debut novel.

— Bookreporter

Exquisite.
— Debutiful

If you haven't already gotten your hands on a copy of Justine, get thee to your local bookseller stat.

— Coveteur

The author's clean, thin-lined illustrations add period detail to the prose's cool lyricism. . . . Harmon traces the nuances of a teenage female friendship's fraught dynamics with clinical precision.
— Publishers Weekly

A propulsive depiction of what a summer in the New York suburbs felt like before iPhones and what a crush can drive someone to do. . . . A novel that captures the emotional intensity, confusion, and quickness of adolescence.
— Kirkus Reviews

Francesca Lia Block's Weetzie Bat meets Laurie Halse Anderson's Wintergirls in this short illustrated novel set in the 1990s. . . . This novel is likely to appeal to older teens as well as adults.

— School Library Journal

Packs a punch in its tale of teen angst. . . I would recommend Justine to any reader who appreciates writing that takes teen girls' lives seriously.

— Women's Review of Books

Justine is one of the strongest debut novels I have read in years, a propulsive examination of girlhood in the late '90s.

— Largehearted Boy

A show-stopping debut.
— Alexander Chee, author of How to Write an Autobiographical Novel

Urgent and exquisite.
— Melissa Febos, author of Abandon Me

Devastatingly attuned to the longing, loathing, and eroticism that can run between two teenage girls.
— Hermione Hoby, author of Neon in Daylight

I've known Forsyth Harmon by the luxurious, eerie lines of her illustrations for years, and what a joy to discover that her writing is just as rich as her drawings. Justine beautifully captures the ragged-edged complexities of female friendship and the raw force with which a teenage girl moves through the turbulence of her previously-quiet life. Justine functions like an illuminated manuscript, in which illustration can live independently yet brings wealths of new meaning to a text, weaving together a world that's pulsingly alive.

— Kristen Radtke, author of Imagine Wanting Only This

Nervy, exacting illustrations and effortless prose . . . with the clarity and mystery of a black opal.
— Catherine Lacey, author of Pew

Brilliant. . . . The mix of text and art is so inventive in pushing toward new ways of questioning what image and text can reveal about each other.
— Idra Novey, author of Those Who Knew

Forsyth Harmon tells powerful stories in both word and image, the two working together to convey meaning and emotion in a way that's deeply satisfying. As a writer, and an artist, her gifts are on full display here. Justine is unsettling, adoring, insightful, and even a little frightening. The best books carry insights that will shake you. That's what happened to me in this piercing novel. It shook me, and it made me see.

— Victor LaValle, author of The Changeling

Like being in a crystalized, lucid dream.
— Makenna Goodman, author of The Shame

[An] innovative debut, which combines pictures and text to paint an evocative portrait of an intense teenage friendship blossoming and then blowing up over a few weeks in the summer of 1999.
— Newsday

A razor-sharp depiction of the ways this world can bend a body to its breaking point.
— Paperback Paris

Forsyth Harmon stuns with her debut.
— The Nerd Daily

Deeply honest, and painfully relatable.
— Arkansas International

Stunning. . . . By leaning into teenage experiences that feel unspoken yet universal, Justine illuminates the nuances and significance of them. They may be typical, but it's okay to feel them deeply.
— MayDay

Punctuated by the spare and elegant line drawings (an attenuated ankle here, a stout can of Diet Coke there), Forsyth Harmon's Justine is a novel both universal (who didn't have an unhealthily intimate best-friendship in high school?) and also highly specific (if you also remember Bridget Hall's late-'90s Ralph Lauren ads, hello). Ali is in high school, unhappy at home, where she lives with her cat and her TV-loving grandmother, and pretty instantly infatuated with Justine, her beautiful, impossibly cool coworker at the Stop & Shop. Their friendship has the same fuzzy electric quality as doing whip-its—the high is only a little less fleeting. Harmon depicts this heady time of life with an exquisite tenderness, a clarity that can only come from distance, and a sensitivity to this most formative part of our lives, when both nothing and everything seem possible all at once.

— Refinery29

A tiny book of big feelings.
— Autostraddle

Finally, a book about remembering your first serious crush that's not about fulfilling any cishet tropes.
— Literary Hub