Vera Kelly Is Not a Mystery (A Vera Kelly Story #2) (Paperback)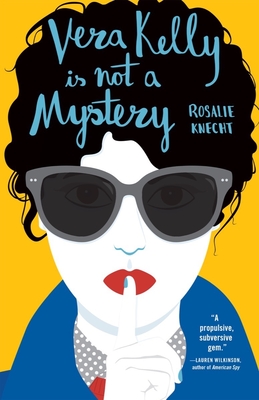 Other Books in Series
This is book number 2 in the A Vera Kelly Story series.
Description
---
Winner of the 2021 Edgar Award – G.P. Putnam's Sons Sue Grafton Memorial Award
Finalist for the Lambda Literary Awards

The "splendid genre-pushing" (People) Vera Kelly series returns in full force as our recently out-of-the-spy-game heroine finds herself traveling from Brooklyn to a sprawling countryside estate in the Caribbean in her first case as a private investigator. 
When ex-CIA agent Vera Kelly loses her job and her girlfriend in a single day, she reluctantly goes into business as a private detective. Heartbroken and cash-strapped, she takes a case that dredges up dark memories and attracts dangerous characters from across the Cold War landscape. Before it's over, she'll chase a lost child through foster care and follow a trail of Dominican exiles to the Caribbean. Forever looking over her shoulder, she nearly misses what's right in front of her: her own desire for home, connection, and a new romance at the local bar.
In this exciting second installment of the Vera Kelly series, Rosalie Knecht challenges and deepens the Vera we love: a woman of sparkling wit, deep moral fiber, and martini-dry humor who knows how to follow a case even as she struggles to follow her heart. 
About the Author
---
Rosalie Knecht is the author of Who is Vera Kelly?, Vera Kelly is not a Mystery, winner of the Edgar Award, G.P. Putnam's Sons Sue Grafton Memorial Award and a finalist for the Lambda Literary Award, as well as a Relief Map, and a translation of Aira's The Seamstress and the Wind. She lives in Jersey City, NJ.
Praise For…
---
The Vera books bring to mind some of Highsmith's work's murkiness, evasion, and freedom. . . . Where will the next case for Vera come from? . . . I hope we don't have to wait long to find out.

— Los Angeles Review of Books

Vera Kelly Is Not a Mystery is the perfect sequel, because it's even better than the first book. . . . Reader, you will love this one. Don't walk. Run.

— Autostraddle

Sharp. . .  the biggest pleasure is how she evokes a not-so-distant time with specific, slightly outdated language (Kelly stores bullets in an empty 'cold cream jar') and period details (Kelly lives in pre-Stonewall Greenwich Village, so her local pub is subject to frequent police raids and her chums get fired because of whom they love).
— The Star Tribune

Snappy, gritty, and engaging.
— them.

Sexy, sad and stylish.
— BookPage

Readers will be thrilled by Vera Kelly's return. A worthy and welcome continuation of a subversive series.
— Kirkus Reviews

Knecht's writing is evocative and spare, stylish and brooding, making this mystery series compulsively readable and offering a refreshing spin on atmospheric noir with a compelling queer historical frame.
— Booklist

Vera Kelly is Not a Mystery is an intricate mystery featuring love, corruption, and a charming and capable heroine.

— Foreword Reviews

Rosalie Knecht is an audacious talent, and her latest novel a propulsive, subversive gem. Vera Kelly is Not a Mystery reintroduces us to Vera, one of the most compelling and complex characters in modern fiction, and puts her to the task of unwinding an intriguing mystery that will keep you guessing until the very end.

— Lauren Wilkinson, author of American Spy

With Vera Kelly, Rosalie Knecht has resurrected the detective novel for the 21st century. Sharp, self-possessed, and with a nuanced, meaningful knowledge of realities and histories well beyond her own, Kelly's take on who's lying and why makes for riveting reading in every scene. I tore through this book. More Vera Kelly, please.
— Idra Novey, author of Those Who Knew

Gripping, magnificently
written . . . This is a cool, strolling boulevardier of a book, worldly, wry,
unrushed but never slow, which casts its gaze upon the middle of the last
century and forces us to consider how it might be failing us still.
— The New York Times Book Review, on Who Is Vera Kelly?

The personal is most definitely political in Rosalie Knecht's crisp, lively and subversive second novel, Who Is Vera Kelly? . . . John le Carré and many other writers make hay with the personal repercussions of assuming false identity. Knecht flips the terms artfully, showing us a heroine who discovers her true tough self by going undercover.

— NPR, "Best Books of 2018", on Who Is Vera Kelly?

Forget about 007. This
heroine has her own brand of spycraft...
— The Washington Post

Knecht's novel is a
slow-burn espionage thriller, a complex treatment of queer identity, and an
immersive period piece all rolled into one delectable page-turner . . . Vera
Kelly introduces a fascinating new spy to literature's mystery canon.
— Entertainment Weekly, on Who Is Vera Kelly?

A splendid genre-pushing
thriller . . . A fractured coming-out in the repressive '50s primed Vera for a
life of deception?but in Knecht's expert hands she's smart and complicated,
yearning for connection in a tumultuous world."
— People, on Who Is Vera Kelly?

Thanks to Rosalie Knecht's
clever, hilarious writing, you'll find yourself wanting everyone you know to
read it so that you can discuss together the wholly original, brilliantly
subversive character that is Vera Kelly.
— NYLON, on Who Is Vera Kelly?