Ava & Carol Detective Agency Series: Books 1-3 (Book Bundle 1) (Hardcover)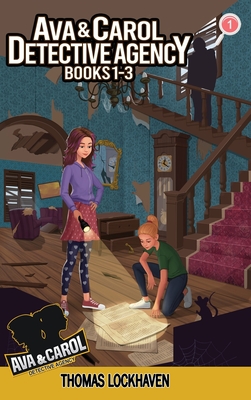 $27.99

Available from our distributor; usually Ships in 1-5 Days
Description
---
If you enjoy Nancy Drew, Hardy Boys and the Boxcar Children, you'll love the 'Ava and Carol Detective Agency' series, a thrilling mystery series for children of all ages.
Praise for The Ava and Carol Detective Agency Series:
'It was rip roaring fun, it moved at a great pace, and my daughters (8 and 12) loved it '
'A really fun book. Reminds of the books that got me hooked on reading as a kid. It's a children's series but even adults will enjoy it.'
This exclusive box set includes:
The Mystery of the Pharaoh's Diamonds
Ruthless international diamond smugglers think they've gotten away with the perfect crime, stealing the famous Ramesses diamonds from the Hancock Museum of Archeology. Until...
Twelve-year olds Ava and Carol explode onto the scene. Bursting at the seams with energy and sass, the humbly hip duo is determined to catch the bad guys and return the stolen jewels.
It's a race against time as the girls realize the thieves plan on smuggling the diamonds out of the country. If they don't hurry, the bad guys will get away and the priceless diamonds may be lost forever
The Mystery of Solomon's Ring
Which would you choose? Helping an old man that's being kidnapped, or endless plates of delicious pasta? Ava and Carol were about to take a stroll through Italy, when an old man is chased down and then thrown into the back of a car. At the last second, using sign language he sends a secret message to the girls.
The girls hide in the shadows as the car races away. Fearing for the man's life, the girls begin to track down clues. Only what they discover this time, is a religious relic that has magical powers. Suddenly evil and powerful villains are chasing them. The clues lead to France, where Ava and Carol are thrust into a secret battle between the Knights Templar and a group of Criminals that will stop at nothing, to get Solomon's Ring.
The Haunted Mansion
It's Christmas - so why not accept a dare to explore a creepy old haunted house? Fearless best friends Ava and Carol set out to prove that the Butcher house isn't haunted. Only, Carol is pretty sure she saw something inside one of the windows - and moments later they are chased by a headless monster?
The girls receive an ominous threat, Stay Away or Else Now, more than ever the girls are determined to find out who is trying to scare them away. But before they can continue their investigation, a string of mysterious robberies take place. The thieves simply vanish without a trace.
Join Ava and Carol as they race against time to track down a headless monster terrorizing the neighborhood, solve the mystery behind the Butcher house and stop a band of ruthless thieves before they strike again
Buy the exciting Ava and Carol 3-book bundle, and get started on an exciting adventure today