The Gender Wheel - School Edition: a story about bodies and gender for every body (Paperback)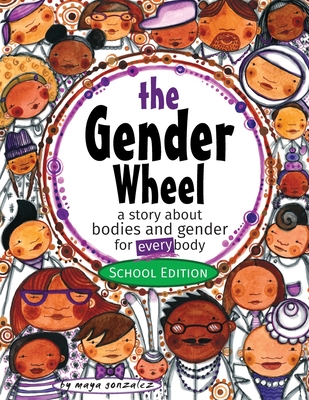 $14.95

Available from our distributor; usually Ships in 1-5 Days
Description
---
"This is our world.
Like many things in nature it's round and holds everyone at the same time.
This is the Gender Wheel.
Like our world it's round and holds everyone at the same time too..."
In 2010 Maya introduced the Gender Wheel and the Gender Team in the Gender Now Coloring Book. It was a jammed packed coloring extravaganza exploring bodies, nature and history in relation to multiple gender identities. It also opened up the possibility of play and expansion around our still limited language of "boy" and "girl."
Now the Gender Team returns, expanded and stronger than before, inviting you on a picture book journey through the Gender Wheel. This School Edition takes the original book, The Gender Wheel (2017), and puts clothes on all the kids to be more conducive to school environments. It is a powerful opportunity for kids to understand the origins of the current binary gender system, how we can learn from nature to see the truth that has always existed and revision a new story that includes room for all bodies and genders. The Gender Wheel offers a nature-based, holistic non-western framework of gender in a kid-friendly way. Also included are Teacher Tips on how to hold a holistic perspective on gender in the classroom. www.genderwheel.com
They She He Me: Free to Be is a powerful companion to this book and uses pronouns as a place to expand ideas about gender and celebrate personal expression. Together these books offer an integrated foundation to talk to kids about gender and expand our thinking as we remember that we ALL belong.