Don't Push the Button (Paperback)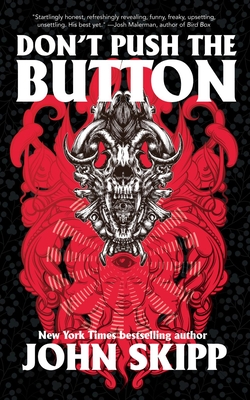 $19.95

Coming Soon - Available for Pre-Order Now
Description
---
LOVE IS THE ONLY SHOCKING ACT LEFT
We all know horror. It's in our face every day. You can try to negotiate the nightmare but total chaos and destruction is just one button-push away.
Horror legend John Skipp walks you through the light and the dark with an unflinching eye. Revealing both the best and worst of us, one laugh and scream at a time.
It ain't pretty. But it's beautiful. Once you go all the way.
PRAISE FOR DON'T PUSH THE BUTTON
"Startlingly honest, refreshingly revealing, funny, freaky, upset-ting, unsettling. His best yet."
-Josh Malerman, author of Bird Box
"John Skipp has never, ever been afraid to walk in the dark: he knows that's where all light shines hardest. Walk with him, trust his vision and his voice. Push the button."
-Kathe Koja, author of The Cipher
"John Skipp's Don't Push the Button is so full of rage, humor, truth, wisdom and beauty it makes me want to be one of his REAL friends."
-Lucky McKee, writer/director of May, co-author (with Jack Ketchum) of I Am Sam
"A genie of fire-eating brilliance. In his virtuoso trove, Don't Push the Button, John Skipp's X-Acto gaze slays artifice, heals with true, golden heart. No fathom can resist his maestro dives."
-Richard Christian Matheson, author of Dystopia
"Don't Push the Button is a beautiful, bluesy, angry, affectionate howl of a book. It wants to tear you apart to show you what's wonderful deep inside of all of us. A wild, unpredictable portrait of a bright, burning mind, it showcases Skipp's radical range, dark-hearted humor, and enormous empathy. There's a grace and honesty to these stories that moved me, and made me grateful that John Skipp will always choose to push those buttons."
-Jeremy Robert Johnson, author of Entropy In Bloom
"Don't Push the Button proves John Skipp doesn't know how to quit, and thank God he doesn't because we're all better for it. An electric collection that showcases the passion, strain, grief, and im-pulses of what it means to be human. These stories get dirty. They get political. They get uncomfortable. Sometimes they just make you laugh. And all the while they shine through with John Skipp's acid-god light and his love for us all, even at our worst. Even when we push his buttons."
-Autumn Christian, author of Girl Like a Bomb
"As writers age, we refine our craft to compensate for a creeping disengagement with the world outside our heads. John Skipp has been working against that curve all his life, tearing down fusty literary conventions and bringing the raw realness with a wrecking ball. Don't Push the Button hits with the urgency of a ransom note and the hard-won wisdom of a prizefighter's face. To see so unflinchingly into the dark corners of life and still give a shit is less a gift than a miracle, but Skipp wraps that gift in his own skin and he's giving it to you. Open it "
-Cody Goodfellow, author of Unamerica