Coveted (Paperback)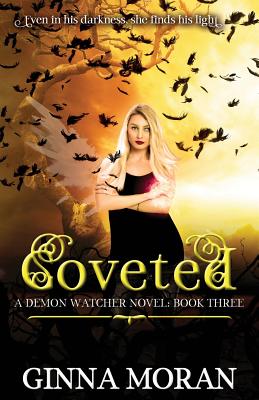 $10.99

Available from our distributor; usually Ships in 1-5 Days
Description
---
Even in his darkness, she finds his light.

Faith Blackwell knew she was capable of loving a demon, but what she didn't know was that a demon could love her back. After Ezekiel, her guardian angel, changes his purpose to prolong her mortal life, Faith's world turns Hell-bound as demons search for her, the most coveted demon's daughter.

With power strong enough to break the veil imprisoning demons away from Earth during the day, Faith finds herself hunted by Heaven's highest ranking angel. When unbound hellhounds offer a deal to protect Faith from the angelic army in exchange for their own demonic protection, Faith faces a fate she never imagined. Because those Faith loves would rather see her descend and rise as a demon than lose her completely. Yet turning into a soulless demon is the last thing Faith wants.

Betrayal runs hot and Hell burns away everything good in Faith's life, leaving her no choice but to fight for herself. To find the eternity she desires, Faith must prove to Heaven that she won't destroy the world with her untamable power. If she can't, she risks a short mortal life and losing the people she loves in the end.