Your Heart Is the Size of Your Fist: A Doctor Reflects on Ten Years at a Refugee Clinic (Paperback)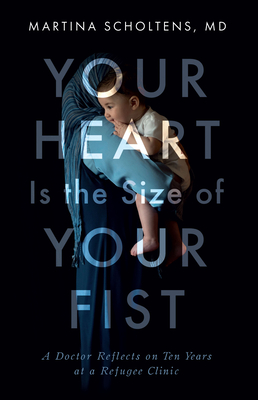 $18.00

Available from our distributor; usually Ships in 1-5 Days
Description
---
Your Heart Is the Size of Your Fist draws readers into the complicated, poignant, and often-overlooked daily happenings of a busy urban medical clinic for refugees.
An Iraqi journalist whose son has been been murdered develops post-traumatic stress disorder and mourns his loss of vocation. A Congolese woman refuses antiretroviral treatment for her new HIV diagnosis, and instead places her trust in Jesus. Two conservative Muslim Iraqi women are inadvertently exposed to pornography when a doctor uses Google Images to supplement a medical discussion. By turns humorous, distressing, and moving, these stories offer insight into the people seeking a new life while navigating poverty, language barriers, and neighbours who aren't always friendly.
This riveting collection of true stories from Dr. Martina Scholtens is filled with hope and humour, and together make up a deeply moving portrait of how one doctor attempts to provide quality care and advocacy for patients while remaining culturally sensitive, even as she wrestles with guilt, awareness of her own privilege, the faith she was raised with, and vicarious trauma after hearing countless stories of brutality and suffering.
In the spirit of Louise Aronson and Atul Gawande, Scholtens' writing is based on her personal experiences and explores the transformative moments in which a clinical doctor-patient relationship becomes a profound human-human connection.