Evil Things (Paperback)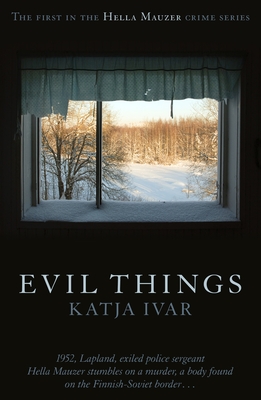 Description
---
Northern Finland, 1952, at the height of the Cold War with its neighbor the Soviet Union. A misunderstood, flawed, whip-smart Finnish woman police detective, while fighting against prejudice and political interference, investigates a murder on the Finno-Russian border. But that is but the beginning of her involvement.
Hella Mauzer was the first-ever woman Inspector in the Helsinki Homicide Unit. But her superiors deemed her too 'emotional' for the job and had her reassigned. Now, two years later, she is working in Lapland for the Ivalo police department under Chief Inspector J rvi, a man more interested in criminal statistics and his social life than police work.
They receive a letter from Irja Waltari, a priest's wife from the village of K rmela on the Soviet border, informing them of the disappearance of Erno Jokinen, a local. Hella jumps at the chance to investigate. J rvi does not think that a crime is involved. After all, people disappear all the time in the snows of Finland. When she arrives, Hella stays with the village priest and his wife, who have taken in Erno's grandson who refuses to tell anyone his grandfather's secret. A body is then discovered in the forest and she realizes that she was right; a crime has been committed. A murder. But what Hella doesn't know, is that the small village of K rmela is harbouring another crime, a crime so evil, it is beyond anything any of them could have ever imagined.
About the Author
---
Katja Ivar was born in Moscow and spent her teenage years in Dallas, Texas. She holds a BA in Linguistics and a Masters in Contemporary History from the Sorbonne University; she lives in Paris with her husband and three children. This is her first novel and is planned to be the beginning of a three book series.