Watching the English: The Hidden Rules of English Behavior (Paperback)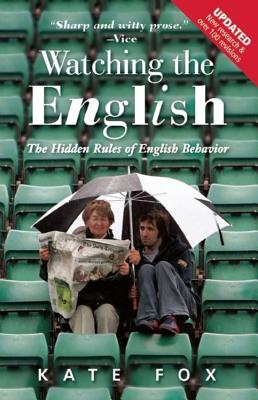 $21.95

Available from our distributor; usually Ships in 1-5 Days
Description
---
Updated, with new research and over 100 revisions
Ten years later, they're still talking about the weather! Kate Fox, the social anthropologist who put the quirks and hidden conditions of the English under a microscope, is back with more biting insights about the nature of Englishness. This updated and revised edition of Watching the English - which over the last decade has become the unofficial guidebook to the English national character - features new and fresh insights on the unwritten rules and foibles of "squaddies," bikers, horse-riders, and more.
Fox revisits a strange and fascinating culture, governed by complex sets of unspoken rules and bizarre codes of behavior. She demystifies the peculiar cultural rules that baffle us: the rules of weather-speak. The ironic-gnome rule. The reflex apology rule. The paranoid pantomime rule. Class anxiety tests. The roots of English self-mockery and many more. An international bestseller, Watching the English is a biting, affectionate, insightful and often hilarious look at the English and their society.
About the Author
---
Kate Fox, a social anthropologist, is Co-Director of the Social Issues Research Centre in Oxford and a Fellow of the Institute for Cultural Research. She is also a bestselling author of popular social science. Kate's other books include The Racing Tribe: Watching the Horsewatchers and Drinking and Public Disorder (co-author with Dr Peter Marsh). Kate is regularly invited to speak at the major literary festivals, as well as guest lectures and seminars at universities, institutes, embassies, and trade and professional conferences in the UK and overseas. She gave the Christmas Lecture at the Royal Geographical Society, and won a debate against Boris Johnson for Intelligence Squared, among other high-profile engagements. She is frequently quoted in the press and interviewed on radio and television. Kate has also been a regular columnist for Psychologies magazine. Kate is married to the neurosurgeon Henry Marsh, CBE.
Praise For…
---
An entertaining, clever book. Read it.—Daily Telegraph

What is Englishness? That is the question that social anthropologist Kate Fox set out to answer in her book Watching the English, which became an international bestseller. Now, ten years on, she has dug even deeper into our national foibles and eccentricities to update her study. The result is gloriously entertaining - and painfully accurate!—Daily Mail

Inside I found all of my own observations that I had made about my fellow English folk but articulated with very sharp and witty prose.—Vice

Watching the English ... will make you laugh out loud ("Oh God, I do that!") and cringe simultaneously ("Oh God, I do that as well."). This is a hilarious book which just shows us for what we are ... beautifully-observed. It is a wonderful read for both the English an those who look at us and wonder why we do what we do. Now they'll know.—Birmingham Post

Fascinating reading.—Oxford Times

The book captivates at the first page. It's fun. It's also embarrassing. "Yes ... yes," the reader will constantly exclaim. "I'm always doing that."—Manchester Evening News

There's a qualitative difference in the results, the telling detail that adds real weight. Fox brings enough wit and insight to her portrayal of the tribe to raise many a smile of recognition. She has a talent for observation, bringing a sharp and humorous eye and ear to everyday conversations, from the choreography of the English queue to the curious etiquette of weather talk.—The Tablet

It's a fascinating and insightful book, but what really sets it apart is the informal style aimed squarely at the intelligent layman.—City Life, Manchester

Fascinating ... Every aspect of English conversation and behaviour is put under the microscope. Watching the English is a thorough study which is interesting and amusing.—Western Daily Press

Enjoyable good fun, with underlying seriousness - a book to dip into at random and relish for its many acute observations.—Leicester Mercury