Her Bleeding Heart: An absolutely gripping and addictive serial killer thriller (Detectives Kane and Alton #16) (Paperback)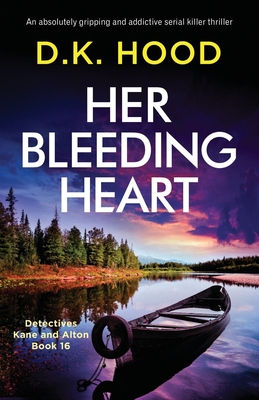 $9.99

Available from our distributor; usually Ships in 1-5 Days
Other Books in Series
This is book number 16 in the Detectives Kane and Alton series.
Description
---
Rain soaks her clothes as she runs from the large, isolated family home and hides behind the beaten-up pickup truck parked out front. Miles from safety, her heart thuds as footsteps draw closer. He's found her...
The rain has been falling for weeks when Black Rock Falls Sheriff, Jenna Alton, receives a panicked phone call from a local forest ranger. The lifeless body of a woman has washed up on the banks of a swollen river.
Rushing to the scene, Jenna and her deputy, David Kane, find the young girl laying face up in the dirt, her long brown hair spilling out around her, her perfect pale skin showing no signs of struggle. Leaning in for a closer look, she finds a jack of hearts playing card tucked into the girl's underwear. This was no accident-someone killed this innocent soul, and left a twisted calling card...
Days later, another young woman is found slumped in the back of car at a local truck stop on the outskirts of town, angry red marks around her neck. Jenna's head spins when she finds a second playing card in her clothing. Is this killer escalating? And does he have a next victim already in his sights?
As a landslide shuts the town off from the outside world, Jenna and her team battle raging storms in their search for answers. Jenna is convinced the playing cards link these victims to a twisted serial killer the FBI have been hunting for over a decade. If she's right, she's chasing America's most dangerous and elusive killer. Can she catch him before Black Rock Falls loses another innocent young life?
If you're a fan of Lisa Regan, Melinda Leigh and Kendra Elliot you will be hooked by this gripping and addictive crime thriller from USA Today bestselling author D.K. Hood.
**Each Kane and Alton book can be read as part of the series or as a standalone**
What readers are saying about
Her Bleeding Heart
:
"Another binge-worthy page-turner... A wild ride that keeps you guessing right until the very end." @mandylovestoread, 5 stars
"Gripping and chilling, grabbing your attention and holding it through to the end... This book will keep you gripped to the last page." Stardust Book Reviews
"An unputdownable page-turner... I wish I could rate it above a 5... Loved it." Goodreads reviewer, 5 stars
"Another roller coaster non-stop action read." Goodreads reviewer, 5 stars
"Wow ... Started this book and could not stop reading until I'd finished " NetGalley reviewer
What readers are saying about D.K. Hood:
"Oh my, oh my God... This is another cracking story ... This author really deserves the title of Queen of Suspense... She had chills running down my spine and I just couldn't stop reading. Incredibly, mind-blowingly brilliant " B for Bookreview, 5 stars
"What a fantastic book it is. Totally addictive. I couldn't turn the pages fast enough." Goodreads reviewer, 5 stars
"Excellent... Had me captivated the whole way through... I had a couple of wow moments that took my breath away. All in all, a bloody brilliant book that totally deserves 5 stars." Bonnie's Book Talk, 5 stars