Infinite Country (Compact Disc)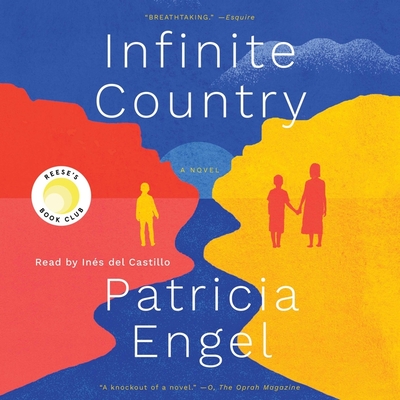 $29.99
Out of Stock - Not Available
Staff Reviews
---
Sparse and affecting, this novel follows one Colombian family who, through fateful yet ordinary decisions, is fractured between their native Bogotá and the U.S. The story is rich with ambient language and poignant observations. In just under two hundred pages, Engel encapsulates the human toll of a bordered world and the tensions inherent in loving across distance. I was struck by the way Engel crafted the story to be both coherent and disparate, descriptive yet lean. It was as though the book's style reflected the family's situation. Masterfully, the novel balances heartbreaking circumstance with remarkable resilience in a way that does not reduce any character to an inspirational story. They are fiercely loyal to one another and so they press on, simply because they must.
— Holly
March 2021 Indie Next List
---
"Patricia Engel's new book is a true gem, a family story in which each voice is equally interesting and dynamic as well as a great examination on the brutish nature of the U.S. government and citizens toward people traveling stateside to start a new life. Your heart breaks and mends and breaks all over again for this family. In less than 200 pages, Engel works magic."
— James Harrod, Malaprop's Bookstore/Cafe, Asheville, NC
Winter 2022 Reading Group Indie Next List
---
"Gorgeous. A powerful snapshot of one family's immigration experience and the cultural division, adapted understanding of home, and relearned experience of one another that it brings."
— Becca Sloan, Novel., Memphis, TN
Description
---
"I often wonder if we are living the wrong life in the wrong country."Talia is being held at a correctional facility for adolescent girls in the forested mountains of Colombia after committing an impulsive act of violence that may or may not have been warranted. She urgently needs to get out and get back home to Bogot , where her father and a plane ticket to the United States are waiting for her. If she misses her flight, she might also miss her chance to finally be reunited with her family in the north.How this family came to occupy two different countries, two different worlds, comes into focus like twists of a kaleidoscope. We see Talia's parents, Mauro and Elena, fall in love in a market stall as teenagers against a backdrop of civil war and social unrest. We see them leave Bogot with their firstborn, Karina, in pursuit of safety and opportunity in the United States on a temporary visa, and we see the births of two more children, Nando and Talia, on American soil. We witness the decisions and indecisions that lead to Mauro's deportation and the family's splintering--the costs they've all been living with ever since.Award-winning, internationally acclaimed author Patricia Engel, herself a dual citizen and the daughter of Colombian immigrants, gives voice to all five family members as they navigate the particulars of their respective circumstances. And all the while, the metronome ticks: Will Talia make it to Bogot in time? And if she does, can she bring herself to trade the solid facts of her father and life in Colombia for the distant vision of her mother and siblings in America?Rich with Bogot urban life, steeped in Andean myth, and tense with the daily reality of the undocumented in America, Infinite Country is the story of two countries and one mixed-status family--for whom every triumph is stitched with regret, and every dream pursued bears the weight of a dream deferred.