The English Actor: From Medieval to Modern (Hardcover)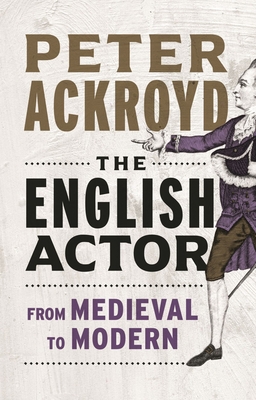 $27.50

Available from our distributor; usually Ships in 1-5 Days
Description
---
Now in paperback, from a leading historian and writer, a delightful exploration of the great English tradition of treading the boards.
 
The English Actor charts the uniquely English approach to stagecraft, from the medieval period to the present day. In thirty chapters, Peter Ackroyd describes, with superb narrative skill, the genesis of acting—deriving from the Church tradition of Mystery Plays—through the flourishing of the craft in the Renaissance, to modern methods following the advent of film and television. Across centuries and media, The English Actor also explores the biographies of the most notable and celebrated British actors. From the first woman actor on the English stage, Margaret Hughes, who played Desdemona in 1660; to luminaries like Laurence Olivier, Peter O'Toole, Maggie Smith, Judi Dench, and Helen Mirren; to contemporary multihyphenates like Gary Oldman, Kenneth Branagh, Sophie Okonedo, and Chiwetel Ejiofor, Ackroyd gives all fans of the theater an original and superbly entertaining appraisal of how actors have acted, how audiences have responded, and what we mean by the magic of the stage.
About the Author
---
Peter Ackroyd is one of Britain's most respected historians and novelists. His many books include London: The Biography, Hawksmoor, and the History of England series.
Praise For…
---
"[Ackroyd's] new book charts the history of the English actor from medieval times to the present, and his track record attests to his qualifications to write about this alluring subject. . . . The book [is] rich in anecdotes and nuggets of information on legendary and almost forgotten actors. . . . Current actors and actresses as well as the curious can use this book as a guide to the tradition's history."
— New Criterion

"It is a truth universally acknowledged that the English actor is a breed apart. In this whirlwind tour through centuries of the English stage, esteemed historian and prolific author Ackroyd explains its whys and wherefores. From the early mystery and miracle plays to Shakespeare, the Restoration, the Victorian era, and forward to the present day, the story of the English stage and those who trod and tread its boards is engagingly told with remarkable clarity and wit. Far from a dry recitation of facts and dates, Ackroyd presents a lively production with a cast of characters representing several generations of English theater artists. . . . Suggestions for further reading top off this compelling blend of biography and history that should be required reading for anyone claiming to be a theater fan, Anglophile, or aspiring actor."
— Booklist

"Historian Ackroyd turns his attention from a broader English history to the specific craft of British stage acting. He follows the art he describes as magical, from the dramatic oratory of early bards, religious plays, and sixteenth-century 'academic acting,' to the appearance of public theaters and a move toward naturalism in 1612. When women first appeared on stage in 1660, there were more diverse plots, and the craft began to take its modern shape. . . . Magnificent writing."
— Library Journal

"The training, development, and landscape for the English actor has changed dramatically over the last century. . . . [In his new book] Ackroyd reflects on the new identity of the English actor."
— Drama & Theatre

"Any book called The English Actor: From Medieval to Modern is setting itself a challenge. . . . Ackroyd's is obviously intended for the general reader, who will enjoy its anecdotes. . . . Ackroyd occasionally produces splendid purple passages."
— Times Literary Supplement

"What separates English actors from their rivals? Ackroyd's starstruck history celebrates a thousand years of strutting thesps. In this admiring tome, the English actor, incarnated by [Laurence] Olivier, was and remains a breed apart. He belongs to 'a tradition that has lasted more than a thousand years'; and, by fairly strong implication, he is quite superior to his cousins abroad. Across twenty-six chapters [Ackroyd] gives a running history of English theater from the medieval mysteries to the present day."
— Daily Telegraph

"Sir Ralph Richardson pursued a desire to 'illustrate literature.' This, the eminent writer and historian Ackroyd says, is the essence of the English actor. A respect for the text, a devotion to words on the page. Ackroyd begins his history in medieval times. . . . This is when Ackroyd's book works best, documenting the birth of acting, its evolution from the church tradition of mystery plays to what we would recognize as modern stagecraft."
— Sunday Times

"What makes a great stage actor? Ackroyd attempts to answer this question in his magnificent chronicle of the history and legacy of the English theatre. . . . Driven by a passion for his subject that is the author's hallmark, this is an essential read for anyone fascinated by the smell of the greasepaint and the roar of the crowd."
— Mail on Sunday

"[An] impressively lively and ambitious study."
— Literary Review

"Ackroyd has given us another sweep through history, roaring through the centuries. This time, we learn about the origins of spoken performance in England and how the art of acting has developed. The book is colorfully informative about the bridge between the premodern and modern ages in acting. As we would expect from Ackroyd, there is a lot of entertainment and enjoyable, ornate characters."
— The Oldie

"Ackroyd's study of the English actor from medieval times to the modern day . . . [showcases] an astonishingly expansive cast of leading actors and actresses through the centuries, giving an inkling of what it might have been like to be in their company and watch them at their best. . . . His handsomely published and authoritative book stands as an invaluable account of an art form at which the English have so long excelled."
— BBC History Magazine

"Bestselling author Ackroyd traces the history of acting—from its traditions in the nineteenth century to the rise of the celebrity and decline of specialty."
— The Stage

"Bright ghosts of performances past haunt these pages, electric ephemera conjured from the shadows of history, and it's impossible not to feel some of the shivers they originally inspired. Ackroyd generously gives us both the prose and the poetry of great English acting—the craft and commerce that allowed it to happen and the magic that made it mythic."
— Ben Brantley, former chief theater critic for the New York Times

"Acting is like sculpting in snow. All the more splendid that Ackroyd has written a book which gives so much life to performances long melted away."
— Sir Richard Eyre, English film, theater, television and opera director