Artemisia Gentileschi and Feminism in Early Modern Europe (Renaissance Lives ) (Hardcover)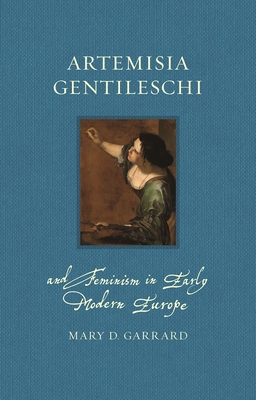 $22.50
Out of Stock - Not Available
Description
---
An accessible introduction to the life of the seventeenth-century's most celebrated women artists, now in paperback.

Artemisia Gentileschi is by far the most famous woman artist of the premodern era. Her art addressed issues that resonate today, such as sexual violence and women's problematic relationship to political power. Her powerful paintings with vigorous female protagonists chime with modern audiences, and she is celebrated by feminist critics and scholars.
 
This book breaks new ground by placing Gentileschi in the context of women's political history. Mary D. Garrard, noted Gentileschi scholar, shows that the artist most likely knew or knew about contemporary writers such as the Venetian feminists Lucrezia Marinella and Arcangela Tarabotti. She discusses recently discovered paintings, offers fresh perspectives on known works, and examines the artist anew in the context of feminist history. This beautifully illustrated book gives for the first time a full portrait of a strong woman artist who fought back through her art.
About the Author
---
Mary D. Garrard is professor emerita of art history at American University in Washington, DC. Her books include Artemisia Gentileschi: The Image of the Female Hero in Italian Baroque Art and Brunelleschi's Egg: Gender, Art and Nature in Renaissance Italy.
Praise For…
---
"No in-depth study of Artemisia's artistic achievements can ignore the fact that Artemisia was a woman in a man's world. Placing Artemisia's life and work in the context of early modern feminism, Garrard's handy-sized book builds on her ground-breaking study Artemisia Gentileschi: The Image of the Female Hero in Italian Baroque Art (1989). . . . Her feminist perspective frequently offers considerable food for thought."
— José da Silva

"Compelling. . . . There's not a little irony in reading Garrard's lively account of a seventeenth-century artist's life wherein plague is plentiful—Artemisia likely died of it—when a plague (or at least pandemic) is back on the table.  How strange that a book about the late Renaissance and Baroque would now prove so very much of our time. It's timely in the sense of the aforementioned deadly and contagious illness, but also features tyranny, religious persecution and reaction. And it is timely in its exploration of feminist outrage at patriarchal power, of men's control over women's bodies, and in the exploration of an art of anger, accusation, and even great wit. It's a lot and it's awesome. . . . Much more than an exploration of a singular female artist of the Italian Baroque, it's a map of interconnected traditions, intellectual conversations, inspirations and leapfrogging, a whole network of early modern European feminists in conversation with one another, and with us, across time."
— Bridget Quinn

"Garrard, an art historian and author of Artemisia Gentileschi and Feminism in Early Modern Europe, said 'feminism was a vital force before it was given a name.' Gender debates figured prominently at the time, particularly among writers. 'Artemisia dealt with the same issues—sexual violence, political power, the myth of female inferiority, and the cultural silencing of women's voices and achievements.'"
— CBC Radio Ideas

"The full-scale rediscovery of the artist began with Garrard's monograph of 1989, Artemisia Gentileschi: The Image of the Female Hero in Italian Baroque Art. In the three decades that have followed, Artemisia's reputation has continued to grow. In a new book, Artemisia Gentileschi and Feminism in Early Modern Europe, Garrard says it's perfectly legitimate to refer to the artist by her first name, partly to distinguish her from her artist father, Orazio Gentileschi, and partly because we have no qualms in speaking familiarly of Leonardo, Michelangelo, Raphael, or Titian. . . . Did Artemisia ever think of herself as a 'feminist?' In her new book Garrard has addressed this question directly. She argues that feminism, like science, should be seen as 'a continuum that has evolved over time, from the fourteenth century to the present.'"
— Sydney Morning Herald

"An important study that furthers our understanding of the Italian Baroque painter. . . . As well as being informative and extending Garrard's previous theories about feminism in early modern Europe, the book is visually stunning with sixty-nine illustrations, sixty-five of them in color."
— Religion and the Arts

"Garrard's strategy of situating Gentileschi's paintings within the contemporary writing and patronage of women avoids the shallows, contextualizing the paintings within a broad and lively field of female authorship, creativity, and crucially, feminism avant-la-lettre. This does not render the emotion in Gentileschi's paintings insubstantial, but rather rebalances it against a feminist intellectual ballast, recuperating this extraordinary artist's richness and range. It reframes Gentileschi's work as a deliberate intervention in public debate."
— Women's Studies Group

"Garrard's return to the great Artemisia Gentileschi is uniquely rich in knowledge and reflection. It is not only an authoritative study of the historical Artemisia and the ways—whether openly brutal, subtly injurious, or beneficial—in which her art and life were affected by her sex. It also places her in the 'transhistorical community of women' that Garrard brings to life. The book is moreover a heartfelt appeal to writers and readers of art history to account for their own attitudes and experiences. And with all that, it is a pleasure to read."
— Gary Schwartz, art historian

"Garrard's exciting new book on the Italian painter Artemisia Gentileschi marks another formidable contribution to the field by this groundbreaking scholar. Garrard weaves a rich tapestry of women's voices, arguing that the shared vision of remarkable women of the period reflects a pervasive and influential feminist phenomenon in Europe. This book will provide a provocative source for understanding the pan-European phenomenon of what Garrard aptly terms the 'woman on top.'"
— Babette Bohn, Texas Christian University, author of "Women Artists, Their Patrons, and Their Publics in Early Modern Bologna"