The Colorado Kid (Mass Market)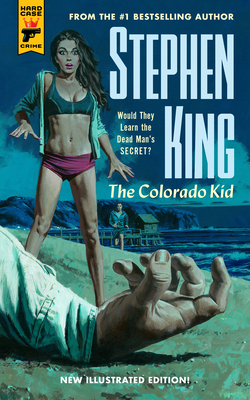 Description
---
Stephen King's bestselling unsolved mystery, THE COLORADO KID - inspiration for the TV series HAVEN - returns to bookstores for the first time in 10 years in an all-new illustrated edition.

On an island off the coast of Maine, a man is found dead. There's no identification on the body. Only the dogged work of a pair of local newspapermen and a graduate student in forensics turns up any clues, and it's more than a year before the man is identified. And that's just the beginning of the mystery. Because the more they learn about the man and the baffling circumstances of his death, the less they understand. Was it an impossible crime? Or something stranger still...? No one but Stephen King could tell this story about the darkness at the heart of the unknown and our compulsion to investigate the unexplained. With echoes of Dashiell Hammett's THE MALTESE FALCON and the work of Graham Greene, one of the world's great storytellers presents a moving and surprising tale whose subject is nothing less than the nature of mystery itself...
About the Author
---
Stephen King was born in Portland, Maine in 1947, the second son of Donald and Nellie Ruth Pillsbury King. He made his first professional short story sale in 1967 to Startling Mystery Stories. In the fall of 1973, he began teaching high school English classes at Hampden Academy, the public high school in Hampden, Maine. Writing in the evenings and on the weekends, he continued to produce short stories and to work on novels. In the spring of 1973, Doubleday & Co., accepted the novel Carrie for publication, providing him the means to leave teaching and write full-time. He has since published over 50 books and has become one of the world's most successful writers. Stephen lives in Maine and Florida with his wife, novelist Tabitha King. They are regular contributors to a number of charities including many libraries and have been honored locally for their philanthropic activities.
Praise For…
---
"this little meditation is absolutely something that should be read by all crime and mystery fans. Stephen King is a master, and this is one of his most finely-wrought works" - The Crime Review

"a gentle mystery, one that explores the genre as well as small town life in a way that I found utterly beguiling" - SciFi and Scary 

"Richly textured…one of [King's] best."
-- Chicago Tribune

"A riveting tale."
-- U.S. News & World Report

"Intriguing…wry and lively [and] artfully detailed."
-- USA Today

"A daring experiment…King's prose is engaging and propulsive."
-- This Week

"The ending comes as a most daring shock…I loved it."
-- The Guardian (UK)

"A small masterpiece…[The Colorado Kid] deserves in both its 
conception and its execution a place beside the classic tales of Poe, 
Conan Doyle, Stevenson, and the 20th-century masters of pulps."
-- Village Voice