Venom: Lethal Protector Prose Novel (Hardcover)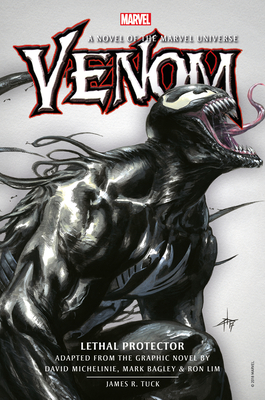 $24.95
Out of Stock - Not Available
Staff Reviews
---
An adaptation of the 90s comic of the same name and the original story that the Venom movie drew some inspiration from. This is one of my favorite stories to involve the Eddie Brock version of Venom. Violent, a bit crazy, and trying his hardest to be a hero to the people of San Francisco they battle the Life Foundation and a group of killer cloned symbiotes of their own to protect the homeless of the city.
— From
Will
Description
---
The first of Titan's new series of original Marvel novels, starring Spider-Man's arch foe Venom in his anti-hero role as the Lethal Protector.

WHEN EDDIE BROCK BECOMES BIOLOGICALLY LINKED TO A
BIZARRE ALIEN SYMBIOTE, THE TWO SHARE A COMMON GOAL.

At first they seek to squash their arch-foe Spider-Man. After repeated attempts, Venom reaches an uneasy truce with the web-spinner. Brock leaves New York and heads west to San Francisco, the city of his birth, eager to put trouble behind him.

Trouble has different ideas.

Brock commits himself to becoming a defender of the innocent, but he's a six-foot-three-inch, 260 lb. figure with bulging muscles and fangs like a shark. Venom quickly draws attention--first from a furious Spider-Man, who's certain Brock has broken his word, then from a team of armored enemies who set out to kill the "Lethal Protector."

Venom joins forces with the web-spinner, only to face an even deadlier threat--five trained killers, each wearing a symbiotic suit like Brock's.

These are the Spawn of Venom,
and they're out for blood.
About the Author
---
James R. Tuck lives and writes in Atlanta. He is the author of the Deacon Chalk: Occult Bounty Hunter series, co-author of the Robin Hood: Demon's Bane trilogy (with Debbie Viguié), and co-author of Arrow: Fatal Legacies (with Marc Guggenheim). James is an accomplished tattoo artist, loves dark fantasy novels, Golden Age comics, and the blues, and used to throw people out of bars for money.
Praise For…
---
 "Fantastically reverent but also re-inventive, Venom fans should be more than satisfied with this take on one of the titular anti-hero's most famous tales." - Adventures in Poor Taste