The Queen of the Cicadas (Paperback)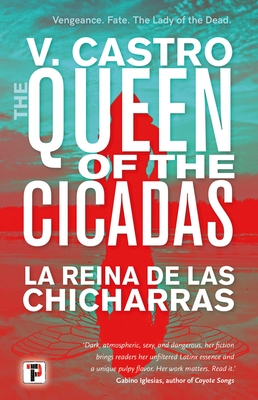 Staff Reviews
---
V. Castro's work is always a wonderful exploration of character and mythology. Dark, atmospheric and very deeply about the Latinx experience, no matter the world she's writing about.
— From
Will
Description
---
NOMINATED FOR A BRAM STOKER AWARD FOR SUPERIOR ACHIEVEMENT IN A NOVEL

2018 - Belinda Alvarez has returned to Texas for the wedding of her best friend Veronica. The farm is the site of the urban legend, La Reina de Las Chicharras - The Queen of The Cicadas.

In 1950s south Texas a farmworker- Milagros from San Luis Potosi, Mexico, is murdered. Her death is ignored by the town, but not the Aztec goddess of death, Mictecacíhuatl. The goddess hears the dying cries of Milagros and creates a plan for both to be physically reborn by feeding on vengeance and worship.

Belinda and the new owner of the farmhouse - Hector, find themselves immersed in the legend and realize it is part of their fate as well.

FLAME TREE PRESS is the new fiction imprint of Flame Tree Publishing. Launched in 2018 the list brings together brilliant new authors and the more established; the award winners, and exciting, original voices.
About the Author
---
Violet Castro is a Mexican American writer originally from Texas now residing in the UK with her family. When not caring for her three children, she dedicates her time to writing.
Praise For…
---
"In the age of phony fiction, V. Castro is the voice of authenticity; una voz que lucha por la igualdad. Dark, atmospheric, sexy, and dangerous, her fiction brings readers her unfiltered Latinx essence and a unique pulpy flavor. Her work matters. Read it."
— Gabino Iglesias, author of Coyote Songs

"In The Queen of the Cicadas, there's a thin, bloody veil between worlds, the past isn't past at all, and you can feel your heart beating in the pages, the words pulsing with life. Touch them if you dare, and don't be surprised if they quiver into flight all around you."
— Stephen Graham Jones, NYT bestselling author of The Only Good Indians

"V. Castro writes like her blood is in the ink. Queen of the Cicadas is the best urban legend story since Candyman, layered and dark and hideously beautiful. It will get way under your skin. If Castro's not already on your radar, she should be."
— Christopher Golden, New York Times bestselling author of Ararat and Red Hands

"Writing in breathtaking, atmospheric prose, Castro (Hairspray and Switchblades) merges brutal realism and supernatural terror to create a fierce, memorable tale of Mexican folklore and horror."
— Publishers Weekly Starred Review

"Castro's novel shifts seamlessly from deliciously gory horror narrative to family saga to a tale of righteous vengeance, all while maintaining its unflinching condemnation of colonialism on both sides of the Mexican-American border. A tightly paced story of anti-colonial resistance and shared history that begs to be read in one sitting."
— Kirkus Starred Review

"A riveting #ownvoices novel exploring Mexican folk tales and legends mingled with the history of Texas [...] Castro does not pull any punches. Readers seeking originality and a fresh take on well-worn horror tropes should pick up this novel by a dynamic and innovative voice in horror.
— Booklist Starred Review

"The Queen of the Cicadas is a supremely creepy story that feels like it is creeping into the real world as it is being read."
— A Reviewer Darkly

"Layered and complex, this story takes a creepy urban legend, adds some supernatural horror and a healthy portion of feminist rage and serves it up as a satisfying dish of dark horror and vengeance."
— Reading Odyssey Stephen King and Beyond

"Queen of the Cicadas is an unnerving story that often blends the line between fiction and nonfiction. You get the horror of reality coupled seamlessly with the horror of a campfire tale. You'll fidget and feel uncomfortable. You'll hold your breath and feel electricity. V. Castro has a vivid imagination and a wonderful way with words, so you can bet this reader will be paying attention to anything with her name attached."
— Aiden Merchant

"Castro delivers an unflinching, honest, raw, and thought-provoking horror tale that is both serious in its social commentary and fun to read. For fans of gruesome, vengeance-themed horror that is deeply tied to its place and the marginalized identities of its protagonists"
— Becky Spratford, Literary Journal

"Castro's expert storytelling upends classic horror tropes to make 'The Queen of the Cicadas' an exhilarating and frightening literary ride."
— Los Angeles Review of Books

"A deliciously sinister story"
— Harper's Bazaar

''Mexican-American author Violet Castro delivers a powerhouse horror novel with The Queen of the Cicadas [...]"
— Rue Morgue

"A truly original and surprising work of fiction [...] plot descriptions don't do this debut novel justice as Castro weaves several familiar tropes from the slasher and ghost story sub-genres into a blood-drenched (literally) story of both personal and cultural reclamation."
— Toronto Star

"A keenly written work of suspense that also reflects upon humanity's capacity for good and evil, The Queen of the Cicadas is a compelling page-turner for connoisseurs of the genre. Highly recommended."
— Midwest Book Review

"V Castro builds her own heritage into the mirror mythos, creating a raging revenge novel seeping with vengeance. It's a story of rebirth from the seeds of hate, and how despite that there is still the potential for hope. Oh and it's obviously a horror novel so it's brutal and bloody and buzzing."
— Only The Dark Reads