Mycroft and Sherlock: The Empty Birdcage (MYCROFT HOLMES #3) (Hardcover)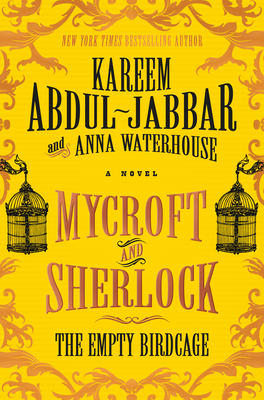 $25.99
Out of Stock - Not Available
Other Books in Series
This is book number 3 in the MYCROFT HOLMES series.
Description
---
The new novel by NBA All-Star Kareem Abdul-Jabbar, starring brothers Mycroft and Sherlock Holmes.

It is 1873, and as the economies of Europe threaten to crumble, Mycroft Holmes finds himself in service to the Crown once again. A distant relative of Queen Victoria has been slain by the Fire Four Eleven killer, a serial murderer who leaves no mark upon his victims, only a mysterious calling card. Meanwhile, Sherlock has already taken it upon himself to solve the case, as his interest in the criminal mind grows into an obsession.

Mycroft begrudgingly allows Sherlock to investigate, as Ai Lin--the woman he is still in love with--needs his aid. Her fiancé has been kidnapped, and the only man who might know his fate is a ruthless arms dealer with a reputation for killing those who cross him. Mycroft persuades his friend Cyrus Douglas to help find the young man, but Douglas himself is put in harm's way.

As Sherlock travels the country on the hunt for the Fire Four Eleven murderer, both he and Mycroft will discover that the greed of others is at the root of the evil they are trying to unearth...
About the Author
---
Kareem Abdul-Jabbar is a huge Holmesian--7'2" tall, basketball's all-time leading scorer, and a U.S. cultural ambassador. He's written extensively, including What Color is My World (children's), Brothers in Arms (military history), and On the Shoulders of Giants (black history). His novel Mycroft Holmes, starring Sherlock Holmes lesser well known but far more talented older brother, was published in 2015.

Anna Waterhouse has sold and/or optioned several scripts, consulted on a feature-length doc for HBO, was supervising producer/co-writer of Netflix/Showtime's On the Shoulders of Giants which won an NAACP Image Award for best documentary, has taught screenwriting at both Chapman University and at U.S.C., and is currently working on a limited series with acclaimed writer Robert Towne.
Praise For…
---
"Abdul-Jabbar and Waterhouse's third pastiche (after 2018's Mycroft and Sherlock), their best yet, provides intriguing challenges for both Mycroft and Sherlock Holmes while continuing to present plausible backstories for the brothers....The authors do a stellar job of illuminating the siblings' developing relationship while concocting a clever and twisty plot. Sherlockians will be enthralled." 
-Publishers Weekly Starred Review   

"All the usual pleasures—blood and thunder, sibling rivalry, historical walk-ons…"
-Kirkus Reviews

 "The third Mycroft tale is another winner. The Victorian setting is well drawn, the dialog rings true, the period details, both factual and fictive, support a labyrinthine plot including race and class distinctions...Highly recommended, as are its two predecessors."  -Library Journal Starred Review 

 "The Mycroft books are notable for...creating deep characters who would have been largely ignored or nonexistent in the actual literature of the age: characters of color" - CrimeReads

"The third novel in this cunning series...just might be its best...This fast-paced installment is filled with rich and intriguing character backstories and period details that Sherlocks fans will love." - Barnes & Noble Best New Mysteries

"Abdul-Jabbar and Waterhouse capture the flavor of Arthur Conan Doyle's Victorian London and his characters to a tee." - BookPage

"Thoroughly entertaining mystery, with great appeal for Holmesians, in particular, and fans of Victorian mysteries, in general."  -Booklist

"With a diverse and colorful cast of characters, and two very challenging crimes to solve, The Empty Birdcage is a delightful telling of the relationship between a pair of siblings destined for greater things, while giving some insight of why they become the way they are later in life."
-New York Journal of Books

"The third book in this superb series again provides an elegant writing style with a captivating mystery. Don't you love abstruse clues left by a serial killer that only geniuses like the Holmes brothers could decipher?"  -Otto Penzler, editor of The Big Book of Sherlock Holmes Stories

"Could one have ever imagined Sherlock Holmes without Watson?  There is a new partnership afoot, of the pre-Watson, young and energetic Holmes brothers.  This volume continues the initial pairing of Mycroft and Sherlock to our complete delight." -Michael F. Whelan, president of The Baker Street Irregulars

"Another important chapter in the secret, thrilling lives of the brothers as they become Mycroft and Sherlock Holmes! I hope we see many more from the brilliant team of Abdul-Jabbar and Waterhouse!"—Leslie S. Klinger, editor, New Annotated Sherlock Holmes

Kareem Abdul-Jabbar and Anna Waterhouse's crackling international intrigue Mycroft & Sherlock - The Empty Birdcage re-animates Conan Doyle's world and makes it their own.  Their portrait of Mycroft Holmes, his best friend Cyrus Douglas, the Trinidad born tobacco merchant whose race means he is in a kind of perennial disguise, and Mycroft's younger brother Sherlock broadens the lens through which the world of crime is seen. Through a  parallel series of mysteries that stretch from the quiet English countryside to the London docks, the landing stage for a world in violent transition, KAJ and AW bring to the foreground the voices of those whose stories have too long been footnotes and now take their place in the complex, historically vibrant page-turner. 
- Walter Mosley, NY Times Best-Selling Author & Edgar Award Grandmaster Recipient 

 "What began as a remarkable standalone in Mycroft Holmes has become a series eagerly anticipated by not only the Sherlockian community, but lovers of well-executed historical fiction in general" - Criminal Element 

"In the third adventure, MYCROFT AND SHERLOCK: The Empty Birdcage, Abdul-Jabbar and Waterhouse are at the top of their game" - Reviewing the Evidence 

 "Our authors absolutely shine in the way they hint at the canon they're writing towards with this series" - The Frumious Consortium 

"Waterhouse and Abdul-Jabbar deliver a satisfying one-two punch." - San Francisco Book Review 

"Nicely done, with style and substance." - Sherlockians and Doyleans

"an impressively researched prequel...tracing Mycroft Holmes's journey from virile young bachelor to sedentary brain in a jar remains as riveting as ever" - CrimeReads Year in Sherlock

"Brilliantly written and intricately plotted" -Ellery Queen Magazine