Mycroft and Sherlock (MYCROFT HOLMES #2) (Paperback)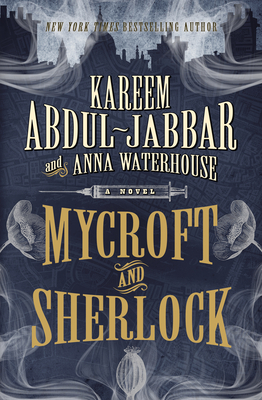 Other Books in Series
This is book number 2 in the MYCROFT HOLMES series.
Description
---
The new novel by NBA All-Star Kareem Abdul-Jabbar, starring brothers Mycroft and Sherlock Holmes.

It is 1872, and a series of gruesome murders is the talk of London. Mycroft Holmes--now twenty-six and a force to be reckoned with at the War Office--has no interest in the killings; however, his brother Sherlock has developed a distasteful fascination for the macabre.

When a ship carrying cargo belonging to Mycroft's best friend Cyrus Douglas runs aground, Mycroft persuades Sherlock to serve as a tutor at the orphanage that Douglas runs as a charity, so that Douglas might travel to see what can be salvaged. When a boy dies of a suspected drug overdose Sherlock decides to investigate, following a trail of strange subterranean symbols to London's squalid opium dens. Meanwhile a meeting with a beautiful Chinese woman leads Mycroft to the very same mystery, one that forces him to examine the underbelly of the opium trade that is enriching his beloved Britain's coffers.

As the stakes rise, the brothers need one another's assistance and counsel. But a lifetime of keeping secrets from each other may have catastrophic consequences...
About the Author
---
Kareem Abdul-Jabbar is a huge Holmesian--7'2" tall, basketball's all-time leading scorer, and a U.S. cultural ambassador. He's written extensively, including What Color is My World (children's), Brothers in Arms (military history), and On the Shoulders of Giants (black history). His novel Mycroft Holmes, starring Sherlock Holmes less well known but far more talented older brother, was published in 2015. Anna Waterhouse has sold and/or optioned several scripts, consulted on a feature-length doc for HBO, was supervising producer/co-writer of Netflix/Showtime's "On the Shoulders of Giants",​ which won an NAACP Image Award for best documentary, has taught screenwriting at both Chapman University and at U.S.C., and is currently working on a limited series with acclaimed writer Robert Towne.
Praise For…
---
PRAISE FOR MYCROFT AND SHERLOCK

"Careful attention to details, lively characters, and thrilling plotting all make this entry from Team Abdul-Jabbar and Waterhouse a winner! It's a joy to share the company of Mycroft and Sherlock Holmes before they were--well, Mycroft and Sherlock Holmes!" Leslie S. Klinger, Editor, The New Annotated Sherlock Holmes

"A better than worthy successor to an extraordinary debut, Mycroft and Sherlock plunges Douglas, Mycroft, and his impossibly abrasive teen brother Sherlock into a dark conspiracy in which the mutilated corpses of Chinese immigrants are somehow tied to the disappearance of a narcotics-addicted street urchin. Told with sublime historical detail, keen plotting, and a warm heart, this marvelous sequel grants us new glimpses into the life of a young, vibrant, brilliant Mycroft Holmes." Lyndsay Faye, bestselling author of The Gods of Gotham

"The authors have masterfully captured the Victorian idiom. By dropping in clever references to the canon in this Mycroftian prequel, the overall chronology is linked seamlessly. Detailing the complex relationship of the Brothers Holmes and their extraordinary powers of observation--Mycroft's low-key omnipresent talent vs. Sherlock's pure performance art--is very satisfying, filling in blanks we never thought would be completed. Lovely reading… an excellent addition to Holmesian literature." Michael F. Whelan, "Wiggins", Baker Street Irregulars

"As a BSI for nearly a half-century I am fussy about pastiches and cannot praise Mycroft and Sherlock too highly. The tone is spot on, and the characters--nicely tweaked from Doyle's portrayal--come to compelling life in this rousing adventure." Otto Penzler, The Mysterious Bookshop

"Queen Victoria charges Mycroft with an impossible mission while a 19-year-old Sherlock investigates his first case; the death of a young boy; supposedly an opium addict, but Sherlock's acumen tells him otherwise. The two stories twist around each other until cleverly tangling into one. The fractious brothers are a Victorian Odd Couple, bickering and competing their way into the darkest corners of London's drug trade. The book is smart, fun and paced like a 100-meter sprint. Mycroft and Sherlock is a worthy addition to the Sherlock Holmes legend and lore." Joe Ide, author of the IQ novels and winner of the Shamus, Macavity and Anthony Awards, NYT Critics Best Books 2016, Washington Post's Best Thrillers 2016

"I've written dozens of mysteries, but I've consciously stayed away from creating a hero who might be described as Holmesian. Here's the thing: I'm not smart enough to write a Holmesian character, though I am self-aware enough to accept this sad fact. Nor do I have a keen eye for observational detail. Because of these limitations, my detectives have the qualities I can manage and are armed only with a sharp tongue and some moxie. Fortunately, Kareem and Anna are braver, and oh so much smarter, than I… I love these mysteries. I love the era. I love the language. On some level I resent Kareem and Anna as they deliver all the ingeniousness that eludes me while still imbuing Mycroft with a sharp tongue and moxie all his own. It doesn't seem fair." Rob Thomas, writer/producer, Veronica Mars, iZombie

"Fans will want to read this sturdy pastiche" - Kirkus Reviews

"In a sequel that takes place two years following the events detailed in the authors' outstanding Mycroft Holmes (2015), Abdul-Jabbar and Waterhouse again nail the historical ambience, the dialogue, and the plotting, effectively paying tribute to Arthur Conan Doyle but also adding large dollops of humor and romance. This is a wonderful mystery in what one hopes will be a long-running series." -Booklist Starred Review

"Fans of Conan Doyle will appreciate the period accuracy, but a much wider audience will enjoy the intelligent treatment of race and social standing as part of a well-­plotted, intriguing mystery." 
-Library Journal - Starred Review 

"Engrossing, emotional...fun... Readers will find plenty of reasons to celebrate this latest Sherlockian adventure."  -BookPage

"Mycroft and Sherlock has a well laid out plot with many twists and turns that will keep the reader guessing. And for Sherlock Holmes fans, it is a perfect edition to sit next to Conan Doyle on the library shelf." -New York Journal of Books

"Here is a Victorian London both as seamy as you could wish for and more diverse than you might expect, through which Sherlock Holmes's smarter older brother strides with sleek authority, solving a tantalising mystery (with just a little help from his sibling). Kareem Abdul-Jabbar has scored another slam-dunk Holmesian hit." James Lovegrove, New York Times bestseller

"The smoke of the London Underground, the funk of the Devil's Acre, the vapors of opium. The atmosphere rises off the pages in Kareem Abdul-Jabbar and Anna Waterhouse's sequel to their hugely entertaining Mycroft Holmes. Now, in Mycroft and Sherlock, the Holmes brothers--each brilliant in his own way--must solve a case that lays bare the dark heart of Imperial London: a fraternal duo in a story paced like a whirlwind ride through the night." - Martin Rosenstock

"A clever pastiche in the world of Sherlock Holmes that expertly captures the tone of the originals while creating a world all their own"..."Updates the canon by presenting us with newfound depths, both to the characters and to the situations they find themselves in. I absolutely loved this book" - Criminal Element

"This book gave me so much to think about when it comes to the Holmes brothers." - Editing Everything

"An energetic and clever tale about the young Holmes brothers--sure to thrill fans!" Lois H. Gresh, New York Times bestselling author 

"A worthy addition to the groaning shelves of new Holmes stories, "Mycroft and Sherlock" stands tall." - Seattle Times

"Well-written, strongly paced, a chewy mystery. A must for any Sherlock Holmes fan, and just downright fun for any fan of Victorian mysterious fiction." - Bookgasm

"The book's a thriller as well as a mystery, with interesting major and minor characters, and it offers an intriguing look at Victorian London." -Sherlockians and Doyleans

"Mycroft and Sherlock adds yet another wrinkle to the Holmes-canon that is equally refreshing and a return to classic Holmesian mystique and intrigue." - Electric Literature

"another phenomenal novel...Abdul-Jabbar and Waterhouse continue to raise the bar for historical fiction that aims to make a point while it entertains" - CrimeReads

"The titular characters are beginning to embody their canonical selves in this book, and it was a lot of fun to read" - Interesting Though Elementary


"Mycroft and Sherlock is a worthy story bringing the two Holmes brothers together. It's time to stop comparisons with Arthur Conan Doyle. Abdul-Jabbar and Waterhouse stand on their own, carrying on the proud Sherlock Holmes tradition.  " - John Koenig, Stuff I Like

"the plotting and character sketches are first rate, as is the authors' sly interspersing of social commentary" - Forbes.com


"There are a lot of Sherlocks out there but Kareem Abdul Jabbar and Anna Waterhouse have put a fresh spin on the classic.  Sherlock has teamed up with his equally erudite,  domineering older brother Mycroft, a relationship that gives new meaning to the words, "sibling rivalry".  The Holmes brothers are on a mission to catch a gruesome serial killer, their combined detective work a wonder to behold. Equally as compelling, is their attempt to help a boy from the back streets of Victorian London. This is a real look at that era, a far cry from Downton Abbey that adds a refreshing relevancy to the book. Sherlock and Mycroft is a worthy addition to the iconic character's legacy."  — Joe Ide, NYT best-selling author, I.Q.