The Master Key (Pushkin Vertigo #17) (Paperback)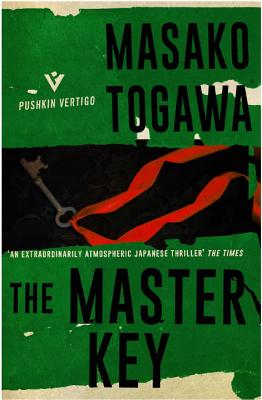 $13.95
Out of Stock - Not Available
Other Books in Series
This is book number 17 in the Pushkin Vertigo series.
Description
---
The prize-winning debut mystery from one of Japan's best-loved crime writers

The K Apartments for Ladies are occupied by over one hundred unmarried women, once young and lively, now grown and old—and in some cases, evil.

Their residence conceals a secret connecting the unsolved 1951 kidnapping of four-year-old George Kraft to the clandestine burial of a child's body in the basement bath-house. So, when news comes that the building must be moved to make way for a road-building project, more than one tenant waits with apprehension for the grisly revelation that will follow. Then the master key is lost, stolen and re-stolen—and suddenly no-one feels safe.

Fiendish intrigue, double identity and an ingenious plot make this a thriller worthy of comparison with the work of P.D. James.
About the Author
---
Masako Togawa (1931-2016) was born in Tokyo. Her father died when she was young, and she spent the rest of her childhood living with her mother, in an apartment building for single women, which provided the inspiration for the setting of The Master Key. After leaving school, she worked as a typist for some years, before stepping onto the stage as a cabaret performer in 1954. She soon began to write backstage during the breaks between her performances, and in 1962, her debut novel The Master Key was published, and won the Edogawa Rampo Prize. She went on to become a hugely successful crime writer, but continued to lead a colourful parallel life as a singer, actress, feminist, nightclub owner and gay icon. She died in 2016 at the age of 83.
Praise For…
---
"An outstanding puzzle mystery… The gradual, logical, but still surprising unfolding of the Russian nesting doll of a plot is a delight." — Publishers Weekly (starred review)

"Fans of P.D. James, Robert Barnard and other literate writers in the genre will welcome this prize-winning author's first work... Superbly crafted and riveting from start to finish." — Kirkus Reviews

"A twisted locked-room fable, made creepily seductive by masterful portrayals of the residents' eccentricities and hints of malevolent supernatural forces." — Booklist Online

"Extraordinarily atmospheric Japanese thriller ... Miss Togawa writes with economy, subtlety and an astonishing feel for time, mood, and the eccentricities of loneliness. An eerie gem." — Marcel Berlins, The Times

"As fascinating a weird yarn of mystery as you'll find... One word sums it up - superb!" — LA Times

"If you seek a wickedly original, clever crime novel, a brilliant exploration of the weaknesses of the human mind, I strongly recommend you lose yourself in Togawa's acutely portrayed sketch." — Thrillers Books Journal

"Masako Togawa's works have been recently reissued by Pushkin Press, and we can't thank them enough!" — Crime Reads

"Starts out on a high note of tension and stays that way up until the very end." — Crime Segments

"A clever story... If you like creepy this will definitely be right up your street." — Crime Review

"A clever, creepy story." — Mail on Sunday

"The PD James of Japan." — Times Literary Supplement

"A bizarre yarn of guilty secrets among the sad, mad and surprisingly bad occupants of Tokyo's K Apartments for ladies only." — Sunday Times Crime Club 

"Slickly-readable… jaw-dropping moments… Sharply crafted plotting ... Is Masako Togawa Japan's answer to P.D. James? James should be so lucky." — South China Morning Post