Cyclopedia Exotica (Paperback)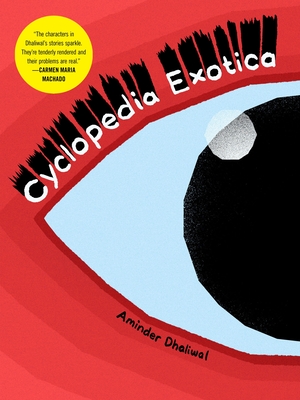 $24.95
Out of Stock - Not Available
Description
---
"Dhaliwal created a fictitious community facing xenophobia, fetishization, and media misrepresentation. It's resonating with her thousands of Instagram followers."—Robert Ito, The New York Times

"The characters in Dhaliwal's stories sparkle. They're tenderly rendered and their problems are real... The struggle of the cyclops unfolds in metaphors for race, sexuality, gender, and disability, tangling with ideas about fetishization, interracial relationships, passing, and representation."—Carmen Maria Machado, author of In The Dream House

Following the critical and popular success of Woman World—the hit Instagram comic which appeared on 25 best of the year lists—Aminder Dhaliwal returns with Cyclopedia Exotica. Also serialized on instagram to her 250,000 followers, this graphic novel showcases Dhaliwal's quick wit and astute socio-cultural criticism.

Doctor's office waiting rooms, commercials, dog parks, and dating app screenshots capture the experiences and interior lives of the cyclops community; a largely immigrant population displaying physical differences from the majority. Whether they're artists, parents, or yoga students, the cyclops have it tough: they face microaggressions and overt xenophobia on a daily basis. However, they are bent on finding love, cultivating community, and navigating life alongside the two-eyed majority with patience and the occasional bout of rage.
Cyclopedia Exotica is a triumph of hilarious candor.
About the Author
---
Aminder Dhaliwal grew up in Brampton, Ontario and received a Bachelors of Animation from Sheridan College. She has worked as Director at Disney TV Animation, Storyboard Director at Cartoon Network, and Storyboard Director on the Nickelodeon show Sanjay and Craig. Her first book with D+Q, Woman World, was serialized on Instagram beginning in March 2017 and garnered over 250,000 followers. Woman World appeared on 25 best of the year lists, was nominated for the Eisner, Ignatz, Harvey, Ringo, and Doug Wright Award, and was named a YALSA Great Graphic Novel for Teens. It has been optioned for television by Felicia Day. Dhaliwal lives in Los Angeles.
Praise For…
---
"In the new graphic novel Cyclopedia Exotica, immigrants with one eye coexist uneasily with their two-eyed neighbors.... Cyclops deal with being perceived as overly submissive, the lack of cyclops representation in Hollywood movies, and worries about whether mixed children will have one eye or two... It's resonating with [Aminder Dhaliwal's] thousands of Instagram followers."—Robert Ito, The New York Times

"Fans of Jillian Tamaki's SuperMutant Magic Academy and Kate Beaton's work will find much common ground here."—Carmen Maria Machado, author of In The Dream House

"Full of laughter, frustration and tears, Cyclopedia Exotica is a must-read for anyone wishing to be seen."—NPR, Books We Love 2021

"This delightful satiric graphic novel centers very real explorations of race, xenophobia, visibility, tokenism and assimilation."—Karla Strand, Ms. Magazine

"[Cyclopedia Exotica] examines the interior lives of a cyclops community living among the two-eyed, providing nuanced commentary on microaggressions and discrimination toward immigrants."—Bustle

"The lives of ten characters in the same city intertwine as each grapples with living in an otherized body. Their physical differences are fetishized, marketed to, discriminated against, and misunderstood, as bodies are in our own world. What to do when people see your single eye but not yourself? Rage about it, laugh about it, make art about it, and work to change the world for the better. Aminder Dhaliwal is such a deft and clever storyteller! This book made me giggle and made me think, and it fueled my own determination to continue pushing for real social change." —Maia Kobabe, author of Gender Queer: A Memoir

"Unflinching satire, eye brow-waggling commentary, and thought-provoking pearls on the topic of those who occupy marginalized identities. I didn't expect to laugh out loud at a complicated depiction of people at war with themselves and with everyone else, as they try to assimilate (or stand apart). For anyone who has experienced the turbulence and pride of being "othered" in a dominant society, Cyclopedia Exotica will serve you equal parts reassurance and wistful pain."
—Hellen Jo, Cartoonist, Illustrator, and Translator of Uncomfortably Happily

"Playful and provocative. A delightful delve into the lives of the not-so-monstrous!"
—Felicia Day, Actor, Writer, Producer

"As the immigrant cyclops navigate their world, Dhaliwal uses humour and spot-on cultural references to address themes of race, xenophobia, beauty ideals, and our desire to belong."
—Quill & Quire, 2021 Spring Preview

"Cyclopedia Exotica is dedicated "to those who don't feel seen," and the nature of the cyclops inspires irresistible metaphors around eyes, being seen, and who owns society's gaze." —Publishers Weekly

"Aminder Dhaliwal uses humour to mine, and at times defuse, a series of hot-button contemporary issues – identity politics, sexism, racial profiling – as experienced by Cyclopes, who live as a minority in a two-eyed society that fetishizes and marginalizes them." —The Globe and Mail

"People often accept harmful stereotypes when only a fraction of a story is told. Cyclopedia Exotica challenges this by parodying the archaic compendium, delivering broader messages on the complexity of race, gender, and identity [with] a full cast of multidimensional characters." —Ysabelle Cheung, Hyperallergic

"Cyclopedia Exotica is one of this year's most anticipated graphic novels. Its theme — the minority experience told through the lens of Cyclopes living in a majority Two-Eye world — is a shout out to the ageless truth that knowing ourselves is our ticket to thriving." —Toronto Star

"Through this alternate world, Aminder Dhaliwal explores race, discrimination, marginalization, beauty and belonging with humour and heart." —CBC Books