See You At San Diego: An Oral History of Comic-Con, Fandom, and the Triumph of Geek Culture (Paperback)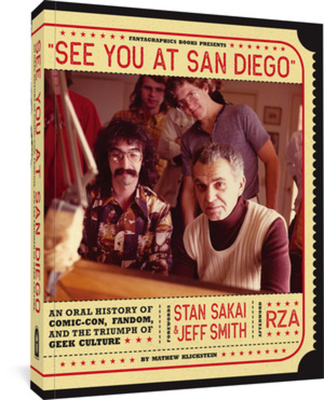 $39.99

Available from our distributor; usually Ships in 1-5 Days
Description
---
A comprehensive chronicle of Comic-Con International and modern geekdom itself as told through countless intimate, hilarious, and often-thought provoking stories by nearly fifty of the most integral members of today's convention and fandom community.
See You At San Diego
is the comprehensive chronicle of Comic-Con International and modern geekdom itself as told through countless stories by nearly fifty of the most integral members of the Comic-Con and fandom scene. This full-fledged oral history, bursting with intimate reflections, hilarious observations, and at times, heartbreaking, often thought-provoking stories, is about how the geek at last inherited the earth and the story of the transformation of mainstream American pop culture into comic book culture over the past century.
Join some of the biggest names in fandom as they launch off at ludicrous speed into the spiraling galaxy of geek culture through the kaleidoscopic lens of the planet's biggest pop culture gathering worldwide (clocked twice by Guinness!): the San Diego Comic-Con. With such special guests as: Neil Gaiman, Frank Miller, Kevin Smith, Bruce Campbell, Felicia Day, Scott Aukerman, Stan Sakai, Sergio Aragonés, Trina Robbins, the Russo Bros., Lloyd Kaufman, Tim Seeley, Kevin Eastman, and many others — along with 400+ photos and art — the book also features forewords by Stan Sakai (Usagi Yojimbo) and by Jeff Smith (Bone), plus an afterword by Wu-Tang Clan's own uber-nerd mastermind RZA.
About the Author
---
Mathew Klickstein
is a prominent pop culture historian, having penned such books as:
SLIMED! An Oral History of Nickelodeon's Golden Age
;
Springfield Confidential: Jokes, Secrets, and Outright Lies from a Lifetime Writing for The Simpsons
(w/ original series writer Mike Reiss); and
Selling Nostalgia: A Neurotic Novel
. A longtime journalist, documentary filmmaker, television producer, playwright, podcaster, and novelist, Klickstein also recently dipped his toe in the comic book creation realm with his series
You Are Obsolete
. His six-part audio documentary
Comic-Con Begins, 
in partnership with SiriusXM/Stitcher, is available on all audio platforms (www.MathewKlickstein.com) and now expanded in a visually-explosive book form as
See You At San Diego
(2022). He lives in Dayton, OH.
Stan Sakai is a Japanese-born American artist and comic book creator. His creation, Usagi Yojimbo, first appeared in 1984. Usagi has been on television as a guest of the Teenage Mutant Ninja Turtles, as toys, on clothing, in comics, and in a series of trade paperback collections. He is a multiple Eisner-Award-winning cartoonist and the recipient of numerous national awards including an American Library Association Award and a Cultural Ambassador Award from the Japanese American National Museum. In 2020, Sakai was inducted into the Eisner Award Hall of Fame. He currently is an executive producer on the Netflix original CGI animated series Samurai Rabbit: The Usagi Chronicles, which is based on "Usagi Yojimbo". He lives in Pasadena, CA.
Jeff Smith is an American artist and the award-winning creator of the bestselling comic books Bone and RASL. For his work on Bone, Smith has received numerous awards, among them ten Eisner Awards and eleven Harvey Awards. In 1995 and 1996, he won the National Cartoonists Society's award for Comic Books. Smith helped found the annual Cartoon Crossroads Columbus festival, which debuted in 2015, and he serves as its artistic director.  He lives in Columbus, OH.
RZA
(aka Robert Fitzgerald Diggs) is one of the foremost bellwethers of modern hip-hop, having led and produced for the pioneering collective Wu-Tang Clan. The Grammy, BAFTA, and Emmy nominated artist has also composed soundtracks for such films as Quentin Tarantino's
Kill Bill 
and Jim Jarmusch's
Ghost Dog
. He is the writer/director of the 2012 film
The Man with the Iron Fists
, co-written by Eli Roth, and starring Russell Crowe and Lucy Liu. His latest book is
Bobby Digital and the Pit of Snakes
(2022).
Praise For…
---
The more time I spend with this thing, the more impressed I am with the curation, organization and the sheer amount of effort that went into it. Kind of mind-blowing!
— Jeff Smith, creator of BONE

This is a book that I always wanted to exist.
— Ed Piskor (Hip Hop Family Tree, X-Men: Grand Design)

If you are a longtime devotee of either San Diego Comic-Con or premillennial geek culture, See You at San Diego is a wonderful trip down memory lane, featuring plenty of colorful anecdotes and history. And if you are a scholar, it's an essential primary resource.

— Rob Salkowitz - Forbes

The rambunctious, delicious story of how the biggest pop culture event in history was born – and grew from nothing to everything.
— Allen Salkin (journalist, Los Angeles Magazine; bestselling author, From Scratch: The Uncensored History of the Food Network)

Mathew Klickstein might be the geek guru of the 21st century.
— Mark Mothersbaugh

Finally! An unexpurgated history of Comic-Con and fandom that comes directly from the horse's mouth – actually a whole herd of horses. The overall result is as pleasantly chaotic as the Con itself. What a relief!
— Scott Shaw! (cartoonist; Comic-Con co-originator)