How to Break Up with Your Friends: Finding Meaning, Connection, and Boundaries in Modern Friendships (Hardcover)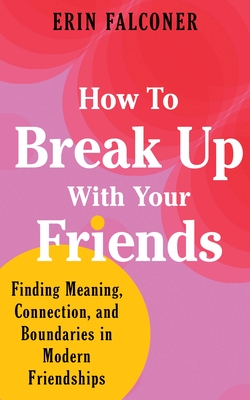 $24.99
Out of Stock - Not Available
Description
---
Create space for meaningful connections and set healthy boundaries with this much-needed guide to modern-day friendship.

Friends hold an especially valuable role for women—few relationships have such power to fuel us and inspire our joy. Yet even though we pride ourselves on our large networks, we tend to be afraid of rocking the boat and asking for what we really need. As a result, we end up accepting mediocrity in ourselves and our friendships far too often.

But does it really have to be this way?

In How to Break Up with Your Friends, celebrated life mentor Erin Falconer provides a refreshing guide to modern-day friendships—along with deeper principles, assessments, and practices for nurturing them.

"This book is about so much more than going through your contact list with a machete," writes Erin. "Yes, you'll learn how to detox yourself from friendships that no longer nourish you, but you'll also explore the astounding importance of modern friendships and how to be a truly great friend yourself."

With clear-eyed guidance and a good dose of humor, Erin will help you:

• Take stock of those currently in your life so you can see exactly how you and your friends are serving each other
• Understand how your earliest friendships impact your current relationships
• Explore the importance of having healthy friendships—including the many ways we're influenced by our friend groups
• Know the main types of friendships we form, the roles they play in our lives, and how to deepen the most essential ones
• Recognize the signs you're in a toxic friendship and stop fearing constructive confrontation
• Rupture and repair—be ready when a valuable friendship hits the rocks
• Learn how to make new friends as an adult
• Have the courageous conversations needed when it's time to "break up" with others

With a wealth of revelations and tools—including the Six Pillars of Friendship, the Friendship Diagnosis, and sample scripts to help facilitate the hard conversations—How to Break Up with Your Friends is the relationship book you didn't know you needed.
About the Author
---
Erin Falconer is the author of How to Get Sh*t Done, a digital entrepreneur, and the editor-in-chief and co-owner of PickTheBrain, one of the most trusted self-improvement communities online. She was named "one of the top digital entrepreneurs in Los Angeles" by LA Confidential and one of the "Top 7 Women Changing the Digital Landscape for Good" by Refinery 29. Erin has a master's degree in clinical psychology and lives in Los Angeles, California. Learn more at erinfalconer.com.
Praise For…
---
"Through a refreshing mix of anecdotes from Falconer's life and the lives of other women she interviewed, and expert advice, you'll learn how to evaluate whether a friendship is serving you in its current form and how you can take the steps to strengthen a relationship–or ultimately break up with your friend." —Mindful Magazine

"Don't let the title fool you—this is a book about connection, empathy, and finding nourishment through friendship. How to Break Up with Your Friends is an essential guide to creating space for these important relationships in our busy lives." —Ximena Vengoechea, author of Listen Like You Mean It

"If you've ever been in a situation where ending a friendship felt as painful as a divorce, read this book now. How to Break Up with Your Friends is a manifesto for genuine friendship. Erin sheds light on the qualities of forming deeper connections, prioritizing our well-being, and setting boundaries within our existing relationships, and, ultimately, how to have the courageous conversations needed when it's time to 'break up.'" —Justin Michael Williams, author of Stay Woke: A Meditation Guide for the Rest of Us

"How to Break Up with Your Friends shows the innate power of one of the most underappreciated relationships—our friendships—and gives a crystal clear map of exactly how to unlock that power." —Melissa Ambrosini, bestselling author of Comparisonitis and host of The Melissa Ambrosini Show podcast

"How to Break Up with Your Friends puts the power of friendship front and center in a way most of us have never contemplated before. Now, more than ever, we need to do friendship right. Erin shows us how." —Denise Vasi, founder of Maed

"'Breaking up' with a handful of my girlfriends over the years were some of the most painful and yet also powerful experiences of my adult life. When I think of heartbreak, it's not the men I've dated that come to mind, but the friendships that had to end! I WISH I had had a guide as impactful as the one Erin Falconer has created here. Her fresh perspectives and approachable strategies form an excellent compass for navigating one of life's most complex journeys." —Erin King, author of You're Kind of a Big Deal

"How to Break Up with Your Friends is such a great reminder of not only the value of friendship but the personal responsibility a great friendship demands." —Mandana Dayani, creator and cofounder of I am a voter. and cohost of The Dissenters podcast

"A refreshing and relatable take on modern-day friendships. Erin shows us how to mine our myriad social connections to find the true gems." —Francine Jay, author of The Joy of Less and Lightly

"How to Break Up with Your Friends is really about how (and why) to maintain important connections, and it's a blueprint for how to become a better friend yourself. Falconer tackles the subject of friendship with the seriousness it deserves, outlining the life-changing benefits of friendship (something I agree with wholeheartedly!). I plan on gifting this book to my dearest ones with personalized inscriptions." —Gina Hamadey, author of I Want to Thank You