Social Fiction (Paperback)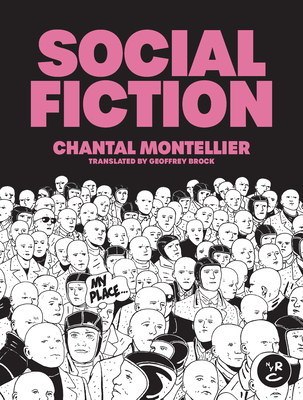 Description
---
Appearing together in English for the first time, three politically charged sci-fi graphic novellas by a pioneering French comics artist.

Dark, smart, and indomitably cool, the '70s and '80s dystopian visions of Chantal Montellier still unsettle.

Visitors to an underground mall must recreate civilization after a nuclear strike may have wiped out the rest of humanity. Newlyweds find themselves implicated in a government eugenics program. A disembodied authority reprimands a man for stepping out of view of a security camera.

In this collection of three novellas—Wonder City, Shelter, and 1996—published together in English for the first time, Montellier's blend of dark humor, gripping storytelling, and consistent focus on the perils of totalitarianism shows her to be a master of both comics and science fiction.

Social Fiction includes a Q&A between Chantal Montellier and Geoffrey Brock.
About the Author
---
Chantal Montellier is a French novelist, painter, and comics creator. Montellier began working as an editorial cartoonist in 1972, with work appearing in newspapers and magazines such as Politis, L'Humanité, and Marianne. A contributor to the renowned comics magazine Métal Hurlant and one of the most active female comics creators in France, Montellier is known for her realist drawing style and her engagement with political and feminist themes in her work.

Geoffrey Brock is the author of two books of poetry, most recently Voices Bright Flags, and the translator of a number of books, including the NYRB Classics and NYR Children's Collection editions of Carlo Collodi's Pinnochio and the NYRC edition of The Tenderness of Stones.
Praise For…
---
"Published together in English for the first time, this spiky collection of three science fiction graphic novellas from Montellier, one of the few women published in the famed French comics magazine Métal Hurlant in its heyday, makes a case for her place as one of the publication's brightest creators. . . . Montellier's firm line and punk ethos recall the early, science fiction–themed installments of Love and Rockets, but her vision is far bleaker, fueled by political rage, satirical wit, and a full-bore feminist drive. The anarchic sensibility feels both of its time and eerily prescient. It's a thrilling introduction to an unmissable comics talent." —Publishers Weekly

"Montellier's 'dirty future' is not just dirty, it is barely functional. The dystopia in Social Fiction droops from the loosening tape that holds it together, yet people still comply. Like most Métal hurlant contributors, Montellier lived through 1968, but unlike nearly all of them, she worked extensively in radical leftist venues prior to her narrative strip work; the sigh behind her pestilent societies is that of faded promise." —Joe McCulloch, The Comics Journal

"The perils of totalitarianism take center stage in this collection of grimly humorous science-fiction novellas…Montellier emerges as a true visionary of the graphic-novel medium and the science-fiction genre in these captivating tales of human beings struggling to retain their dignity under repressive regimes." —Tom Batten, Library Journal