Stash: My Life in Hiding (Hardcover)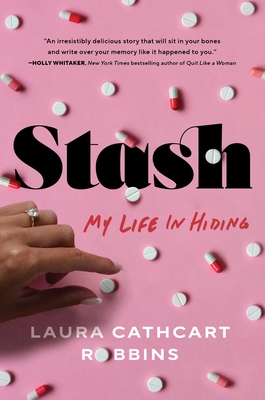 Description
---
"An emotionally absorbing and swiftly paced multisensory experience." —The New York Times Book Review

Named a Best Memoir of 2023 by Elle

In the vein of Somebody's Daughter, this wild, vivid addiction memoir from the host of the podcast The Only One in the Room "will inspire, awe, entertain, educate, and help so many readers" (Christie Tate, New York Times bestselling author) with a journey to sobriety and self-love amidst privilege and racism.

After years of hiding her addiction from everyone—stockpiling pills in her Louboutins and elaborately scheduling her withdrawals between PTA meetings, baby showers, and tennis matches—Laura Cathcart Robbins is running out of places to hide.

She has learned the hard way that even her high-profile marriage and Hollywood lifestyle can't protect her from the pain she's keeping bottled up inside. Facing divorce, the possibility of a grueling custody battle, and the insistent voice of internalized racism that nags at her as a Black woman in a startlingly white world, Laura wonders just how much more she can take.

Now, with courageous and candid openness, she reveals how she started the long journey towards sobriety, unexpectedly found new love, and dismantled the wall she had built around herself, brick by brick. With its raw, finely crafted, and engaging prose, Stash is "emotionally riveting…usher[ing] in a new way for us to talk and read about the paradoxes of addiction, race, family, class, and gender." (Kiese Laymon, author of Heavy).
About the Author
---
Laura Cathcart Robbins is an author, freelance writer, speaker, and host of the popular podcast The Only One in the Room. She has been active for many years as a speaker and school trustee and is credited for creating The Buckley School's nationally recognized committee on Diversity, Equity, Inclusion, and Justice. Her recent articles in HuffPost and The Temper on the subjects of race, recovery, and divorce have garnered her worldwide acclaim. She is a 2022 TEDx Speaker, and an LA Moth StorySlam winner. Currently, she sits on the advisory boards of the San Diego Writer's Festival and the Outliers HQ Podcast Festival. She lives in California. Follow her on Instagram @LauraCathcartRobbins and find out more at TheOnlyOnePod.com.
Praise For…
---
"Robbins's deft narrative is an emotionally absorbing and swiftly paced multisensory experience...[She] courageously wrote the memoir her recovering self craved — the book she knows others need, too."
— New York Times Book Review

"Beyond being emotionally riveting, Stash ushers in a new way for us to talk and read about the paradoxes of addiction, race, family, class, and gender."
— Kiese Laymon, MacArthur Foundation 2022 Fellow and author of Heavy, Long Division, and How to Slowly Kill Yourself and Others in America

"An irresistibly delicious story you cannot stop feasting on, that will sit in your bones and write over your memory like it happened to you. You have to read this book."
— Holly Whittaker, New York Times bestselling author of Quit Like a Woman

"Robbins writes with unparalleled humor and compassion for everyone in her story, including herself, without glossing over the misdeeds that necessarily accompanied her addiction. Readers will cheer Robbins as she slowly learns to trust others, and most triumphantly, trust the still, small voice inside her, urging her toward sobriety and freedom. Robbins' compelling story will inspire, awe, entertain, educate, and help so many readers."
— Christie Tate, New York Times bestselling author of Group

"The evolving Laura of Stash reveals herself to be at once loving, resentful, soft, spiky, generous, bitchy, big-hearted, petty... I rooted for her throughout. These apparent contradictions capture perfectly the shifting tectonic plates of personality that occur in a recovery done honestly - and done right. Brilliant."
— Catherine Gray, bestselling author of The Unexpected Joy of Being Sober

"I couldn't put this book down! Stash is a page-turning story of secret addiction with equal doses of humor and pathos, taking us on a heart-racing ride towards recovery and redemption. This is memoir-writing at its best – revealing a hidden self with unabashed bravery. As a unicorn Black woman facing her demons against the backdrop of a high-end Hollywood life, Laura Cathcart Robbins has given us an iconic heroine, one we've never seen before. Lucky for us she decided to come clean."
— Bridgett M. Davis, author of The World According to Fannie Davis

"Laura perfectly describes both the insatiable disease of addiction and the painful existence of living a lie. This is a book not just about saving your life from addiction but taking charge of your own happiness. Plus, Laura's wit and inner monologue are cleverly placed to connect us to her truth and journey."
— Amber Valetta, supermodel, actress, and sustainability editor at Vogue UK

"Stash is a marvel. In these pages I laughed, I cried, I fist-pumped in celebration. This debut proves that Laura is both beautifully human and a force. This is a must-read."
— Keah Brown, author of The Pretty One