Black Inventors: 15 Inventions that Changed the World (Biographies for Kids) (Paperback)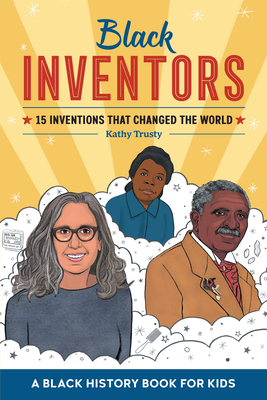 $9.99

Available from our distributor; usually Ships in 1-5 Days
Description
---
Discover 15 inventors and inventions that changed the world in this guide for kids ages 8 to 12
Throughout history, Black inventors have achieved some of the world's greatest advancements in science, technology, engineering, and math. This book highlights 15 men and women who made a big impact with their inventions—from Marie Van Brittan Brown, who created the first home security system, to Mark Dean, who invented the personal computer. Learn all about each inventor's creative process, their invention, and the way it's benefited our world.
The "first Black man of science"—Explore how Benjamin Banneker used his knowledge of math and science to build the first wooden clock, create an almanac, and help design the city that became Washington, D.C.
An innovator in Black hair care—Learn how Lyda Newman became an inventor at the early age of 14, when she engineered an improved hairbrush design that made it easier and more affordable to properly care for Black hair.
A web technology extraordinaire—Find out how Lisa Gelobter developed internet technology inventions that people rely on every day, including web animation, GIFs, and online videos.
Take a journey through the stories of Black inventors and their inventions, with this guide designed just for kids.
About the Author
---
KATHY TRUSTY is an independent historian and a Black history educator. She has been conducting presentations, creating displays, and producing Black history programs for more than 20 years. In 2020, she published a Black history alphabet book for toddlers and preschoolers.
Praise For…
---
"Delaware is in the process of passing a bill that requires all public and charter schools in Delaware to teach African-American history. This book is a timely and well-researched resource for assisting schools systems and teachers in meeting this requirement. Let me be one of many to thank Kathy for her assistance in this effort!" —Syl Woolford, historian

"I enjoyed this book. I was expecting the usual Black history figures we have all grown to love, expect, and hear about whenever someone is paying homage to people of our race, but for me this was different, and I appreciate that. The introduction immediately engages the reader by mentioning typically unacknowledged inventors and inventions, which encourages the reader to crave more. The writer shares important content with her readers in a way that brings full life and credit to all her selected subjects. I enjoyed the read, and felt I needed more when done. In fact, this kind of offering could rest well in the hands of readers as a series." —Phyllis G. Bivins-Hudson, EdD, education consultant