Autoportrait (Hardcover)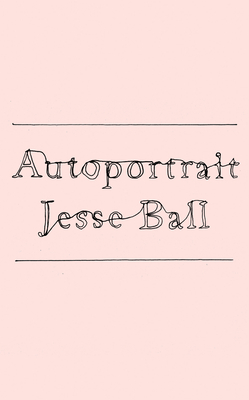 $20.00

Available from our distributor; usually Ships in 1-5 Days
August 2022 Indie Next List
---
"A fascinating work of art that will make you think. What things and experiences make us who we are? Is any one of those things more important than the other? Is any one sentence more important than the next? There is no one quite like Jesse Ball."
— Hannah Harlow, Book Shop of Beverly Farms, Beverly Farms, MA
Description
---
Nominated for the Chicago Review of Books Award

A work of unflinching honesty, Autoportrait is a hypnotic memoir of reflection, loss, and everyday joy from one of America's best contemporary novelists

Jesse Ball has produced fourteen acclaimed works of deeply empathetic absurdism in poetry and fiction. Now, he offers readers his first memoir, one that showcases his "humane curiosity" (James Wood) and invites the reader into a raw and personal account of love, grief, and memory. Inspired by the memoir Édouard Levé put to paper shortly before his death, Autoportrait is an extraordinarily frank and intimate work from one of America's most brilliant young authors.

The subtle power of Ball's voice conjures the richness of everyday life. On each page, half-remembered moments are woven together with the joys and triumphs—and the mistakes and humiliations, too—that somehow tell us who we are, why we are here. Held at the same height as tragic accounts of illness or death are moments of startling beauty, banality, or humor: "I wake in the morning, I sit, I walk long distances. If there is somewhere to swim, I may swim. If I have a bicycle, I will ride it, especially to meet someone. There is no more preparing for me to do, other than preparing for death, and I do that by laughing. Not laughing at death, of course. Laughing at myself."

An extraordinary memoir that reminds us what is possible and builds to the kind of power one might feel reading Anne Carson's Glass Essay, or Joe Brainard's I Remember. Autoportrait will leave you feeling utterly invigorated, inspired, and a little afraid.
About the Author
---
JESSE BALL was born in New York. He is the author of sixteen books, and his works have been translated into more than a dozen languages. He is on the faculty at the School of the Art Institute of Chicago, has won the Paris Review's Plimpton Prize for Fiction and was long-listed for the National Book Award. He was named one of Granta's Best of Young Novelists, and has been a fellow of the NEA, Creative Capital, and the Guggenheim Foundation.
Praise For…
---
Nominated for the Chicago Review of Books Award

"Both Mr. Ball and Levé are working in a tradition that falls under the rubric of 'life writing,' encompassing both memoir and the stranger territory known as autofiction. At the heart of each is the tension between experience and memory, or objectivity and subjectivity . . . These two Autoportraits push back against the familiar narrative arc in favor of something more conditional and authentic . . . More than merely an act of solipsism or ego, these works attempt to record nothing less than the operation of consciousness itself." —David L. Ulin, The Wall Street Journal

"[The] latest work from a gleeful absurdist . . . [A] scaldingly droll, unredacted personal inventory of likes, dislikes, body parts injured, pets formerly owned, and loved ones lost." —The New Yorker

"Slim but powerful . . . The collisions of severe, unvarnished facts start to build a larger idea about how we live—or how we fail to live fully . . . A brave book . . . There is strength in it, and cleverness and nearly unbearable honesty." —Nathan Deuel, Los Angeles Times

"Jesse Ball ("Census") levels a steely gaze at the very concept of humanity in this three-part novel that introduces the lower-class "quads" and the rich "pats," who treat those below them with impunity. When a group of pats conceals the grisly fate of a young quad girl behind an elaborate festival, you may start to wonder just how different this dystopian world is from our own." —The Washington Post

"Jesse Ball's Autoportrait, you might say, is all voice . . . Evocative and bright." —Christopher Borrelli, Chicago Tribune

"Autoportrait is an antidote to a genre that has become overly codified . . . Released from the contract of high-stakes tragedy, Ball provides an authentic look at what life is really like and offers the reader a way to encounter life outside the parameters that society, and narrative convention, would impose on it. If everything is equally important, then we must live life moment to moment, as if each portion of our day has the same opportunity for value as any other." —Steve Woodward, Star Tribune (Minneapolis)

"[Ball's] latest, Autoportrait, is his fastest and most revealing yet." —Cody Delistraty, WSJ. Magazine

"Autoportrait is the kind of book best read all at once, in a single sitting, during a lazy afternoon. The time spent reading the book becomes unusually full . . . Autoportrait immerses you deeply in another's experience for a short while, then returns you back to yourself." —Adam Fleming Petty, Commonweal

"The pleasure, here, is in errancy and velocity . . . Ball's text leans into cold wonder, flirting with a Francis Ponge-like poetry of the mundane and highlighting his predilection for the absurd, the diffuse, the simply odd . . . Much of the strange delight of reading this book is found in teasing out the precise nature of Ball's writerly persona, variously warm and cold, aloof and sincere." —Bailey Trela, Frieze

"Deeply alive." —Carolyn Quimby, The Millions, A Most Anticipated Book of the Month

"Jesse Ball's memoir, inspired by the memoir Édouard Levé wrote shortly before his death, has been called 'frank and intimate' but I imagine its greatest strength is the clear and somewhat unsettling way in which Ball—as he does in his many novels—is able to pinpoint the best and worst of everyday life, of the basic situation of simply being alive, and make it strange and slightly absurd." —Emily Firetog, A Literary Hub Most Anticipated Book of the Year

"Ball turns the autobiography on its head . . . Ball makes compelling work of it, slabbing the matter of his life together like a Dadaist sculptor . . . An unconventional memoir that speaks to the power of elusiveness." —Library Journal

"Ball invites readers into a meditative engagement with the text and suggests that perhaps the best way to understand a person is to sift through their mental clutter. Koan-like moments hum throughout . . . A hypnotic personal reflection penned with clockwork discipline." —Kirkus Reviews

"Slender and innovative . . . A rich self-portrait that evokes wonder at odd passions (cooking with strangely named spices, drawings of dead babies) and delightfully idiosyncratic opinions." —Publishers Weekly