Lean Fall Stand: A Novel (Hardcover)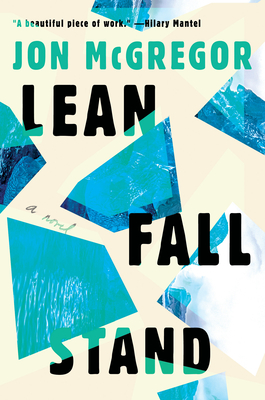 Description
---
A thrilling and propulsive novel of an Antarctica expedition gone wrong and its far-reaching consequences for the explorers and their families "leaves the reader moved and subtly changed, as if she had become part of the story" (Hilary Mantel).

Remember the training: find shelter or make shelter, remain in place, establish contact with other members of the party, keep moving, keep calm.

Robert 'Doc' Wright, a veteran of Antarctic surveying, was there on the ice when the worst happened. He holds within him the complete story of that night—but depleted by the disaster, Wright is no longer able to communicate the truth. Instead, in the wake of the catastrophic expedition, he faces the most daunting adventure of his life: learning a whole new way to be in the world. Meanwhile Anna, his wife, must suddenly scramble to navigate the sharp and unexpected contours of life as a caregiver.

From the Booker Prize-longlisted, American Academy of Arts & Letters Award-winning author of Reservoir 13, this is a novel every bit as mesmerizing as its setting. Tenderly unraveling different notions of heroism through the rippling effects of one extraordinary expedition on an ordinary family, Lean Fall Stand explores the indomitable human impulse to turn our experiences into stories—even when the words may fail us.
About the Author
---
Jon McGregor is the winner of the International IMPAC Dublin Literary Award, the Costa Book Award, the Betty Trask Prize, the Somerset Maugham Award, and the American Academy of Arts and Letters E. M. Forster Award, and has been long-listed three times for the Man Booker Prize, most recently for his last novel, Reservoir 13. He is a professor of creative writing at the University of Nottingham, England, where he edits The Letters Page, a literary journal in letters.
Praise For…
---
A Kirkus Reviews Best Book of the Year
A Publishers Weekly Best Book of the Year
A New Statesman Most Anticipated Book of the Year

"Lean Fall Stand is a beautiful piece of work and should win a roomful of prizes. Jon McGregor writes plainly and exactly, like a poet, and the precision of his writing makes every heart-beat register. The quality of his attention is a flicker of light around the fragile human condition, and it leaves the reader moved and subtly changed, as if she had become part of the story." —Hilary Mantel

"As gripping as anything you'll read this year . . . A book about the slipperiness of language, that flexible and fallible vehicle for consciousness and communication on which we are so dependent." —Jon Michaud, The Washington Post

"[McGregor] is one of the few great living minimalists, able to mix deep pathos with wry comedy in a sentence too short to need a single comma . . . Every sentence in Lean Fall Stand serves, in its style, as a quiet reminder of how difficult it can be to represent ourselves to others." —Lily Meyer, NPR

"Obsessive stylistic mastery . . . Memorable writing." —Sam Sacks, The Wall Street Journal

"[A] profoundly affecting story of a man who has lost his ability with language . . . McGregor's facility with language gives a power and a poignancy to this tale about language's loss that make it unmissable." —Cory Oldweiler, Minneapolis Star Tribune

"Gripping." —Christopher Borelli, Chicago Tribune

"A novel of complex feeling and beautiful restraint from one of the finest writers around." —Alexandra Harris, The Guardian

"Another McGregor novel that, beneath its serene surface, takes huge risks . . . Fortunately, it's also another McGregor novel that triumphantly gets away with it . . . McGregor commits himself so wholeheartedly to the project of honouring minutiae (and has the literary talent to match) that the scene when post-stroke Doc first learns to touch his nose feels almost as dramatic as an Antarctic blizzard." —James Walton, The Times

"Jon McGregor's new novel . . . opens as excitingly as any work of fiction I've recently read . . . It's extraordinarily tense and atmospheric—and McGregor's prose is tight as a wire." —The Telegraph

"Jon McGregor's latest has the most thrilling beginning I've read in a novel for some time . . . It's a deft sleight of hand—to seduce readers with a spectacular action narrative before giving them an entirely different novel about how we communicate—but regular readers of McGregor will know that it's the unsensational drama contained within the ordinary that interests him as a writer." —Claire Allfree, Daily Mail

"Above all, this is a novel about language: how we fail it as much as it fails us . . . McGregor's precise, well-judged prose attests to both the power of language and to the havoc created by its loss." —Financial Times

"The breathtaking opening chapters describe a research expedition which goes horribly and fatally wrong. It starts out as a white-knuckle ride of a story, before Mr McGregor changes course . . . With skill and compassion Mr. McGregor evokes an underfunded social-care system as well as the determination and inventiveness of its workers . . . This fine novel is reminiscent of A Change of Climate, Hilary Mantel's novel of 1994, with its shifting perspectives and emphasis on a single, life-altering event. The far-ranging human story in Lean Fall Stand simultaneously unfolds and enfolds." —The Economist

"A moving, well-observed drama . . . Astonishing." —Christopher Taylor, Harper's Magazine

"McGregor's depiction of speechlessness, both metaphorical and physical, makes the novel much more interesting than if he had provided a page-turner about a botched expedition in Antarctica . . . McGregor's carefully composed dialogue, filled with the repetition of so few words, had an eerie effect on me: for several days my own inner dialogue was often composed of the same words, as though I, too, was discovering how they could express drastically different emotions yet remain unreadable to the world." —Yiyun Li, The New York Review of Books

"The sheer beauty of this story, the reality of the characters and their situations, and McGregor's powerful, elegant, and flawless writing are testament to the amount of work—research, patience, writing—required to write this story . . . Lean Fall Stand is a narrative about hope, surrender, and possibilities. Jon McGregor is an extraordinary writer, a shepherd of perfect prose." —Mandy Jackson-Beverly, New York Journal of Books

"Stunning . . . Readers will be drawn into Robert and Anna's heartbreaking struggle, all rendered in McGregor's crystalline language. This gorgeous work leaves an indelible mark." —Publishers Weekly (starred review) 

"A quiet, beautiful novel that's at once deeply sad and wryly funny. Lyrical and terse, funny and tragic—a marvelous addition to the McGregor canon." —Kirkus Reviews (starred review) 

"Humane and quietly heartbreaking, Lean Fall Stand is a bold experiment in language and the tragic poetry to be found in its breakdown." —Dan Sheehan, Literary Hub

"A tour de force of observational writing, masterfully capturing the struggle, frustration, and determination of Robert's healing process and recovery. Whether describing the majestic beauty of the natural world or the heartbreaking nuances of neurological deficit, McGregor's luminous prose brings the world brilliantly to life." —Booklist

"Utterly original. Jaw-dropping. Lean Fall Stand is the sort of book you'll think about for ages." —Paula Hawkins, author of The Girl on the Train and Into the Water