HIGH (Paperback)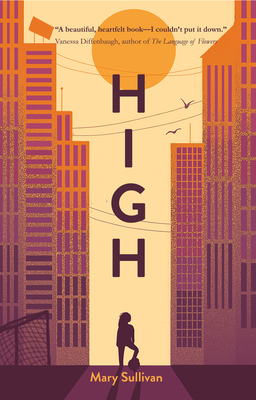 $16.95

Available from our distributor; usually Ships in 1-5 Days
Description
---
It is impossible not to root for Ceti, almost fifteen, who tells her story of growing up in shelters, learning soccer from her Gramps, and sleeping in her Mom's red truck where they listened over and over to Rolling Stones discs someone left behind. Following in the steps of her hero, Lionel Messi, Ceti is a shooting star on the field. A U.S. scout is coming to watch her play in the State Championship; she has Ruby, her best friend since kindergarten rooting for her, and a crush on a boy who lives in her building, Will. But at home, she'll find a spoon in the sink, a ball of tin foil and a needle in the trash. Her Mom, who used to be beautiful with her long honey hair and green eyes is now wasted and track-marked. And she is pregnant.

Ceti's life goes up and down with a mother who wants only the next high. Her Mom's menacing and goofy boyfriend Foxface is always hounding Ceti; their junky friends start a fire in Ceti's apartment; and on the day of the semifinals, Ceti finds her Mom bleeding profusely. She steals a new iPhone for her Mom but is caught and disqualified from playing in the Championship game. Then Ruby decides on private school for next year, and Will stops hanging out with Ceti. When her Mom promises they can start over in New Hampshire, Ceti is hopeful. Instead, she finds her Mom has overdosed. Ceti, too, would be one more dream slipping away if she didn't have the courage to hold on to what she loves the most.

About the Author
---
Mary Sullivan is the author of Dear Blue Sky, which won the Chautauqua Literary and Scientific Circle Award. Her other novels include Stay and Ship Sooner, and she has ghostwritten for the Beacon Street Girls series. She is the also the recipient of a Massachusetts Cultural Council Grant, a Rona Jaffe Foundation Award, and a St. Botolph's Award. She lives in Cambridge, Massachusetts with her family and teaches at Harvard Extension and Summer School.
Praise For…
---
"I love this book. In gorgeous, compelling verse, High tells the story of fourteen-year old Ceti's struggle to soar even as she lives through her mother's life-threatening addiction. Mary Sullivan has written a beautiful, heartfelt book—I couldn't put it down." —Vanessa Diffenbaugh, The Language of Flowers

"Vivid realism reaches impressive heights in this novel in verse." —Kirkus Reviews

"Told in verse, Sullivan captures the realistic banter between Will and Ceti as they debate their favorite soccer stars, the starkly descriptive images of her mom's drug paraphernalia, and the desperate pressures this young woman feels. Her coach and other adults prove the saying "It takes a village," helping Ceti's story end hopefully. This will appeal to those who appreciate stories that don't pull any punches." —Booklist