Black Ball: Kareem Abdul-Jabbar, Spencer Haywood, and the Generation that Saved the Soul of the NBA (Hardcover)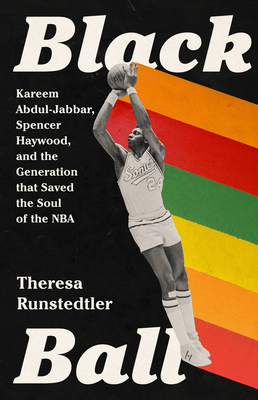 Description
---
A vital narrative history of 1970s pro basketball, and the Black players who shaped the NBA

Against a backdrop of ongoing resistance to racial desegregation and strident calls for Black Power, the NBA in the 1970s embodied the nation's imagined descent into disorder. A new generation of Black players entered the league then, among them Kareem Abdul-Jabbar and Spencer Haywood, and the press and public were quick to blame this cohort for the supposed decline of pro basketball, citing drugs, violence, and greed. Basketball became a symbol for post-civil rights America: the rules had changed, allowing more Black people onto the playing field, and now they were ruining everything.
Enter
Black Ball
, a gripping history and corrective in which scholar Theresa Runstedtler expertly rewrites basketball's "Dark Ages." Weaving together a deep knowledge of the game with incisive social analysis, Runstedtler argues that this much-maligned period was pivotal to the rise of the modern-day NBA. Black players introduced an improvisational style derived from the playground courts of their neighborhoods. They also challenged the team owners' autocratic power, garnering higher salaries and increased agency. Their skills, style, and savvy laid the foundation for the global popularity and profitability of the league we know today.
About the Author
---
Theresa Runstedtler is a scholar of African American history whose research examines Black popular culture, with a particular focus on the intersection of race, masculinity, labor, and sport. She is the author of Jack Johnson, Rebel Sojourner: Boxing in the Shadow of the Global Color Line (UC Press, 2012), a book that explores the first African American world heavyweight champion's legacy as a Black sporting hero and international anticolonial icon. Her book won the 2013 Phillis Wheatley Book Prize from the Northeast Black Studies Association. Dr. Runstedtler has also published scholarly work in the Radical History Review, the Journal of World History, American Studies, the Journal of American Ethnic History, the Journal of Sport and Social Issues, and the Journal of Women's History, and book chapters in Escape from New York: The New Negro Renaissance Beyond Harlem, and In the Game: Race, Identity, and Sports in the Twentieth Century. She is a professor at American University and lives in Baltimore with her husband and son.
Praise For…
---
"One of the best and most politically truthful books on basketball."—
The New Yorker
"
Black Ball
 is an intriguing look at professional basketball in the 1970s, one that changes our thinking about why the NBA is considered a Black league, and — for readers who love basketball and Black history — offers a sports-centered perspective on race relations in post-civil rights America through the lens of the NBA."—
The Boston Globe
"Runstedtler's superior storytelling, buoyed by expert research, casts a new light on the league's complex history. This savvy reappraisal of the NBA's tumultuous evolution soars."—
Publishers Weekly, starred review
"Long before the NBA became an international brand, and before Larry Bird, Magic Johnson, and Michael Jordan made it a national obsession, a generation of Black ball players helped transition the sport from a cultural wasteland to must-see spectacle. In
Black Ball
, Theresa Runstedtler brilliantly tells the story of men famous and not so-famous, who through sheer innovation and an articulation of self-worth, transformed how the game would be played, how it would be watched, and ultimately how it would be valued."—
Mark Anthony Neal, author of Black Ephemera: The Crisis and Challenge of the Musical Archive
"Theresa Runstedtler's
Black Ball
is great: deeply researched and foundational, a necessary reminder that the dunks and three-pointers, behind-the-back passes, and mid-air poetry everybody loves are the byproduct of an often-unwelcome player movement. The NBA is cool. The story of the Black players who transformed the game into what it is today is even cooler."—
Howard Bryant, author of The Heritage: Black Athletes, a Divided America, and the Politics of Patriotism
"In the 1970s Black basketball players quite literally changed the game. But as Runstedtler shows in this superb book, not in the way we think. Black players had to fight on the court and in court—before judges and in the court of public opinion—to secure rights, dignity, fair treatment, and equitable pay. In the face of racist backlash, economic crisis, and corporate owners who treated players as chattel, these men brought energy, style, a new consciousness, and an imperative for justice. Compelling and beautifully written,
Black Ball
is further proof why Runstedtler is one of sport's most perceptive and incisive historians."—
Robin D. G. Kelley, author of Thelonious Monk: The Life and Times of an American Original
"In her brilliant book
Black Ball
, Runstedtler reminds us there was nothing inevitable about the NBA's rise as 'a global profit machine' built around Black stars. She uncovers an overlooked but important history of how the league's Black players challenged a white monopoly that controlled the sport. In a fascinating and sobering read, Runstedtler reconstructs a pivotal decade—the 1970s—a time when Black players, full of frustration and determination, redefined the NBA's place in American culture. A must-read for anyone interested in basketball."—
Johnny Smith, author of The Sons of Westwood: John Wooden, UCLA, and the Dynasty That Changed College Basketball
"It was almost a Dickensian world. For many white traditionalists, professional basketball in the 1970s was the worst of times. Instead of earthbound, paint-by-number offensives, the game became a free-form, be-bop ballet played above the rim. Connie Hawkins, Spencer Haywood, Kareem Abdul-Jabbar, and other Black players took over the game and made it their own, thrilling a new generation of spectators. And following the lead of Oscar Robinson, they demanded more rights, greater diversity in coaching, and increased pay. Runstedtler brilliantly chronicles the decade that forever changed the game."—
Randy Roberts, coauthor of Blood Brothers: The Fatal Friendship Between Muhammad Ali and Malcolm X
"Engrossing account of professional basketball's decades of transformation, focused on complex labor and racial politics and the roles of many compelling figures…A strong, engaging look at a poignant, neglected aspect of pro sports."—
Kirkus
"[A] wise, engaging and frankly overdue survey of a crucial moment in sports history…'Black Ball' is a timely read at a moment when professional athletes are more outspoken than ever on social issues, and when it's clear that sports and society are inextricably linked."—
Los Angeles Times
"[An] authoritative history of the personalities and politics of post-civil-rights professional basketball"—
Los Angeles Review of Books
"With
Black Ball
, Runstedtler isn't so much rewriting history as reclaiming it. The 1970s were an utterly transformative incubation period for the development of the game we see today. It also was the first time the players had a taste of actual labor power. While the NBA portrays this period as a time that almost wrecked the league, Runstedtler gives us a far more nuanced and honest reading. This is a necessary—and antiracist—correction and should inspire more of us to re-examine the 1970s—a period of pain, but also progress."—
Dave Zirin, sports editor, The Nation
"A half century before African American athletes became the vanguard of sport's century awakening, a generation of players in the NBA picked up the torch lit by their predecessors during the 1960s. Runstedtler adeptly captures the complex sporting landscape of those times and the backlash these players endured. With panache and perspective, she explores a profoundly compelling story of unfairly reviled players who changed how the game was played and the power relations shaping it. Though often overlooked, this generation laid the foundation for basketball's increasing cultural cachet, its rise as a global game, and its renewed commitment to social justice."—
Rob Ruck, professor of sport history, University of Pittsburgh, and author of Tropic of Football: The Long and Perilous Journey of Samoans to the NFL
"Runstedtler presents an alternate look at the NBA in the 1970s, by highlighting the influx of Black talent that changed how professional basketball was played, challenged ownership, and otherwise paved the way for the modern league's success."—
Sports Business Journal
"The 1970s proved to be an era of impactful professional basketball that gave rise to the modern-day NBA…Utilizing meticulous research, Runstedtler describes key events that occurred then, such as the antitrust lawsuits of Connie Hawkins, Spencer Haywood, Oscar Robertson, and the players association; the introduction of the dazzling new style of Earl "The Pearl" Monroe; and the advocacy for players by Black pioneers, such as Wayne Embry and Simon Gourdine, who challenged the NBA from within the front office…This is an intriguing and insightful look at pro basketball's critical historical moments and players during the 1970s. It is highly recommended for all collections and should be considered a top purchase."—
Library Journal, starred review
"Runstedtler puts race not at the end line or even at the top of the key but right at the center circle. She offers engaging portraits of the NBA's black athletes—the struggles they endured, the gains they achieved, the athletic culture they created. It all amounts to a signature American tale in which basketball—in that era as in ours—became a predominantly black game, both reflecting and creating the broader culture."—
Wall Street Journal
"
Black Ball
 is instructive reading for anyone interested in the rise of the modern NBA."—
The Washington Post
"[
Black Ball
] pays respect to several key NBA players—Connie Hawkins, Spencer Haywood, Oscar Robertson, and Kareem Abdul-Jabbar among them—who, in the supposedly apolitical 1970s, laid the essential economic and political groundwork upon which the modern, hugely successful NBA was built…This low-key but important title fills some glaring gaps in the history of American sports, economics, race relations, and politics."—
Booklist, starred review
"A needed examination of the contributions of Black players to the NBA, with a focus on the stars of the game in the 1970s and how they ushered in change to the NBA in the face of racism and prejudice."
—
Men's Health
"A must-read for today's NBA fans."
—
Minnesota Spokesman-Recorder