When I Sing, Mountains Dance: A Novel (Paperback)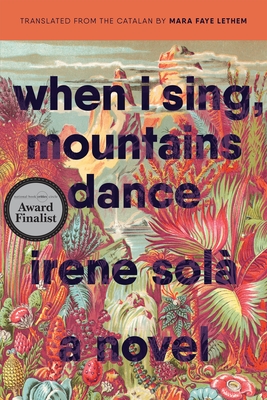 $16.00

In stock at Brooklyn or Jersey City -- click for more details
Staff Reviews
---
"Surreal and strange, and delights in contrasting a world so wonderfully, gleefully indifferent with deeply human experiences. It's about a tiny Catalan mountain village, the ghosts that haunt its forests and meadows, and the people who live and die and love there."
— From
Mindy
Description
---
A spellbinding novel that places one family's tragedies against the uncontainable life force of the land itself.

Near a village high in the Pyrenees, Domènec wanders across a ridge, fancying himself more a poet than a farmer, to "reel off his verses over on this side of the mountain." He gathers black chanterelles and attends to a troubled cow. And then storm clouds swell, full of electrifying power. Reckless, gleeful, they release their bolts of lightning, one of which strikes Domènec. He dies. The ghosts of seventeenth-century witches gather around him, taking up the chanterelles he'd harvested before going on their merry ways. So begins this novel that is as much about the mountains and the mushrooms as it is about the human dramas that unfold in their midst.
Praise For…
---
"Solà's kaleidoscopic technique vividly evokes a landscape dense with violence and beauty. . . . The overlapping, multifaceted points of view serve to deepen and enrich the human struggles, which, far from being muted, are rendered instead more urgent, more moving by being inextricably linked to the region's natural history and its past. A masterfully written, brilliantly conceived book that combines depth and breadth superbly."—Kirkus Reviews, starred review

"In language at turns poetic and stark, Solà offers a fresh and mythic work that fully reckons with the beauty and savagery of a landscape. It's a fine achievement."—Publishers Weekly

"Solà's immersive and memorable novel has the deceptively simple elegance and depth of a folktale."—Shoba Viswanathan, Booklist

"A heady mixture of folklore, poetry and humor. . . . Solà achieves a panoramic sense of place. . . . What emerges is a sprawling, multigenerational portrait of tragedy and perseverance rendered in jubilant, adventurous prose; that so much genuine profundity is housed in a book so deceptively slim is testament to Solà's skill."—Theo Henderson, Shelf Awareness, starred review

"In the age of the Anthropocene, Irene Solà's When I Sing, Mountains Dance is a salve. . . . In a magically rendered translation from the Catalan by Mara Faye Lethem, Solà's second novel offers up healing for those who care to find it. With this imaginative triumph, Solà has created an enduring work that captures something of the quotidian expansiveness of time, nature, and life itself."—Maura Krause, Zyzzyva

"Just as James Joyce shocked the world out of narrative complacency and Gertrude Stein awakened the slumbering poetsphere into modernism, Solà takes the novel and breaks it into fragments before reassembling it, piece by piece, into stories that express joy, pain, and sorrow and that echo back to each other."—Mike Maggio, Washington Independent Review of Books

With its crisp prose, compassionate eye, and emotional precision, Solà's novel pays tribute to the interconnectedness of the natural world. When I Sing, Mountains Dance illustrates that when we step back to see those connections, our own lives take on greater meaning."—Morgan Graham, Chicago Review of Books

"Inventive and lyrical. . . . When I Sing, Mountains Dance is work of unexpected emotional power."—Trisha Collopy, Ploughshares

"Like nothing I've read before. This novel is a feral, yowling love howl to a place of such staggering majesty that it resists usual comprehension. By giving voice to animals, storms, outcasts, one-legged girls, birthing women, and the mountain itself, Solà pushes past the limits of human experience to tell a story of instinct and earth-time that is irresistible in its jagged glory."—C Pam Zhang

"This book made me swoon. Translated with great musicality, tenderness, and wit, When I Sing, Mountains Dance is thirst-quenching literature of the best kind, rich and ranging, shimmering with human and non-human life, the living and the dead, in our time and deep time. Here is a Pyrenees fable that is utterly universal, deadly funny, and profoundly moving."—Max Porter

"There's so much beauty in this wonderful polyphonic novel that each page makes you fall in love again with nature, with imagination, with words, with life. When I Sing, Mountains Dance is timeless and unique."—Mariana Enriquez