Deus X (An August Snow Novel #4) (Hardcover)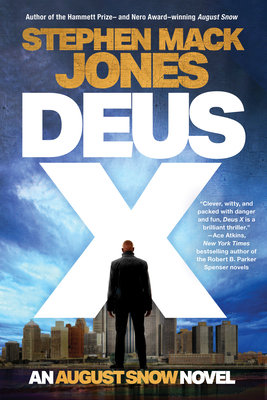 $27.95

Coming Soon - Available for Pre-Order Now
Other Books in Series
This is book number 4 in the An August Snow Novel series.
Description
---
Detroit ex-cop August Snow puts his life on the line to protect a friend from modern-day Templars sworn to protect the name of the Catholic church at all costs.

Father Michael Grabowski, a Franciscan priest who has tended the spiritual needs of Detroit's Mexicantown for forty years, has suddenly retired. August Snow, who has known the priest his whole life, finds the circumstances troubling—especially in light of the recent suspicious suicide of another local priest. What dark history is Father Grabowski hiding?

The situation takes a turn for the deadly with the appearance at the Detroit diocese of a mysterious priest and combat vet calling himself Francis Dominioni Petra. The man comes from the Vatican, and as his armored guard circles closer and closer to Father Grabowski and his friends, August wants to know why. A terrible crime has been committed in the name of faith—but who is seeking justice, and who is trying to bury the truth and any of its witnesses? August grapples with his own ideas about his faith and his chosen family in this action-packed fourth installment in the Hammett Prize–winning series.
About the Author
---
Stephen Mack Jones is a published poet, an award-winning playwright, and a recipient of the Hammett Prize, the Nero Award, and the Kresge Arts in Detroit Literary Fellowship. He was born in Lansing, Michigan, and currently lives in the suburbs of Detroit. He worked in advertising and marketing communications for a number of years before turning to fiction.
Praise For…
---
Praise for Deus X

"The arrival of a new August Snow is a true gift. Clever, witty, and packed with danger and fun, Deus X is a brilliant thriller. His latest proves why Stephen Mack Jones has fast become one of our best living detective writers."
—Ace Atkins, New York Times bestselling author of the Robert B. Parker Spenser novels and The Heathens

"Stephen Mack Jones's Deus X is a finely crafted mystery; a slow burn that crackles with suspense and intrigue, as ex-Detroit cop turned PI, August Snow, unravels depraved secrets desperate to stay hidden and learns the lengths some will go to punish those who profess to be holy. With Deus X, Stephen Mack Jones further solidifies himself as an author at the top of his game and the August Snow series is worthy of all the praise."
—Aaron Philip Clark, author of Under Color of Law and Blue Like Me

"A welcome breath of fresh air. [Jones's] willingness to slide in zingers about the politics and attitudes of the present infuses his books with relevance... August himself is a bit of a superman – he's kind, but he's also stylish; violent but also vulnerable. He's a classic private eye character for the present day."
—The Oakland Press

"Ripping... Jones never lets his foot off the gas, and he brings Snow's Detroit to vivid life, populating the city with memorable characters and wringing atmosphere from its crime-steeped history. This one's a blast for newcomers and series fans alike."
—Publishers Weekly

Praise for the August Snow novels

"Has echoes of Raymond Chandler's banter and bursts of Dashiell Hammett's violence, with a tip of the porkpie hat to Walter Mosley."
—The Wall Street Journal

"Four years ago, Stephen Mack Jones introduced August Snow, the caustic, mordantly funny hero of his private detective series, at a time when the subgenre appeared to be on the ropes. What a difference an interval marked by civil unrest, an ongoing pandemic and growing income inequality makes: P.I. fiction has never seemed more relevant, and Snow's third outing, Dead of Winter, stands out among the crowded pack."
—Sarah Weinman, The New York Times Book Review

"A P.I. story with an eye toward social issues and a firm grasp on the tropes of the genre, making it fresh and familiar at the same time."
—S.A. Cosby, The Washington Post

"Man, if you haven't read Stephen Mack Jones' Detroit crime novels about an ex-cop named August Snow, you ought to."
—Mike Lupica, The New York Daily News

"August Snow is one of my favorite books that I've read recently, and I'm not just saying that . . . The plot just takes off . . . This book is so good, I actually put it down, and I briefly entertained the notion of moving back to Detroit."
—Nancy Pearl on NPR's Morning Edition

"Stephen Mack Jones's rock-solid debut, August Snow, is powered by the outgoing personality of the title hero and his deep affections for his hometown of Detroit. This author proves himself a natural entertainer."
—Chicago Tribune

"Jones, a Detroit-area poet and playwright brings the city, its environs, and its eateries to vital life in a mystery coiled around the contemporary crime du jour of cyber-finance meddling. His is that rare tale that, despite its thriller-level violence, maintains a fiercely warm heart at its core—and ends far too quickly."
—The Boston Globe

"All of us begin in grace and great promise and, staring at the door left open behind, wonder where they've gone. Stephen Mack Jones knows this, as does his narrator August Snow, as does their battered city, Detroit. Jean Cocteau believed the world is a misunderstanding. We read searching for stories that help us untangle some of that misunderstanding; August Snow is one."
—James Sallis, author of Drive

"August Snow is a terrific character; rough and tumble, undaunted and implacably tenacious, his wit so sharp it'll make you bleed. In Stephen Mack Jones's new book, Dead of Winter, Snow protects his neighborhood from rapacious one percenters, Mack Jones skillfully weaving relevance into a blue streak, bone-breaking story. Highly, highly recommended."
—Joe Ide, author of the IQ Series

"​Mack Jones's prose is razor sharp and bleeds compassion. Set in Detroit, this noir novel has energy and wit to spare. A stellar debut."
—Milwaukee Journal Sentinel ​

"[A] polished, gripping debut. Poet Stephen Mack Jones' novel bristles with energy, compassion, humor and a page-turning plot."
—Minneapolis Star Tribune