Dead of Winter (An August Snow Novel #3) (Paperback)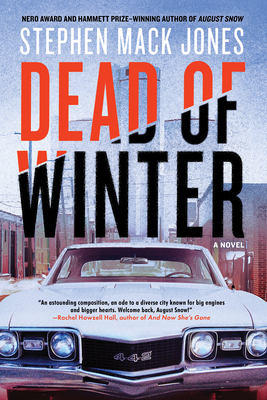 Other Books in Series
This is book number 3 in the An August Snow Novel series.
Description
---
A shadowy Detroit real estate billionaire. A ruthless fixer. A successful Mexicantown family business in their crosshairs. Gentrification has never been bloodier.

Authentico Foods Inc. has been a part of Detroit's Mexicantown for over thirty years, grown from a home kitchen business to a city block–long facility that supplies Mexican tortillas to restaurants throughout the Midwest.

Detroit ex-cop and Mexicantown native August Snow has been invited for a business meeting at Authentico Foods. Its owner, Ronaldo Ochoa, is dying, and is being blackmailed into selling the company to an anonymous entity. Worried about his employees, Ochoa wants August to buy it. August has no interest in running a tortilla empire, but he does want to know who's threatening his neighborhood. Quickly, his investigation takes a devastating turn and he and his loved ones find themselves ensnared in a dangerous net of ruthless billionaire developers. August Snow must fight not only for his life, but for the soul of Mexicantown itself.
About the Author
---
Stephen Mack Jones is a published poet, an award-winning playwright, and a recipient of the prestigious Hammett Prize, Nero Award, and the Kresge Arts in Detroit Literary Fellowship. He was born in Lansing, Michigan, and currently lives in the suburbs of Detroit. Dead of Winter is his third novel.
Praise For…
---
Finalist for the 2022 Nero Award
A New York Times Book Review Editors' Choice
A Booklist Top 10 Crime Novel of the Year
A 2022 Michigan Notable Book

Praise for Dead of Winter

"A P.I. story with an eye toward social issues and a firm grasp on the tropes of the genre, making it fresh and familiar at the same time."
—S.A. Cosby, The Washington Post

"Four years ago, Stephen Mack Jones introduced August Snow, the caustic, mordantly funny hero of his private detective series, at a time when the subgenre appeared to be on the ropes. What a difference an interval marked by civil unrest, an ongoing pandemic and growing income inequality makes: P.I. fiction has never seemed more relevant, and Snow's third outing, Dead of Winter, stands out among the crowded pack."
—Sarah Weinman, The New York Times Book Review

"Fending off super-baddies from running real-estate fraud in his beloved Mexicantown neighborhood of Detroit, August Snow tussles with enemies old and new in this edgy thriller that includes cannily delivered observations on climate change and systemic racism."
—The Boston Globe

"Bebop and Norteño, cool jazz and salsa, reading Dead of Winter was like listening to all the good music. This latest by Stephen Mack Jones is an astounding composition, an ode to a diverse city known for big engines and bigger hearts. Welcome back, August Snow!"
—Rachel Howzell Hall, author of And Now She's Gone 

"August Snow is a terrific character; rough and tumble, undaunted and implacably tenacious, his wit so sharp it'll make you bleed. In Stephen Mack Jones's new book, Dead of Winter, Snow protects his neighborhood from rapacious one percenters, Mack Jones skillfully weaving relevance into a blue streak, bone-breaking story. Highly, highly recommended."
—Joe Ide, author of the IQ Series

"There are echoes of Spenser in August Snow. [Robert B.] Parker's Spenser, who was also portrayed on television in the Spenser: For Hire series, is an excellent cook and likes to drink. Spenser and Snow both balance their own moral codes with the violence they enact in order to live up to them."
—Michigan Radio's Morning Edition

"Dead of Winter moves at lightning speed with crisp, smart dialogue, believable characters and an affection for Detroit and its residents . . . Jones gives readers a character worth rooting for."
—Oline Cogdil, The South Florida Sun-Sentinel

"Jones' characters and settings are always colorful and vibrant."
—The Seattle Times

"The intricate descriptions of savory food and "fashionating" clothes will keep you entertained."
—The Florida Times-Union

"A superb tale that bobs, weaves, and hits hard . . . There's action aplenty, but also rich characterization, wonderful writing, and a strong sense of place . . . A superb crime novel from an author with a distinctive voice and something to say."
—Mystery Scene

"Dark humor abounds and there is a high level of community support; the tension mounts as the exciting tale draws to an unexpected conclusion . . . Dead of Winter is almost impossible to put down."
—The Lansing State Journal

"Like Walter Mosley and Joe Ide, Jones builds a raucous and endearing cast of characters from his inner-city setting, fusing neighborhood camaraderie with streetwise know-how and head-banging action. This is a fine thriller in the grand hard-boiled tradition, but it's also a sensitive, multifaceted portrait of race in America."
—Booklist, Starred Review

"Gritty . . . Snow remains a distinctive lead capable of sustaining a long series."
—Publishers Weekly

"Where Spenser had Hawk at his side, August has a whole community, including one of the men he basically took off the streets and who now helps him to flip houses. While there's almost a fantasy element in these books, it's no different that the one Lee Child presents in his Jack Reacher novels.  We all need a little superman in our lives, and why can't it be a Mexican, African American, kindhearted soul from Detroit who loves to cook? I'm all in."
—Aunt Agatha's

"A true revelation . . . A crime novel that takes on big social issues with style and insight."
—CrimeReads

"Too much fun to miss."
—Kingdom Books

"Dead of Winter is not just explosions and fisticuffs . . . [O]ne should come to this story for the action and stay for the scenery and the characters."
—Bookreporter.com

"[Dead of Winter] will appeal to readers who like Detroit, Jack Reacher-style violence, and enticing references to local cuisine."
—New York Journal of Books

"In the mood for some gritty, hard-punching crime? Meet Detroit ex-cop and Mexicantown native August Snow, Hammett Prize winner Stephen Mack Jones' hard-hitting hero."
—Traverse City Record-Eagle

"August Snow is an amazing character to explore our divided city and country."
—BridgeDetroit

"Mr. Jones as a major league mystery writer. He belongs on the shelf alongside Detroit's other peerless mystery writers Loren Estleman and Elmore Leonard."
—Michigan In Books

Praise for the August Snow Novels

AUGUST SNOW:
WINNER OF THE NERO AWARD
WINNER OF THE HAMMETT PRIZE
FINALIST FOR THE SHAMUS AWARD

LIVES LAID AWAY:
A NATIONAL BESTSELLER
SHORTLISTED FOR THE CRIME WRITERS' ASSOCIATION STEEL DAGGER

"Has echoes of Raymond Chandler's banter and bursts of Dashiell Hammett's violence, with a tip of the porkpie hat to Walter Mosley."
—The Wall Street Journal

"Jones, a Detroit-area poet and playwright brings the city, its environs, and its eateries to vital life in a mystery coiled around the contemporary crime du jour of cyber-finance meddling."
—The Boston Globe

"[A] gung-ho protagonist . . . cleaning up his beat-up neighborhood in Mexicantown."
—The New York Times Book Review