The Thief (Deluxe Edition) (Paperback)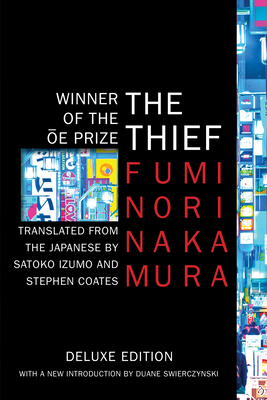 Description
---
A literary crime masterpiece that follows a Japanese pickpocket lost to the machinations of fate. Bleak and oozing existential dread, The Thief is simply unforgettable, and is now reissued in a brand new deluxe edition with an introduction by Duane Swierczynski, an afterword by the author, and discussion questions.

The Thief is a seasoned pickpocket. Anonymous in his tailored suit, he weaves in and out of Tokyo crowds, stealing wallets from strangers so smoothly sometimes he doesn't even remember the snatch. Most people are just a blur to him, nameless faces from whom he chooses his victims. He has no family, no friends, no connections . . . But he does have a past, which finally catches up with him when Ishikawa, his first partner, reappears in his life, and offers him a job he can't refuse. It's an easy job: tie up an old rich man, steal the contents of the safe. No one gets hurt. Only the day after the job does he learn that the old man was a prominent politician, and that he was brutally killed after the robbery. And now the Thief is caught in a tangle even he might not be able to escape.
About the Author
---
Fuminori Nakamura was born in 1977 and graduated from Fukushima University. He has won numerous prizes for his writing, including the Ōe Prize, the Akutagawa Prize, and the David L. Goodis Award for Noir Fiction. The Thief, his first novel to be translated into English, was a finalist for the Los Angeles Times Book Prize. His other novels include The Gun, The Kingdom, Evil and the Mask, The Boy in the Earth, Cult X, My Annihilation, and Last Winter, We Parted. He lives in Tokyo with his wife.
Praise For…
---
Praise for The Thief

A Los Angeles Times Book Prize 2013 Finalist
A Wall Street Journal Best Fiction of 2012 Selection
A World Literature Today Notable Translation
An Amazon Best Mystery/Thriller of the Month
Winner of Japan's Prestigious Ōe Prize
CrimeReads Top 10 Crime Novels of the 2010s

"The Thief brings to mind Highsmith, Mishima and Dostoevsky . . . A chilling existential thriller leaving readers in doubt without making them feel in any way cheated."
—The Wall Street Journal, Best Book of the Year Selection

"I was deeply impressed with The Thief. It is fresh. It is sure to enjoy a great deal of attention."
—Kenzaburō Ōe, Nobel Prize-winning author of A Personal Matter

"Fascinating. I want to write something like The Thief someday myself."
—Natsuo Kirino, bestselling author of Edgar-nominated Out and Grotesque

"An intelligent, compelling and surprisingly moving tale, and highly recommended."
—The Guardian

"A portrait of a doomed antihero straight out of a Michael Mann or Jean-Pierre Melville movie . . . its vision of a Tokyo underworld stalked by pickpockets and random violence will have you looking over your shoulder in the rain, and the train."
—The Economist

"Nakamura's prose is cut-to-the-bone lean, but it moves across the page with a seductive, even voluptuous agility. I defy you not to finish the book in a single sitting."
—Richmond Times-Dispatch

"Fuminori Nakamura's Tokyo is not a city of bright lights, bleeding-edge technology, and harajuku girls with bubblegum pink hair. In Nakamura's Japan, the lights are broken, the knives are bloodier than the tech, and the harajuku girls are aging single mothers turning tricks in cheap tracksuits. His grasp of the seamy underbelly of the city is why Nakamura is one of the most award-winning young guns of Japanese hardboiled detective writing."
—Daily Beast

"Citing the influence of Dostoyevsky and Kafka, Nakamura is a master of atmosphere, blending elements of surrealism, existentialism and crime fiction to create a grim, colorless, noire Tokyo."
—Tor.com

"It's simple and utterly compelling - great beach reading for the deeply cynical. If you crossed Michael Connelly and Camus and translated it from Japanese."
—Grantland

"Surreal."
—Sacramento Bee, "Page-Turner" Pick

"Nakamura's writing is spare, taut, with riveting descriptions . . . Nakamura conjures dread, and considers philosophical questions of fate and control . . . For all the thief's anonymity, we come to know his skill, his powerlessness and his reach for life."
—Cleveland Plain Dealer

"5/5 empty wallets."
—The Grim Reader

"At times the book reads like Albert Camus crossed with Elmore Leonard, yet the narrative voice is distinctly its own.... Descriptions of sleight of hand paired with philosophical musings make for a terrific read and fascinating exploration of what it means to be a criminal."
—Barnes & Noble Reads

"Nakamura's memorable antihero, at once as believably efficient as Donald Westlake's Parker and as disaffected as a Camus protagonist, will impress genre and literary readers alike."
—Publishers Weekly

"Compulsively readable for its portrait of a dark, crumbling, graffiti-scarred Tokyo—and the desire to understand the mysterious thief."
—Booklist

"Disguised as fast-paced, shock-fueled crime fiction, Thief resonates even more as a treatise on contemporary disconnect and paralyzing isolation."
—Library Journal

"Nakamura's dark imagination gives rise to his literary world . . . the influences of Kafka and Dostoyevsky are not hard to spot."
—The Japan Times

"Fast-paced, elegantly written, and rife with the symbols of inevitability."
—ForeWord

"The Thief manages to wrap you up in its pages, tightly, before you are quite aware of it."
—Mystery Scene

"[An] extremely well-written tale . . . Readers will be enthralled by this story that offers an extremely surprising ending."
—Suspense Magazine

"For readers of psychological thrillers looking for a peek into the minds populating the Tokyo underworld, The Thief is a must."
—Afar Magazine

"The reader catches glimpses of Japan and its lifestyle, which is far from a pretty picture."
—Deadly Pleasures Mystery Magazine

"Nakamura succeeds in creating a complicated crime novel in which the focus is not on the crimes themselves but rather on the psychology and physicality of the criminal. The book's power inheres in the voice of the thief, which is itself as meticulously rendered as the thief's every action."
—Three Percent

"Both a crime thriller and a character study, it is a unique and engrossing read, keeping a distant yet thoughtful eye on the people it follows . . . It's a haunting undercurrent, making The Thief a book that's hard to shake once you've read it."
—Mystery People

"The drily philosophical tone and the noir atmosphere combine perfectly, providing a rapid and enjoyable 'read' that is nonetheless cool and distant, provoking the reader to think about (as much as experience) the tale."
—International Noir Fiction

"More than a crime novel, The Thief is a narrative that delves deep into the meaning of theft and the nature of justice . . . Japanese crime fiction has a new star."
—Out of the Gutter Magazine

"Brilliantly atmospheric."
—On Art and Aesthetics

"So many issues are raised in this novel. It is wonderfully brief, and spare, much like something Hemingway would write."
—Dolce Bellezza Blog